In some posts we review or mention products and services. We are always impartial but some posts may include affiliate links that can earn us a commission. Click here for details.
It's always a little awkward when a company approaches me to review a product.
Almost always, the products I review are those I've decided to purchase myself. This keeps things simple, as I don't have to have the whole discussion where I emphasise that I'm the kind of person that will very much say if I don't think something's any good!
Sending me something doesn't mean I'm going to be nice about it. In fact, in one instance, there was a product where I criticised so much that the company involved decided to withdraw it from sale!
Thankfully, there need be no awkwardness around this Liomen Prime skincare review. While I was sent this product to review it, I will absolutely be buying it again with my own money. But perhaps not for the bold promise of "clearer, healthier, younger looking skin in just 7 seconds a day."

In fact, Liomen skincare unexpectedly solved a problem I'd been struggling with for a couple of years – a problem that had seen me fruitlessly spend literally hundreds on creams and potions.

Let's dive into my Liomen Prime skincare review to find out more.
What is Liomen Prime Skincare?
Liomen Prime Skincare is a simple product: an "anti aging" nightcream specifically for men. It's made by a UK-based company that concentrates on just this one product.

Liomen contains a wide range of natural ingredients, including Aloe Vera, green tea, avocado oil, apple extract and arnica. It also includes Retinol and Marine Collagen.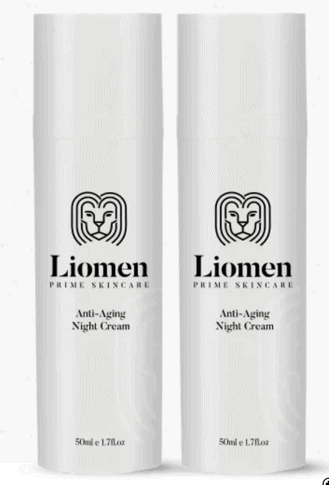 The company sells the product direct, either as an individual bottle, or as a two or four month supply. (At the time of writing, you get four months for the price of three). I've noticed you can also buy it on Amazon UK or on Amazon.com (US).
Liomen Review: My Experiences
Liomen's marketing makes plenty of bold statements.
I know that I'll never have "ageless Hollywood looks!" I'm not sure I even aspire to that. And it's certainly never occurred to me to wonder if my jawline appears "lifted and countoured."
But I do try to take care of my skin, and have a love for "products" that my more "man's man" friends thoroughly enjoy teasing me about.

Added on to that, I've also struggled with my skin for several years. Since the age of about 40, I've had frequent breakouts of eczema. It primarily affects my upper lip (moustache area), and either side of my nose. At times, it spreads beyond that.

It's been confirmed as eczema by my doctor, and is predictably triggered by stress. It's pretty unsightly, to the extent that I'm not massively keen on sharing a picture – but here's an idea of what it can get like: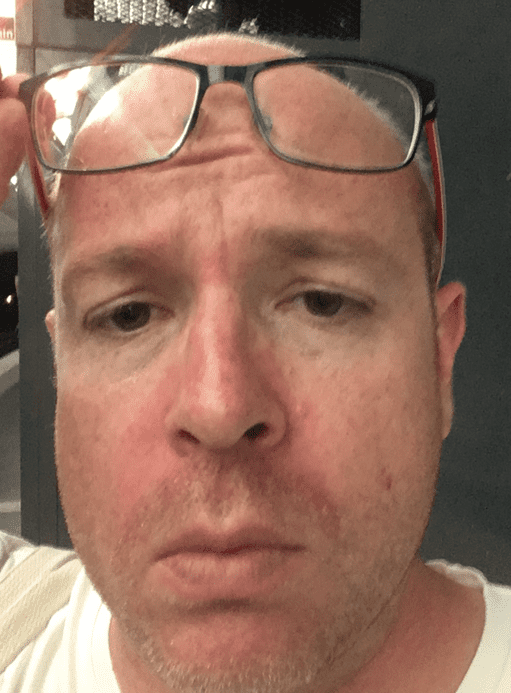 It's pretty grim, and I've spent a lot of time trying different products and using prescribed hydrocortisone cream (which is really bad for your skin in the long term). I've also spent years having to shave at tactical times so that it's not at its worst for meetings and social events.
I'd pretty much resigned myself to living with it forever at the point my Liomen arrived.

It's worth emphasising that Liomen doesn't claim to help with eczema. In fact, a search of the company's website didn't find a single mention of the word eczema.

Well, here's the thing. Using Liomen every evening, as instructed, has cleared it up – completely.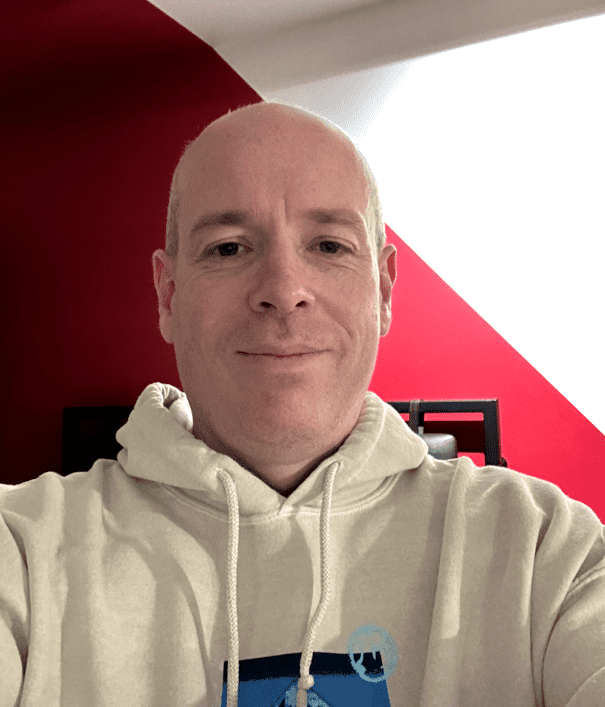 I should make clear that there are plenty of other reasons why I look so different between the two pictures above. The first was taken in 2018, when I still drank alcohol! (I quit alcohol in 2020). I've also lost a lot of weight since then. But despite being a much cleaner living person nowadays, my skin problems remained right up until I began to use Liomen Prime.

It wasn't until I dug out the photos for this review that I also noticed how few visible wrinkles I now have!

This stuff WORKS.

Since using Liomen (and I've used it every night now for three months), I've only had two comparatively minor incidents of eczema. One was during a period of illness, and the other during a period of intense stress.

I'm really, really happy with it.

Results aside, the cream (which feels more like a gel) is pleasant to use. It's practically unscented and is quickly absorbed. There's nothing worse than a moisturiser that takes ages to rub in – not when you're as impatient as I am and you're putting it on last thing at night.
Liomen Prime Skincare Review: Value
As you can tell, I'm delighted with my experiences of Liomen Prime. But you're probably wondering what this miracle costs.

It's not cheap, but it's not expensive either.

A single bottle, without any promotions, goes for £49. That's at the upper end of what I would typically pay for something from Clinque or Biotherm, but less than something from the likes of Elemis.

It gets cheaper if you buy a longer term supply. At the time of writing, you can get a four month supply (three bottles plus one free) for £147.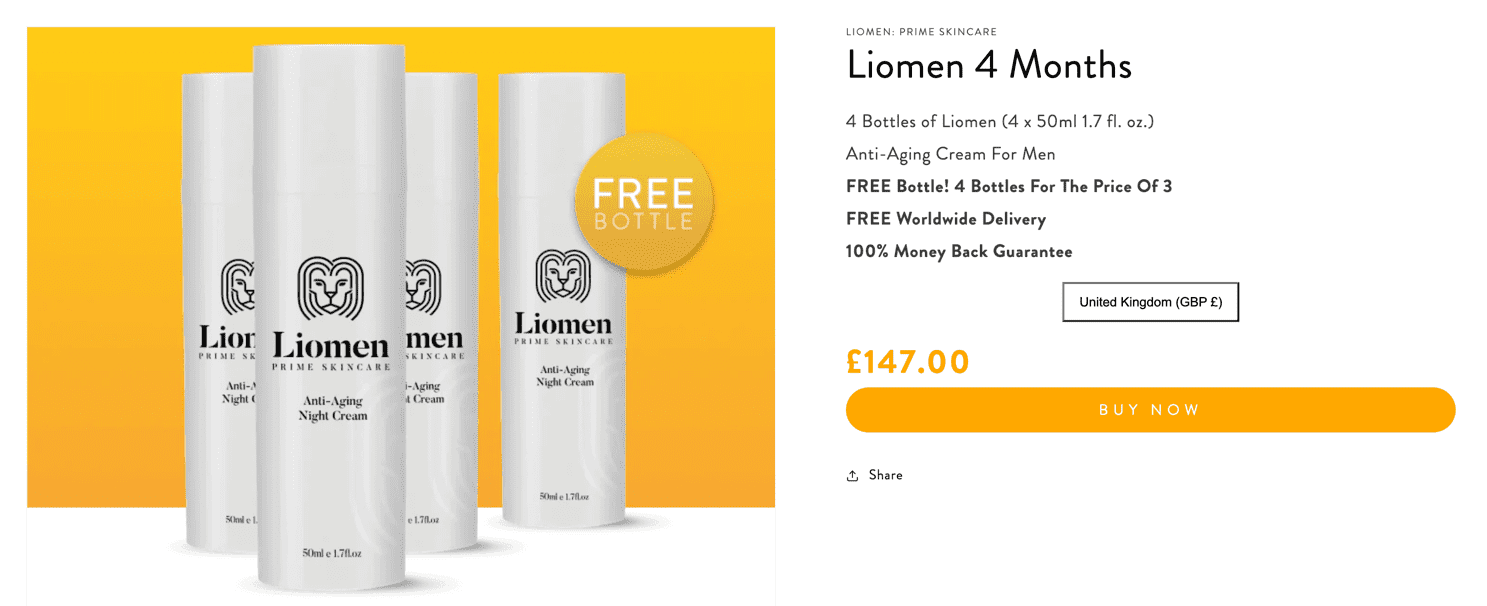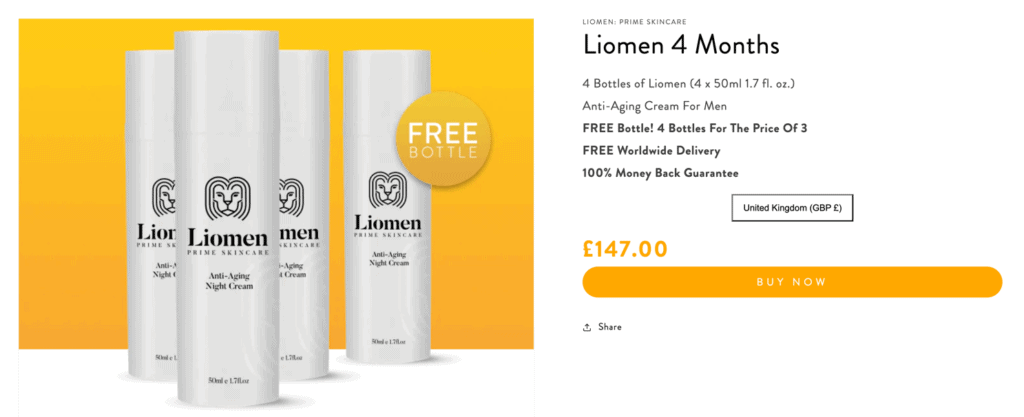 It's a not insignificant outlay, but for me it's in line with what I was already paying for this type of product – and the fact I don't have unsightly eczema any more is priceless to me. How the value proposition works out for you will be an individual thing.

For what it's worth, I should also point out that while a bottle is supposed to last a month, it's lasted me longer. I've been using Liomen Prime Skincare for three months, but have used just under two bottles. That means a four month supply would last me more like six.
Liomen – Eco Credentials and Sustainability
As part of this Liomen review, I also take a quick look at the credentials of the product.
It ticks a lot of the right boxes:
No animal testing.
Natural ingredients.
Made in certified cGMP labs.
The packaging is minimal, without a bunch of cardboard before you get to the dispenser. However, the dispenser itself, waste free and efficient as it is, is still made from plastic.
Liomen Skincare – Verdict
I didn't expect to be raving about this product as much as I am. But I cannot emphasise enough just how many products I previously tried in the journey to sorting out my troublesome skin.

As soon as I run out of Liomen, I will be buying more, and I can't really say any more than that.

Obviously your individual mileage will vary, but there are a LOT of positive reviews of Liomen online. If, like me, you're a man "of a certain age" and you want to improve your skin, I highly recommend it. I've already mentioned it to my doctor as an idea for other people with eczema.

NOTHING else worked. This did.
Liomen Prime Skincare Review