In some posts we review or mention products and services. We are always impartial but some posts may include affiliate links that can earn us a commission. Click here for details.
Dairy-free milk alternatives have risen massively in popularity over the last few years. Globe Newswire reports that globally, the milk substitutes market will grow from $30.03 billion in 2022 to $34.27 billion in 2023. This is great news for those who have an intolerance or allergy to dairy products, as well as for people who want to reduce their dairy consumption with the future of the planet in mind.
I sit in the latter group and have already vastly reduced my dairy milk consumption at home and switched to dairy-free alternatives when grabbing a coffee while out and about. As such, when I was offered the opportunity to review Overherd oat milk powder, I jumped at the chance.
What Is Overherd Oat Milk?
Overherd is an oat-based milk powder created with the planet firmly in mind. Around 90% of oat milk is made up of water. Overherd focuses on the other 10% – then you add the water at home. Doing so ticks a whole load of environmental boxes:
It reduces packaging waste, with each pouch of Overherd making as much oat milk as you get in eight cartons.
It makes deliveries ten times lighter, reducing emissions from lorries.
As you only make up as much milk as you need, Overherd also reduces food waste.
Overherd provides the powdered oat drink, with a glass bottle that you can use to mix the milk and store it in your fridge.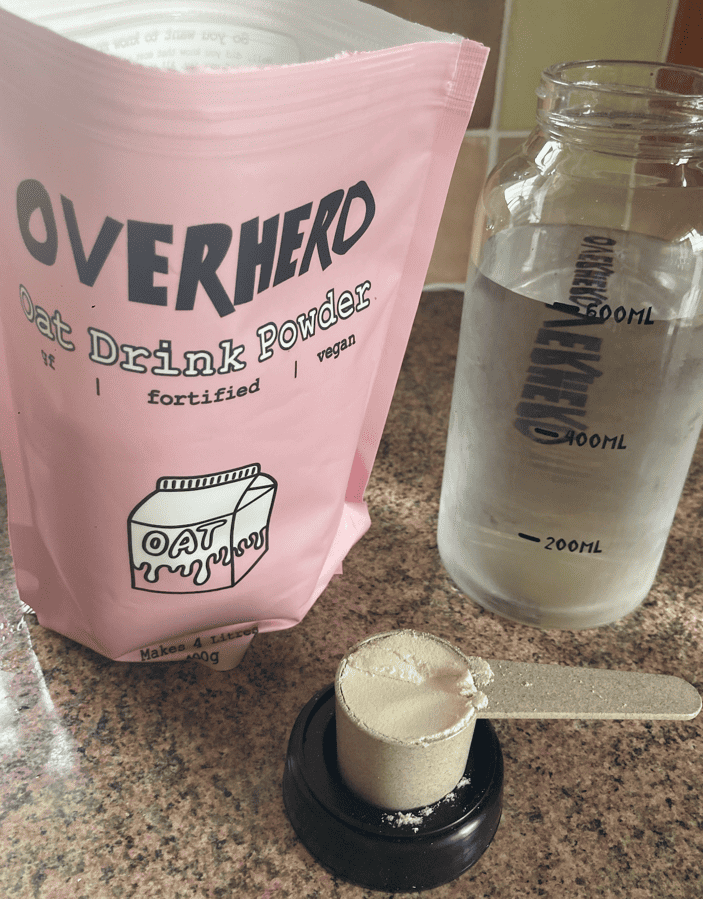 How Does Overherd Oat Drink Powder Work?
You can use Overherd oat milk powder in two ways: you can add water and shake to make oak milk or you can stir the powder directly into your coffee, using it as a vegan creamer.
I started off by making up a bottle of milk. The Overherd milk bottle has markers on for quantities of 200 ml, 400 ml and 600 ml, so you can make up the amount you need easily and avoid waste.
It was super easy to make the milk. All I had to do was fill the bottle with cold water to the level I required (I went for 600 ml), then add one scoop of powder per 200 ml. The scoop is provided along with the powder, so you can measure out the perfect amount every time. So far, so easy.
With the lid firmly screwed on the bottle, it was time to shake. The Overherd packaging suggested I would need to shake the milk for around 10 to 15 seconds. In reality, it took a little longer than that, closer to 45 seconds until there was no sediment left in the bottle. After that, I popped it into the fridge to chill (it will keep for up to three days in the fridge).
How Much Does Overherd Oat Drink Powder Cost?
The recyclable Overherd pouches contain enough powder to make up either four litres of milk or eight, depending on the size you choose. At the time of writing, the four-litre pouch costs £6.99, while the eight-litre costs £12.99. So you can save a few pence by opting for the larger pouch.
Regular oat milk drinkers can also subscribe, which gives an additional 15% off – plus a free glass bottle. Taking this discount into consideration, it comes in at around £1.40 per litre.
What Can You Use Overherd Oat Powder For?
You can use oat milk for anything that you would use dairy milk for. You can drink it by the glass, pour it on cereal, use it in tea, coffee, porridge, baking…
I started off with a glass of Overherd, to check out the taste. It tasted precisely as expected – like oat milk! Next, it was time to test it out on the family.
First up, I set about making an iced brown sugar oat shaken espresso. I find it hard to walk past Starbucks without popping in and grabbing one of these (my reusable cup has a permanent spot in my capacious handbag), so I thought I would try making one for myself. I quickly made up some brown sugar syrup by whisking equal parts brown sugar and water in a gently warming pan until just dissolved. I then put plenty of ice, a glug of brown sugar syrup and a shot of espresso into my cocktail shaker. I gave it all a quick shake, poured it into my glass and added the Overherd milk.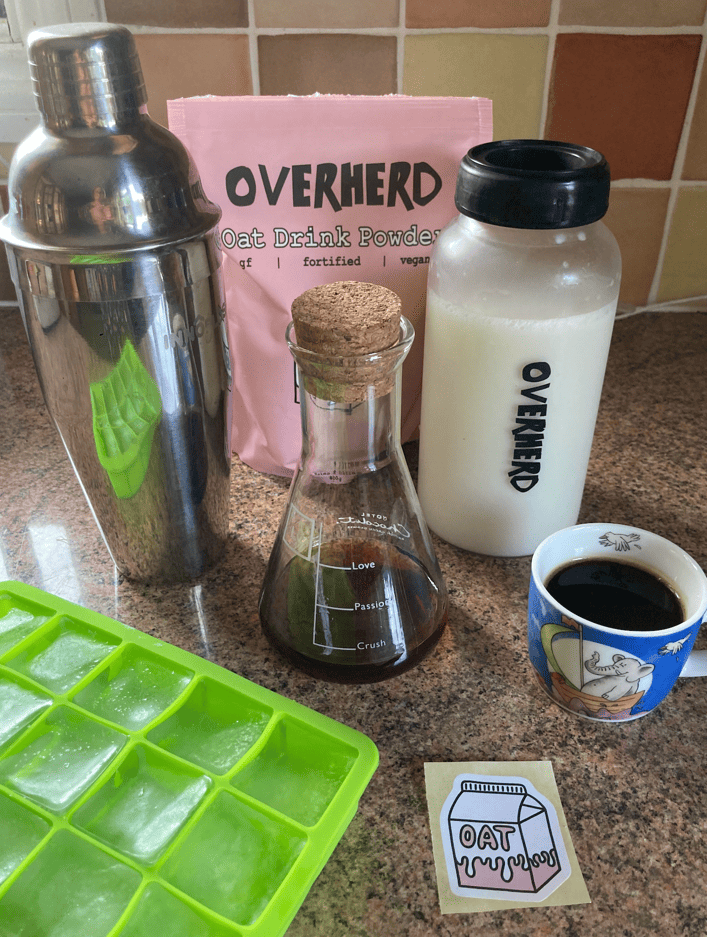 The result was delicious. Sweet, creamy and caffeinated. Just perfect. It looked so good, in fact, that the children wanted in on the action, so I ended up making a decaf version for them, which they absolutely loved.
Next, it was time to try the children with oat milk in something where they would usually have dairy. I opted for strawberry milkshake, as neither child has ever said no to a milkshake! Of course, in the interests of being thorough in this Overherd review, I also made one for myself. Again, very tasty.
My third test was using Overherd as a creamer in my coffee. I switched to black coffee to reduce my dairy intake a year or so ago but I still love the flavour of milky coffee. Overherd is the perfect solution – I can drink creamy, delicious coffee without having to worry about the impact of dairy farming on the climate. It stirs into coffee almost instantly and tastes great. I suspect this will become a regular treat for me from now on.
Is Overherd Oat Milk Powder a Good Replacement for Dairy Milk?
Overherd is a fantastic way to cut down on packaging waste, reduce the carbon footprint associated with delivery miles and minimise food waste. It's also a great replacement for dairy milk – you can use it for anything where you would previously have used dairy.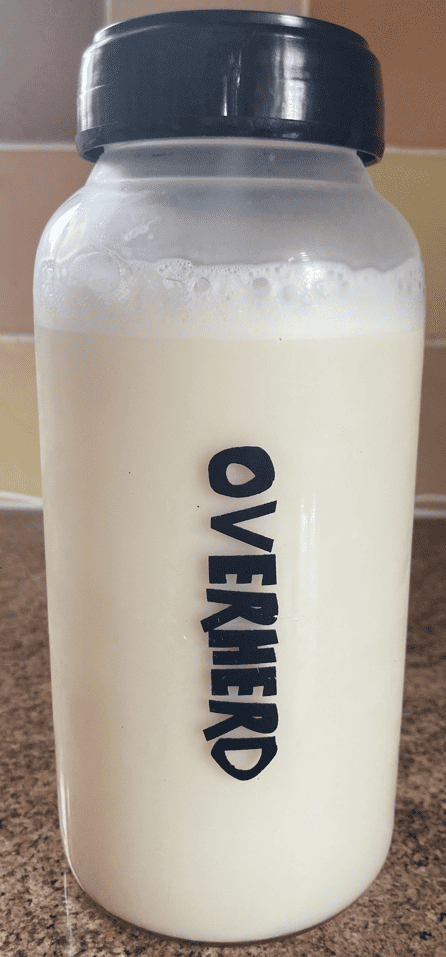 As an added bonus, Overherd is also lower in calories that many other oat milk brands, coming in at just 44 Kcal per 100 ml consumed. Alpro, Califia Farms and Oatly come in at 45 Kcal, 54 Kcal and 57 Kcal respectively.
To wrap up this Overherd oat milk review, I'm happy to say that it ticks all the right boxes for me. It's a more sustainable way to drink oat milk, it's a tasty alternative to dairy and being able to make up just the quantity I need means less food waste. Definitely a product that has earned its place in my cupboard!