In some posts we review or mention products and services. We are always impartial but some posts may include affiliate links that can earn us a commission. Click here for details.
Right now, I suspect I am an advertiser's dream when it comes to soft drinks – especially anything with interesting added ingredients and health benefits. I no longer drink alcohol, so am always in the market for interesting new "grown up drinks" – which is why I've already reviewed so many for this site.
As is often the case, I discovered Trip's range of "CBD Infused" drinks via a targeted ad on Facebook. I was intrigued enough to put in an order, and in this Trip Drinks review, I let you know my views on the whole range.
I'm always excited to try out new drinks, but I only tend to order them more than once if they really impress – especially as so many new products are coming out at the moment.
To find out whether Trip Drinks got a second order from me, you'll have to read on.
NOTE: I've now also written a Trip CBD Oil review.
What Are Trip Drinks?
Trip Drinks is a range of healthy soft drinks infused with CBD, and a range of natural botanicals including lemon balm and ginseng. Although it's a relatively new range, it has gathered considerable momentum already, with positive praise from the likes of Forbes, Vogue and The Guardian.
Sold as a product that can help you to "find your calm amidst the every day chaos," the drinks are among many products currently hitting the market that incorporate natural, herbal ingredients that have various health and anti-anxiety benefits.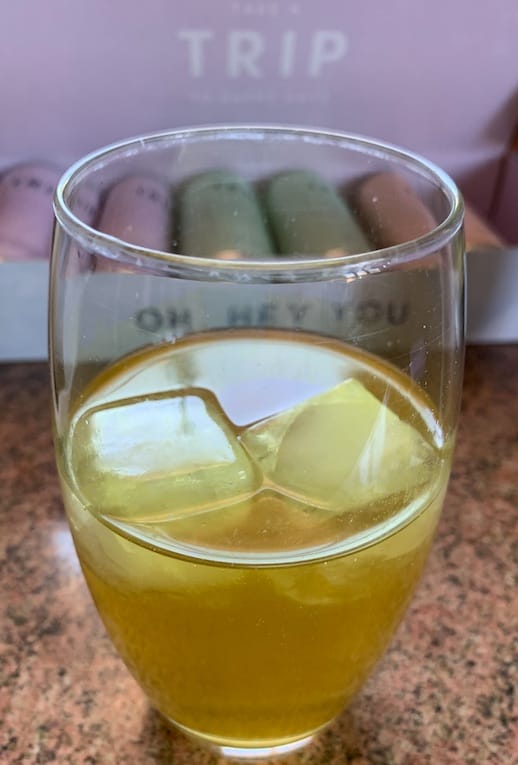 What is In Trip Drinks?
Trip drinks have a base of water and natural fruit juice concentrates. They're naturally sweetened with steviol, an ingredient many health-conscious people (myself included) prefer to chemicals like aspartame and sucralose.
The interesting part is the added botanical ingredients, and the inclusion of a small dose of CBD (cannabidiol) – a non-psychoactive ingredient derived from the cannabis plant.
CBD is all the rage these days, with many fans (again, myself included), who report benefits such as a greater sense of calm, reduced anxiety, and less pain and inflammation.
Here's a quick run-down of all the botanicals included in Trip drinks, along with their perceived benefits. I must emphasise that these are benefits they are widely thought to have. I'm not making any medical claims here – this is a personal blog, not a scientific paper.
CBD: This increasingly popular ingredient is a massive deal these days. It's often used as a natural remedy for anxiety, for lots of pain-related conditions such as arthritis and neuropathy, and to relieve nausea. It does NOT get you "high," in case you're wondering! To find out more about it, check out this guide from Harvard University.
Lemon Balm: Lemon balm is from the mint family, and people have long believed it to promote relaxation and to aid in many ailments. These include headaches, nausea and menstrual cramps. This Healthline article discusses several studies into those claims.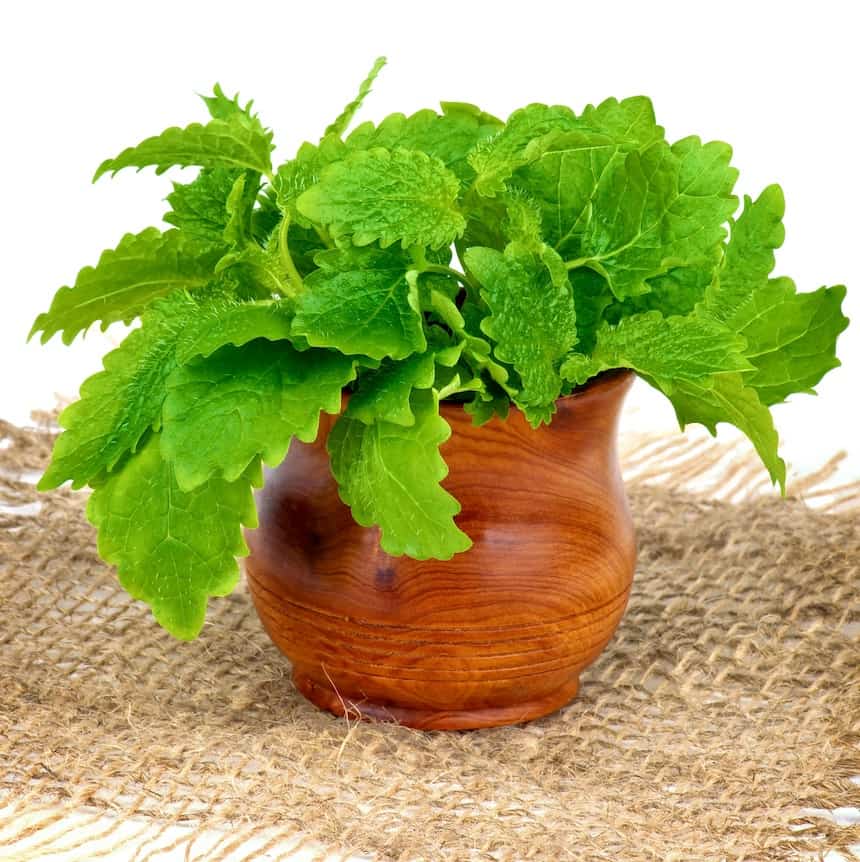 Ginseng: This is a supplement that has been used for centuries, and is particularly popular in China and Korea. It is thought to help with everything from cognitive function to blood sugar levels. That said, there is limited medical evidence for these long-believed claims.
L-Theanine: L-Theanine is an amino acid that naturally occurs in tea. It's said to be good for memory and clarity, and many people believe it's a good compliment to caffeine. I am one of those people, as it seems to "take the edge" off the jittery buzz. (L Theanine is also found in Three Spirit's Non Alcoholic Spirits range – reviewed here – where I have particularly noticed that positive effect).
Chamomile: Most of us are familiar with chamomile tea. It's a hugely popular ingredient to promote sleep and relaxation.
Turmeric: The only Trip drink that includes turmeric is the peach and ginger variety. As well as giving the drink a striking orange colour, turmeric is seen (particularly in India) as a medicinal herb, used for everything from hayfever to depression and itching. As with the ginseng, there isn't yet much in the way of peer-reviewed evidence to support these beliefs.
Trip Drinks Review: Flavour By Flavour
In a moment, we'll move on to the "effects" of Trip drinks, and discuss whether you notice any tangible benefits. But first, let's look at something that's arguably more important – what they taste like.
Trip Lemon Basil Drink
This particular drink provides exactly what it says on the can. It's probably the most "herbal" of the three in terms of both aroma and flavour. It tastes of lemon, and it tastes of basil – so I guess we can say "mission accomplished!"
The flavour is in perfect balance, and it's an agreeable herbal taste, not a nasty Jägermeister-like herbal taste!
I'm not convinced it would appeal to everybody, but I enjoy it very much.
VERDICT: 8/10
Trip Elderflower Mint
Until I tried Trip drinks, I had no idea that I would enjoy a drink that tastes – frankly – like Wrigley's Spearmint chewing gum. It really does!
That may sound a bit odd, but it's genuinely not a bad thing. I have to confess that I can't taste much in the way of elderflower, but the overall flavour is really good. This is probably my favourite of the three.
VERDICT: 9/10
Trip Peach Ginger
The Peach Ginger is the one that includes turmeric, and as you can see from the photo near the top of this review, it gives the drink a very bright orange colour.
Flavour-wise it's a strong ginger, but not an overly spicy ginger. It's very refreshing, although the ginger overpowers the peach a little. It's a mouth-filling taste, with a fresh aroma. I don't know if it's possible for something to "smell healthy," but it kind of does.
VERDICT: 8/10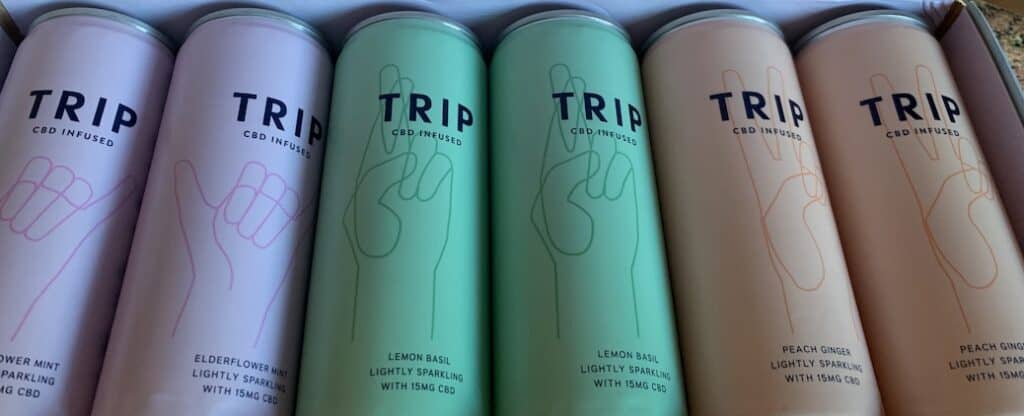 Effects
I'm going to have to disappoint the hedonists reading this by saying that if you're expecting Trip drinks to blast you into the stratosphere, you're going to be sorely disappointed!
Despite the "Trip" name, these are very much a wellbeing product, and any "effects" will be subtle at best. Let's be realistic, folks, they sell these in Sainsbury's!
However, I like to test products throughly, and with an open mind. With that ethos, I drank several of these before creating my Trip Drinks review. I did so at times when I could have a good chance to really focus in on whether I "noticed anything," such as when I was about to sit down for a period of uninterrupted work.
The CBD
I first want to talk about the CBD. Something I've not revealed until now is that I am a regular (daily) user of CBD. I find it enormously helpful for my anxiety and general state of mind. I am strongly considering setting up a separate site to discuss it, and to review the products I use.
With that in mind, I do (for fear of sounding conceited) know a LOT about CBD. And one thing I know is that the dose of CBD needed to feel positive effects can vary wildly from person to person. I also know that – for most – the 15mg "dose" in a can of Trip is a pretty small one.
This is compounded by the bioavailability of CBD when you eat or drink it. That sounds awfully technical, but it essentially relates to how much of the substance is actually absorbed by the body. Some estimates are that it is as low as 4%.
This is why I vape my CBD, as it's a much more "bioavailable" method of taking it. And I use much bigger doses than 15mg! That's very much another story, but my point is that the 15mg dose in Trip (and, indeed, in almost every CBD drink on the market) is probably too low to really do much for many people.
This by no means implies that there's anything disingenuous about the product or its marketing. All I'm saying is not to expect miracles, nor to assume CBD does nothing for you if this is the first and only such product you try.
The Other Botanical Ingredients
The other herbal ingredients in Trip are a blend intended to promote stress relief, relaxation and better digestion. I've tried most of them before – alone or in other products – at various times.
I have to say I was intrigued by the presence of chamomile. It's something usually seen as a bedtime supplement, so I was concerned Trip would make me sleepy. Thankfully it didn't.
I've generally been having a can of Trip mid afternoon. This is when I'd often reach for a second can of Diet Coke – a decision I frequently regret afterwards because it leaves me feeling washed-out and jittery.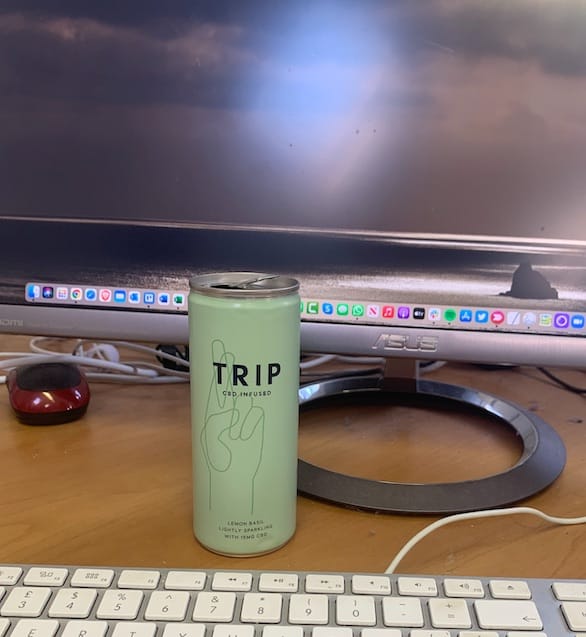 Drinking Trip doesn't suddenly make me feel "different." It's not like when I vape CBD, which can provide a really notable sense of calm, and a slowdown of racing thoughts. However, I do tend to feel focussed and quite "zen" after drinking Trip. It may be placebo, to an extent, but millions of people believe in these ingredients, and have done for hundreds of years.
My digestion has also been very good since I've been drinking these regularly. However, I should say that digestion doesn't really give me much trouble anyway, since I quit drinking alcohol!
All in all, I have a "what's not to like?" perception of these drinks. They taste good, they seem healthy, and they are clearly a better choice than more Diet Coke while I'm sitting at my desk.
I couldn't swear that my focus and level of calm would be any different without them – but that goes for every supplement and health product out there!
Ingredients, Calories and Nutrition
Whenever I do a drinks review, I like to have a good look at the ingredients and nutritional information.
There's nothing in Trip Drinks that seriously worries me. There's water (it doesn't specify spring water), fruit juices from concentrates, the CBD and botanicals, and steviol glycosides as the sweetener. One addition that many of the drinks I review do without is erythritol, a flavour enhancer – just so you know!
The drinks are 20 calories per can, so not much to concern you there. They are also vegan, and have no added sugar.
One thing that's a bit of a shame is that other than the CBD, Trip don't tell us the quantities of the ginseng, L-Theanine etc. That's quite common in products like this, and presumably they don't want to give away the trade secrets. However, it does leave you wondering how "meaningful" a quantity of those ingredients you're consuming.
Presentation
I only include a presentation section in these reviews when there's something positive to say. While the presentation didn't blow me away as much as when I did my review of Jukes Coridalities, the drinks do come in a nice box with a leaflet, when you buy a small mixed case. This is shown in the earlier photos.
Ethics and Eco Credentials
Trip Drinks come with 100% recyclable packaging, and everything is made in the UK.
I always find it interesting to see what these "craft" brands do to contribute to wider society. While I didn't see anything on the website about charity initiatives or donations, the company does offer some discounts – for healthcare workers, key workers, and 18-25s.
This is a great initiative, and it follows the lead of lots of US-based CBD businesses, which are generally a little more evolved than those here in the UK.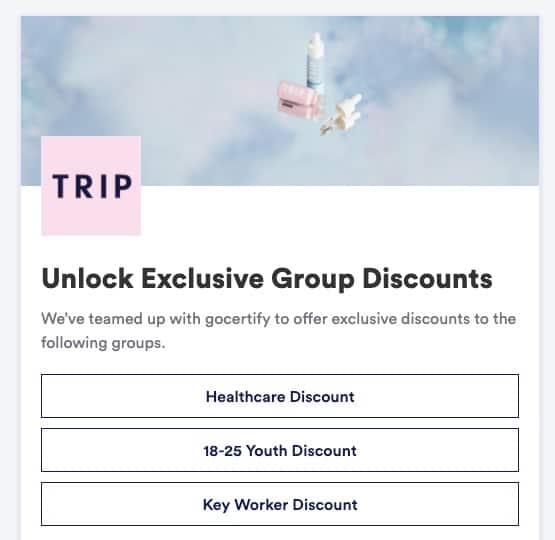 Value
As we near the end of this Trip Drinks review, we come to the all important question of price.
As with many things, the price goes down for larger orders. If you buy a case of 24 cans, this costs £39, which works out to £1.63 per can. If you buy a pack of six (which is also available as a mix with all three flavours), this costs £14 – or £2.33 per can.
I think the pricing is well pitched – it's not cheap, but it's not luck-pushingly expensive either. And plenty of artisan drink makers DO push their luck on price.
Trip Drinks Coupon Codes
Use can use the following code to make savings on drinks and other products from the Trip website:
Use code AFFTRIP15 here to save 15% on spends over £50
Verdict
As I said at the start of my review, the way I truly judge a product is whether I buy it again after my initial order.
Well, I'm pleased to say I'm now on my second box of Trip Drinks, and I think they're going to end up in my permanent rotation.
As somebody who doesn't drink alcohol, it's nice to have some alternatives in my armoury. I'm thankful to live in a time when there are SO many options, with more coming to the marketplace all the time.
Don't expect some earth-shattering effect from the CBD and other ingredients. If you notice anything it will be subtle, not profound. However, they do seem to make me feel rather "zen." They also have great flavour. They are pleasantly "different," without being too weird to be enjoyable!
Recommended.
Where To Buy Trip Drinks
Trip drinks are available across the UK, and I've even seen them in my local Sainsbury's – but the easiest place to get them is on the company's website. Pleasingly, UK shipping is free, and the company also ships internationally.
If you're interested in other botanical-based drinks, check out my Pentire review.
We also have a big round-up of the best alcohol free drinks here.