In some posts we review or mention products and services. We are always impartial but some posts may include affiliate links that can earn us a commission. Click here for details.
You may be rather surprised when I tell you what first attracted me to Pentire drinks – a small range of "botanical alcohol free spirits," produced in Cornwall, UK.
It was the sound engineering on their advertising!
Like many of the brands I discover, I was led to Pentire via targeted Facebook ads. The sound of the ice dropping and the drink being poured over was insanely well-produced. Whoever put those ads together deserves a pay rise.
Despite being so wowed by the video ad, I didn't actually try Pentire until I happened across it in a hotel bar. I was impressed and bought some for home, and am now ready to share what I think in this Pentire drinks review.
As always, I shall start at the very beginning.
What are Pentire Drinks?
Pentire Drinks is a range of clear alcohol-free spirits, distilled in Cornwall, UK. It's (currently) a small range of just two varieties: Pentire Adrift and Pentire Seaward.
Pentire drinks are vegan friendly and 100% plant-based. While they're not marketed as an alcohol free gin, gin is the closest boozy approximation, and their recommended serve is with tonic.
Pentire Drinks Review – Flavour by Flavour
I've had the pleasure of sampling both Adrift and Seaward. Here's what I thought of each type:
Pentire Adrift
I first encountered Pentire Adrift in a hotel bar. I'd actually like to shout-out The White Horse in Dorking, Surrey, for its fantastic selection of alcohol free spirits. It made a business trip for this non-drinker that bit more interesting!
Pentire Adrift smells incredible. It's a complex aroma that's hard to describe, but it somehow reminded me of Gripe Water, a sugary, herby concoction that parents used to dip baby's dummies (pacifiers) in back in the day. Interestingly, I noticed the same flavour when I tried Caleno Light and Zesty.
The aroma has a citrus edge, and you also catch a little whiff of sage. The smell really is good – I could happily just sit and breathe in the aroma.
Both Pentire drinks come with the recommendation of serving them simply, mixed with Fever Tree tonic. Interestingly, with the Adrift, that leaves you with something where the taste is rather different to the aroma – richer, stronger, far more bitter, and very much a "grown up drink."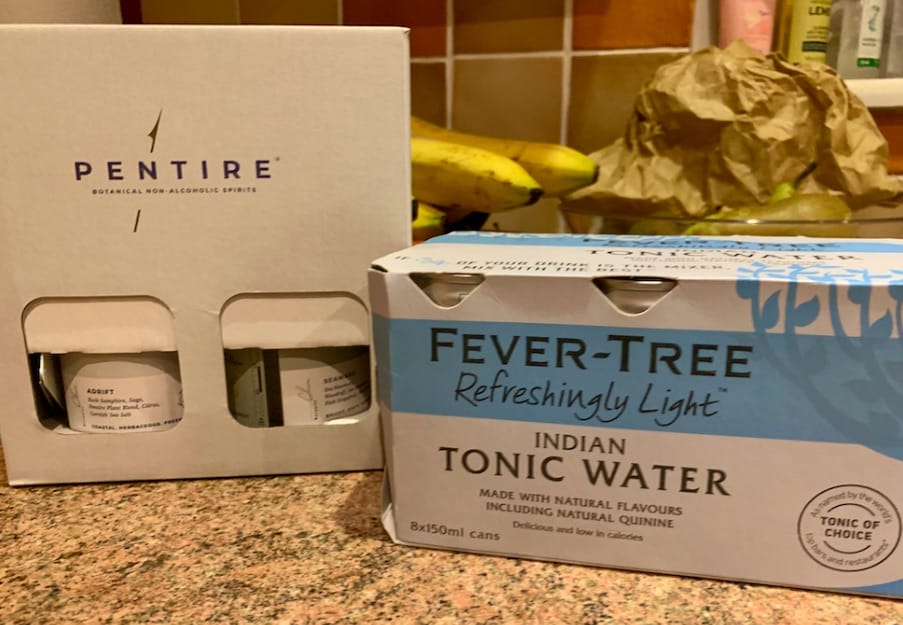 The sage definitely comes through strongly in the flavour, making this quite a savoury drink – and I say that as a good thing. It's mouth-filling, smooth and mellow, but with a little citrus edge that you pick up with the end of your tongue.
Adrift is my favourite of the two Pentire drinks. It's great served simply with tonic, but I also recommend it as it was served to me in the hotel, with apple juice, honey and soda. That really did add up to something special, and I will recreate it at home very soon.
VERDICT: 9/10
Pentire Seaward Review
Pentire Seaward is more of an "acquired taste" – but it didn't take me more than a few sips to acquire it…
Similar to the Adrift, the smell on opening the bottle does nothing to prepare you for the strength of the taste. The aroma is predominantly grapefruit, with a little edge of rosemary in place of Adrift's sage.
Looking back at my tasting notes, I wrote "it's tastes like something that's going to get me drunk!" I think that has to be a good thing for those looking for an alcohol alternative. Both Pentire drinks are complex and sophisticated – and I'd happily sit with people consuming gin and tonics, without feeling as if I was missing out.
Going back to the flavour, it is – again – mouth-filling and mellow – a real slow sipper. However, this one does have something of a "swimming pool" flavour that my palate took a few sips to adjust to.
It definitely gets a tick from me – just not the enormous "I'm ordering more of this right now" kind of tick that I gave Pentire Adrift.
VERDICT: 7.5/10
Calories and Nutrition
Almost all the alcohol free booze companies – to differing degrees – make products that nod in the direction of healthy.
Pentire drinks really ARE healthy!
There are just four calories in a standard serving. So, you're talking less than 30 calories for the entire drink if you mix it, as suggested, with a mixer-sized can of Light Fever Tree Tonic.
That's insanely low for a drink that feels like a real treat.
Furthermore, the rock samphire included in the drinks contains vitamins C, E and K, as well as Omega 3 and antioxidants. If you didn't already feel virtuous drinking an alcohol free alternative to gin, you should now!
Joking aside, the seriously low calories in Pentire do give me another reason to re-order it. Even though I don't drink, I still try to manage my weight. This is a great choice – better even than a no-alcohol beer – at times when I'm really counting calories.
Value
People complain a LOT about the price of alcohol free drinks – sometimes rather unfairly. There's an assumption that if something doesn't contain alcohol, it should automatically cost much less than anything that does.
On the flip-side, some of these drink companies do push their luck on price. So how do Pentire Drinks fare for value?
Standard spirit-sized 70cl bottles cost £26.80 on the Pentire website, but I'd recommend looking on Amazon as they were cheaper there when I wrote up this review.
One benefit of ordering direct is that they do sell "taster bundles" of two small bottles, complete with a case of Fever Tree tonic. That's what I bought for this Pentire Drinks review – it was good value, and I already plan to buy one or two more of those as gifts. (I shall have to hope the recipients don't read this).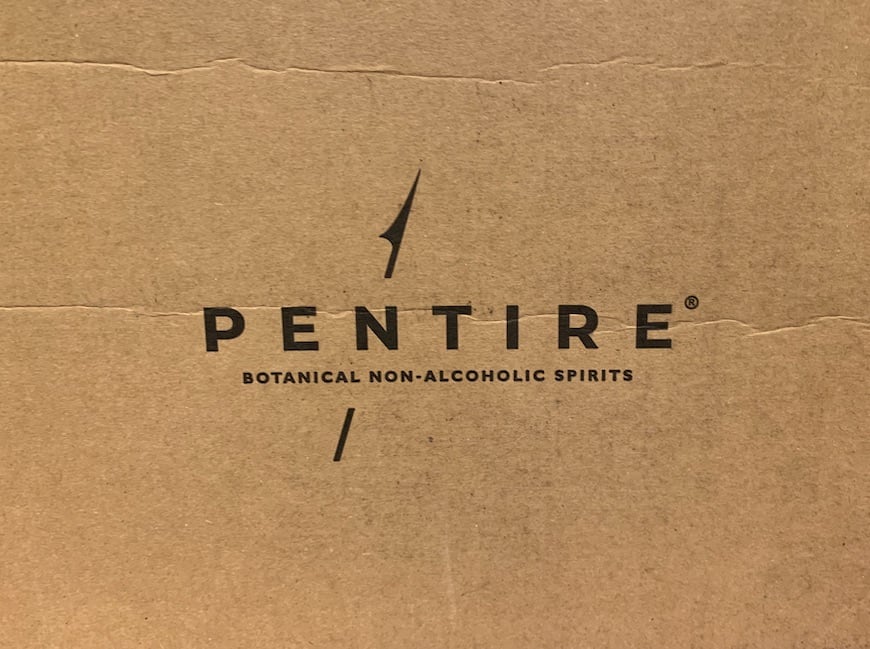 All in all, Pentire drinks ARE quite expensive, but – I believe – fairly priced for the quality on offer. They're not quite at "pushing their luck" level.
Presentation
Pentire's branding is beautifully designed and understated – the marketing has been done very well. My order came in a branded box, with a small booklet containing information on the drinks.
If I had to make one criticism, I'd say it would be good if the booklet included a few more serving ideas. You can find them on the website (including the apple concoction I so enjoyed) – but I do wish they'd put them in the book. I'd genuinely be more likely to make them if the recipe was sitting in my kitchen.
Sustainability and Company Ethics
Nowadays, people (quite rightly) care about the companies they spend money with, and how they operate.
Pentire drinks scores highly here. They do carbon neutral deliveries, and use organic, Fair Trade ingredients. Packaging is recycled and recyclable.
The company also donates to charities that protect the oceans and environment. Lots of big ticks right there.
Pentire Review: Conclusion
This is perhaps the most wholeheartedly positive review I've published on this site so far.
From the branding to the taste to the health benefits to the ethics, this is a range of drinks with a serious feel-good factor.
Admittedly I do prefer one variety to the other, by quite a substantial margin. I probably wouldn't be nearly as positive if I'd only tried Pentire Seaward – but perhaps it will grow on me.
Pentire Adrift, however, is currently one of my new favourite things. When I quit drinking, I never knew I'd become so interested in alcohol free spirits. Three Spirit opened my eyes (review here) – and now I want to try everything out there!
I will definitely be buying more Pentire to add to my growing "booze free bar" at home. I recommend you do the same!