In some posts we review or mention products and services. We are always impartial but some posts may include affiliate links that can earn us a commission. Click here for details.
Not that long ago, writing an article on the best alcohol free drinks would have been a futile endeavour.
There simply wasn't that much choice – and even alcohol free beers were insipid and uninspiring.
That's NOT the case now.
There's been a revolution in alcohol free drinks, pushed along by a growing "sober curious" movement. We are witnessing an undeniable trend for people to reduce their booze intake, or quit alcohol altogether. And those people are finding an abundance of choice – from alcohol free versions of their favourite tipples, to completely new options.


In this article, we run through some of the best alcohol free drinks on the market.
Why Listen To Me?
I'm an ex-drinker. I used to be rather fond of alcohol, both for its intoxicating effects and for the taste and ritual of certain drinks.
But I decided to quit drinking for a while in August 2020, and haven't gone back. I won't bore you with the details in this article, but you will find plenty on this site if you're interested in hearing my story.
Since I quit, I've become passionate about alcohol free drinks, and have spent a lot of time and money sampling them! I've thoroughly enjoyed many of my purchases, but also tipped a fair few down the sink!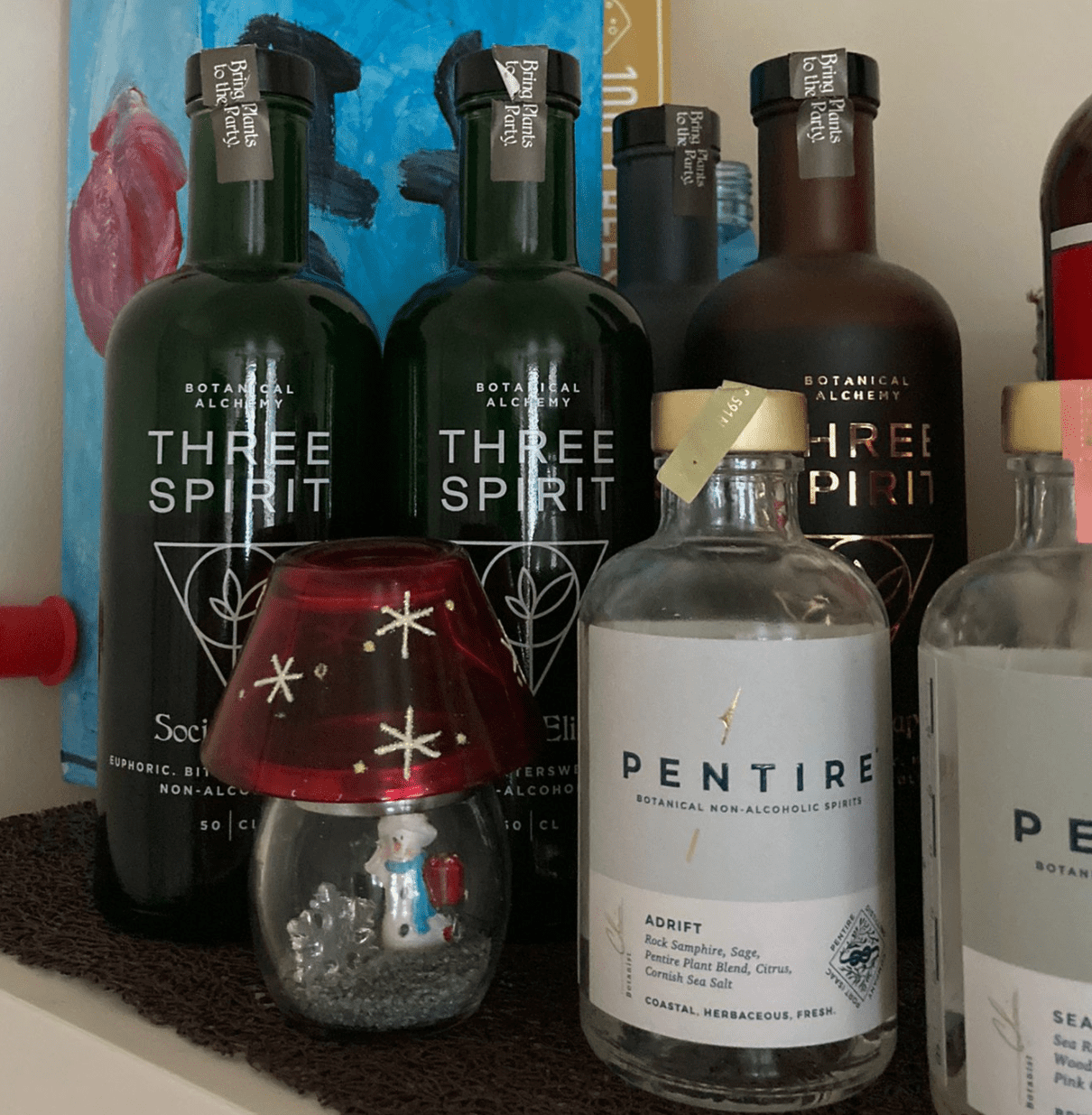 I've discovered enticing alcohol free cocktails, beers that could fool anyone that they contain booze, and even a few passable wine substitutes. But I've also found plenty of dishwater swill and overpriced "cordial."
You could say that I drank all that stuff so you don't have to! This article lists the best alcohol free drinks I've uncovered so far – whether you're drinking them for Dry January or Sober October, or as part of a bigger lifestyle change.
Let's begin.
The Best Alcohol Free Beers
Alcohol free beers were the first thing the manufacturers started to get right.
If you last tried them ten (or even five) years ago, you'll be astounded by how much they're improved. And that applies both to the mainstream choices from big beer brands and to the alcohol free craft beers from smaller breweries.
I've sampled dozens, if not hundreds, of different AF beers since I quit drinking. Here are some of the best alcohol free beers I've encountered.
Lucky Saint
Lucky Saint started out as quite a niche product, but it's gathered real momentum. It's now not unusual to see it in supermarkets and even on draught in some UK pubs.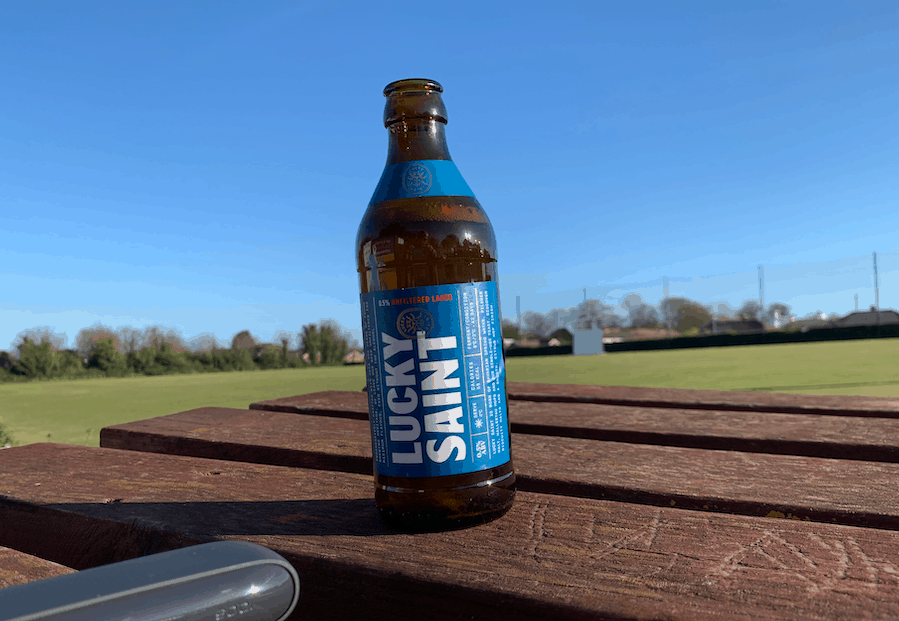 It's a product that deserves its success. It's very much a "standard lager" (there are hoppier ales to come on this list) but it has flavour, body and mouth-feel. Many of the alcohol free lagers fail to provide that (hello there, Budweiser Zero).
Unfiltered, and brewed with the same techniques as "proper beer," Lucky Saint has won a Great Taste award and plenty of other accolades. If you need convincing that an alcohol free drink can still be enjoyable and "have a point," you could do a lot worse.
Club Tropica Alcohol Free
In my local town, there's a fantastic record shop that doubles as a beer store. They have a growing range of alcohol free beers, and this is best one I discovered in there.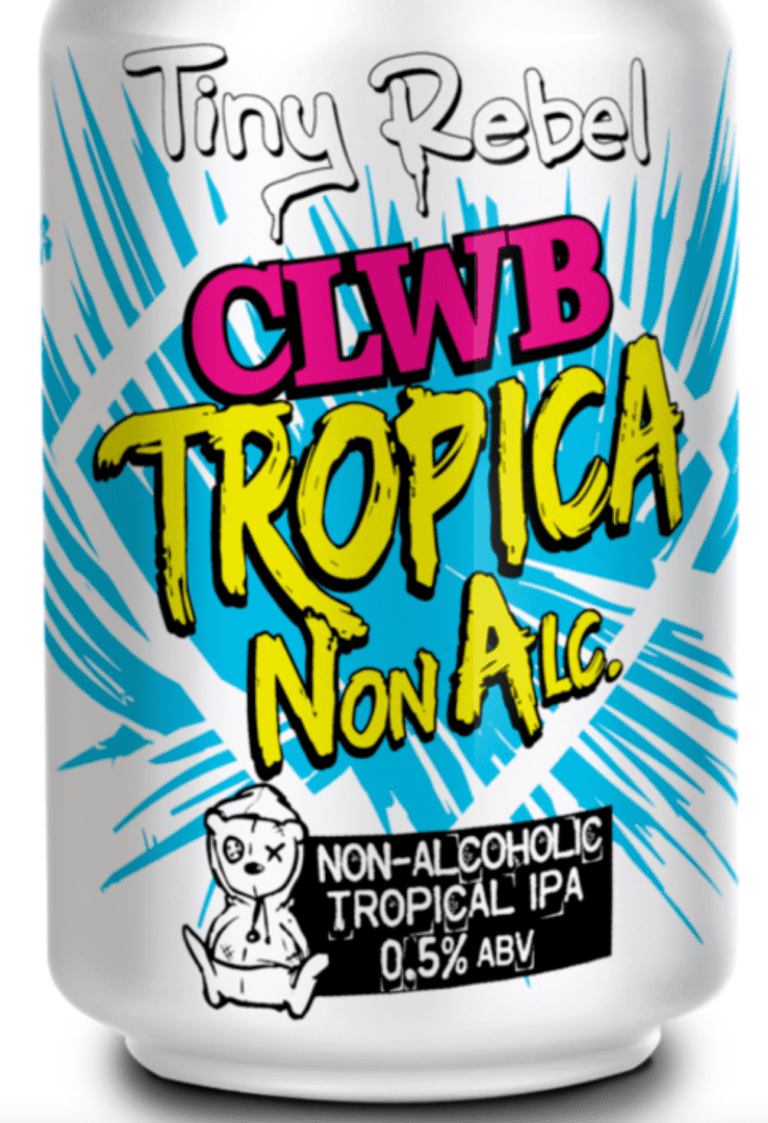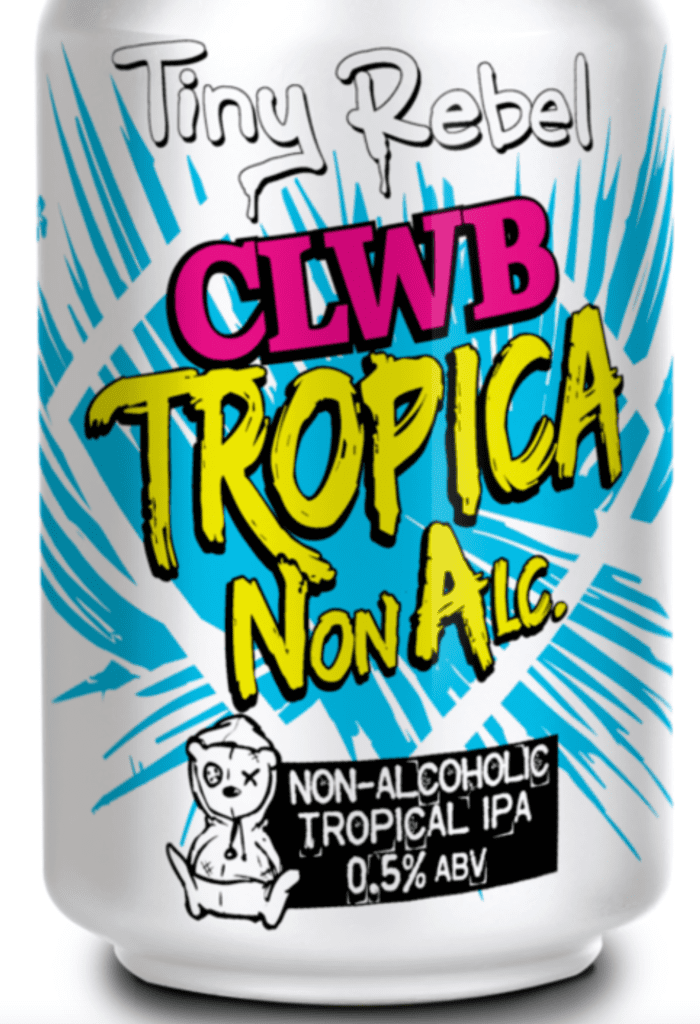 Described as a "tropical IPA," this is a great beer to bridge the gap between a standard lager and a more flavourful ale. Tropical is definitely the right word, as it has a fruity edge, with citra hops and an whiff of mango.
This is a perfect summer beer (I'm known to grab one when I'm out on my bike and enjoy it in the park with a book), but it's also too good to only drink for a few months of the year! Highly recommended.
You can buy it direct from the manufacturer, Tiny Rebel, or as part of an alcohol free mixed case from Amazon.
Brewdog Alcohol Free Beer
Brewdog is a pretty mainstream brand nowadays, and it's good to see the company paying way more than lip-service to the alcohol free movement.
Brewdog has a range of five different alcohol free beers based on its normal products. The AF options include Hazy AF, which is rather similar to the Club Tropica recommended above, Lost AF, a simple lager, and Nanny State, for those who prefer a bitter-tasting ale.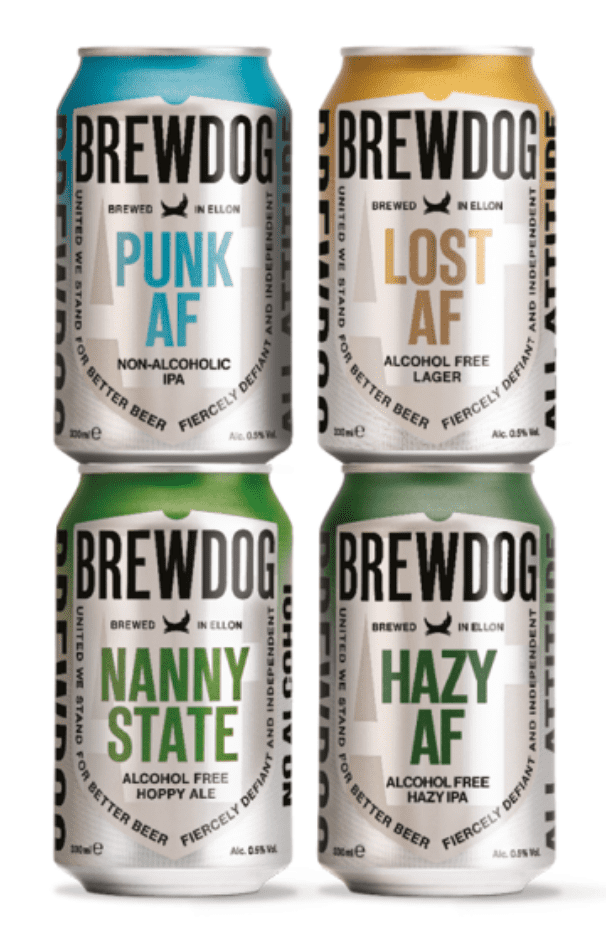 It's well worth looking out for a mixed case of these, as you'll undoubtedly find your own favourite.
Heineken Zero (0.0)
I'm mentioning this one here not because it's a real favourite of mine, but because it's a solid alcohol free beer that's widely available wherever you are.
When I visit a pub (not very often!) it can be disappointing when they have a poor zero alcohol selection – especially given the huge choice available now. BUT seeing Heineken Zero at least means I'll be drinking something decent.
There's not that much to say about it, other than that it is a perfectly serviceable malt lager, brewed like it's boozy big brother, and tasting much the same. But I'm including it on my list of the best alcohol free drinks in case you're faced with limited choice wherever you are…
You can find it here.
The Best Alcohol Free Spirits
Pentire Drinks (Pentire Adrift)
Pentire is a small boutique firm from Cornwall, UK, specialising in distilled alcohol free spirits.
There's two in the range (which I reviewed in full here). The Seaward is not to my personal taste, but I LOVE the Adrift, which has aromas of citrus, sage and sugary Gripe Water!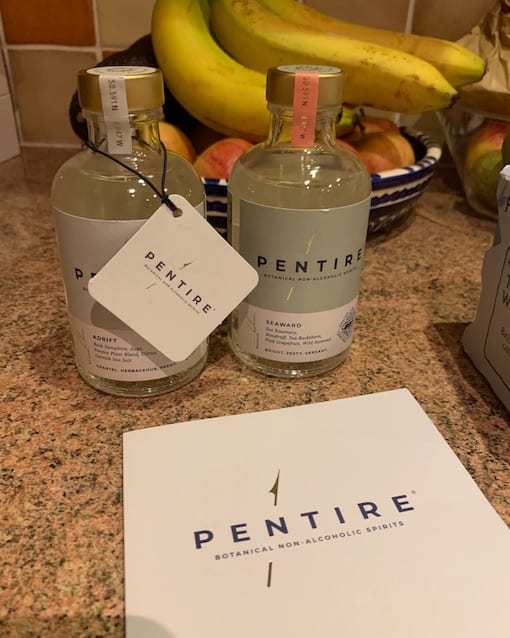 I served one of these to my mum over Christmas, and she said she'd never have known it was non-alcoholic. It's a real "treat" drink, and perfect for relaxing over on a Friday evening. Although it's not marketed as an alcohol free gin, that's very much the role it plays.
Seedlip
Seedlip was one of the first mainstream alcohol free spirits, and you see it in plenty of bars.
It's a botanical spirit, close to gin, and available in three varieties. The Citrus and Ginger "Grove 42" is my personal favourite, but they're all worthy choices that certainly tick the "grown up drink" box.
Seeplip drinks are widely available in supermarkets, and you can also find them here.
Alcohol Free Drinks with Something Extra
There's a growing selection of drinks that go beyond simply offering an alcohol free alternative. These contain extra plant-based ingredients, functional herbs and botanicals, and in some cases extras like CBD.
The idea of these drinks is that they go some way to replicate or replace the effects people seek from drinking alcohol – relaxation or a social "buzz."
It's important to manage your expectations here. None of these drinks is going to get you truly drunk or "buzzed" – but that's kind of the point. They're not going to land you with a hangover either.
I'm a cautious fan of these drinks. Something to relax you after work, or to make you feel energetic or more social – without booze involved – is pretty desirable.
Here are a few that have worked for me:
Three Spirit
I'm a huge fan of the Three Spirit range. Since initially trying it, I've kept a constant stock at home, and I regularly enjoy a "Livener" with tonic during a DJ stream, or a "Social Elixir" with ginger ale on a Friday evening with my wife.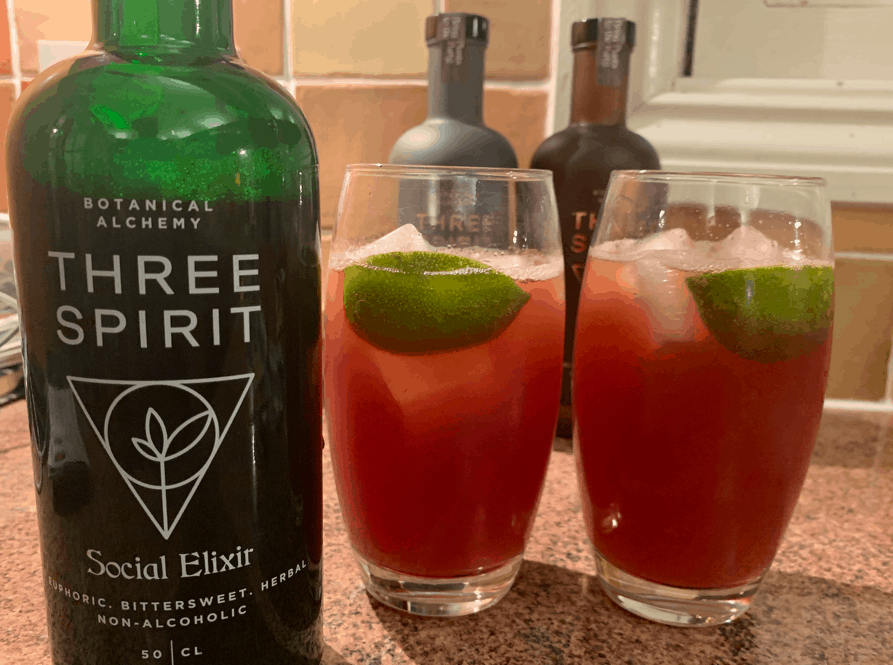 There are three different drinks in Three Spirit's "Botanical Alchemy" range. They contain various "functional" ingredients, from relatively well-known things like valerian and lemon balm, to more exotic additions like guayusa and Schisandra berry.
The Livener is intended to boost your energy, and contains caffeine from green tea. The Social Elixir claims to make you feel "fun and flirty," and The Nightcap is for the end of the night to get you ready for a good sleep.
Your mileage will vary in terms of effects (read my full review for my own experience). But in terms of taste, they are all both unique and agreeable – with basic serves and with used in more interesting cocktails.
Three Spirit is not cheap – but it's a very interesting range. The fact I buy it again and again speaks for itself.
Impossibrew
Impossibrew is an interesting one. New to the world of alcohol free beers, it has a similar objective to Three Spirit, offering not only an alternative drink, but an alternative "buzz." It's described as a "mood enhancing lager," and there's also now a pale ale in the range. I will be placing an order to try that one as soon as I finish typing this up!
The "effects" come from 5 HTP, L-Theanine & Vitamin B1. As with Three Spirit, you're likely to be disappointed if you expect to feel exactly as you would if you'd had a real beer. However, in my experience they do give you a relaxing, slightly social feeling, akin to what you could expect from one or two light beers.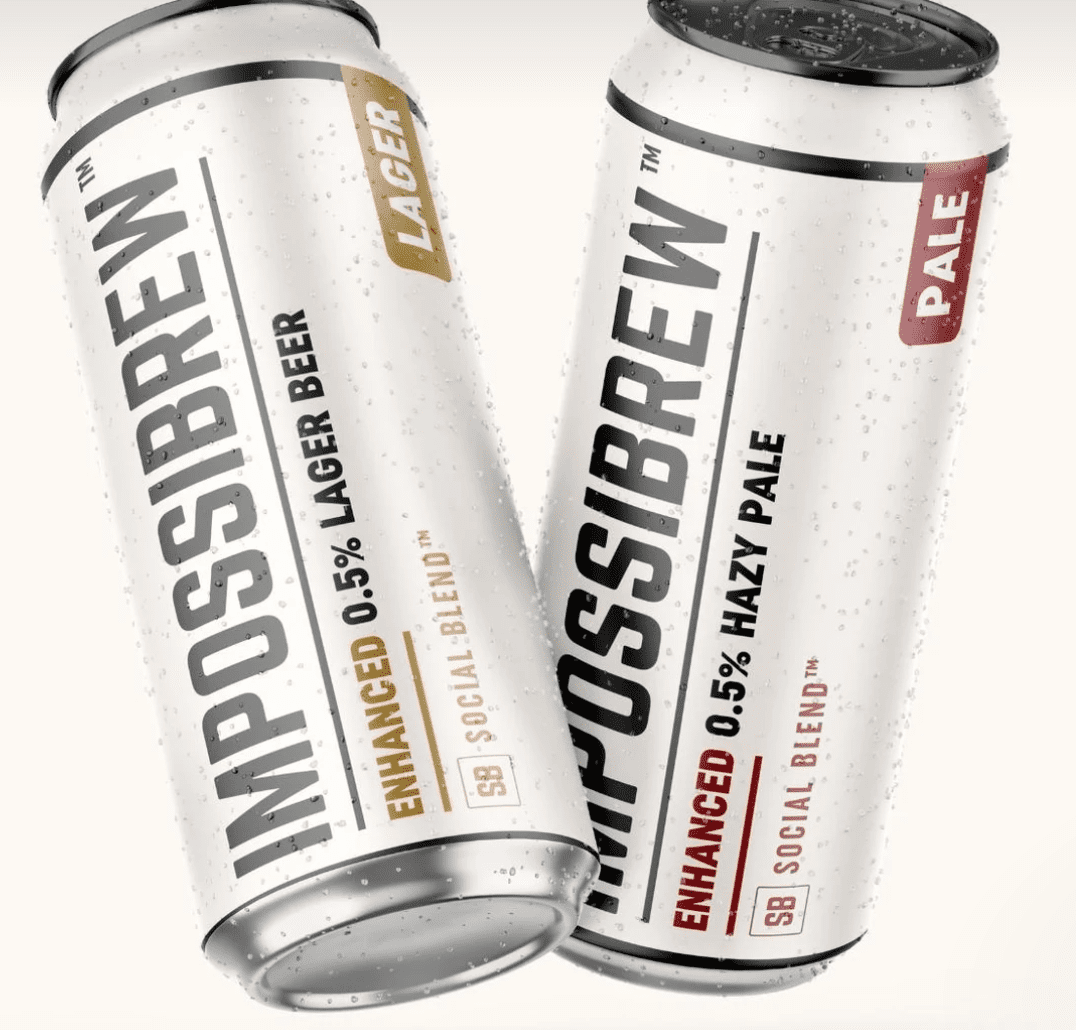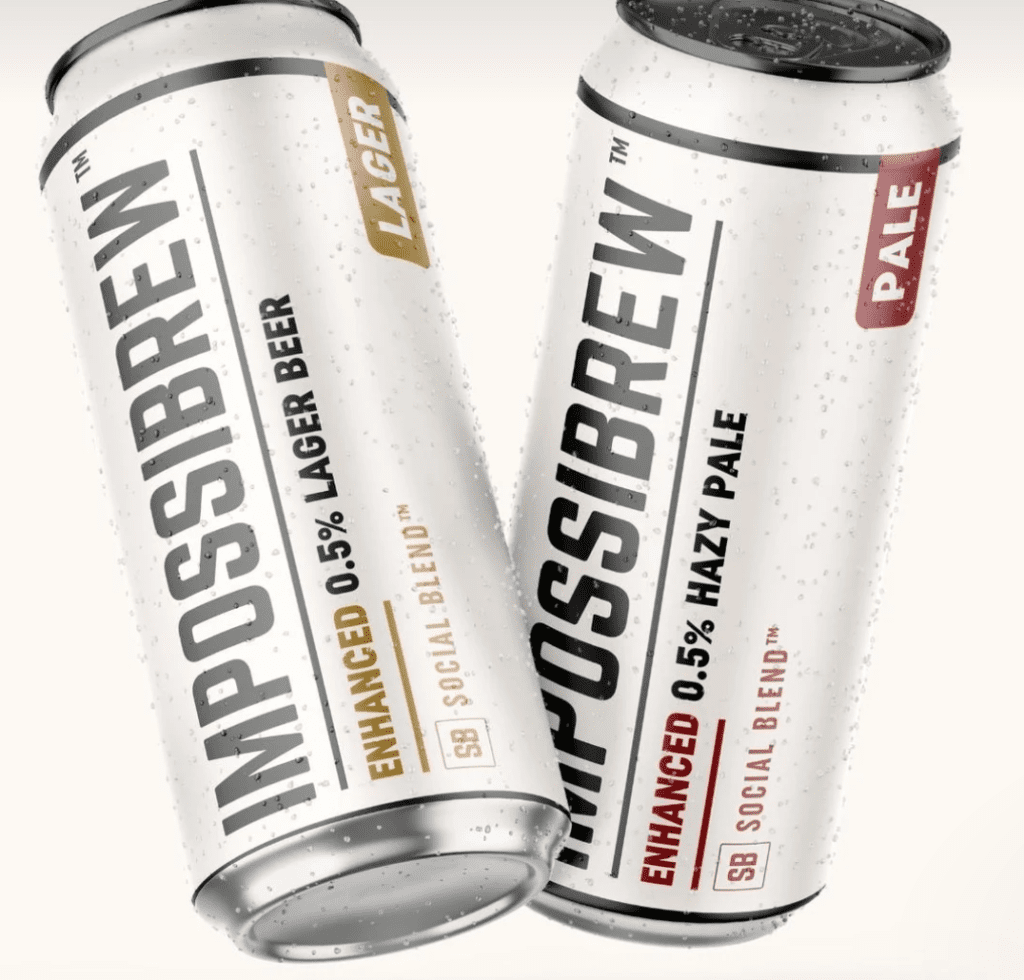 Putting the effects aside, the more important thing is the taste – and it's really good! You would struggle to know it's non-alcoholic, with a head, flavour and mouth feel that's enjoyable and not just passable. Amazon reviews for this are outstanding, so I'm not alone in thinking this.
Trip Drinks
Trip Drinks takes a completely different approach, by infusing its drinks with a small (15mg) dose of CBD, alongside ingredients like lemon balm, camomile and ginseng.
As I said in my Trip review, I'm a little sceptical as to the effect of this quantity of CBD, but Trip drinks are included here on flavour alone. The Elderflower Mint is particularly interesting, and quite unlike anything I've tasted before.
Whether or not drinking Trip will actually "do" anything to you is highly debatable. But it still provides an interesting alternative to alcohol. This is another product that I've repurchased several times.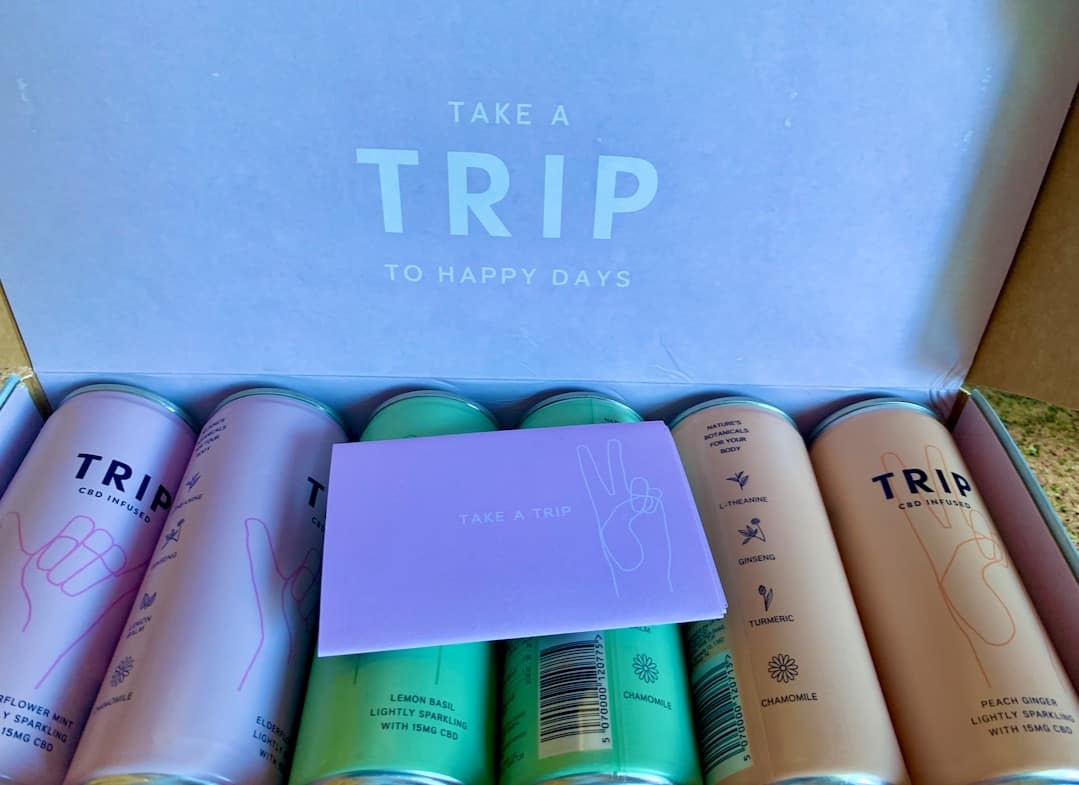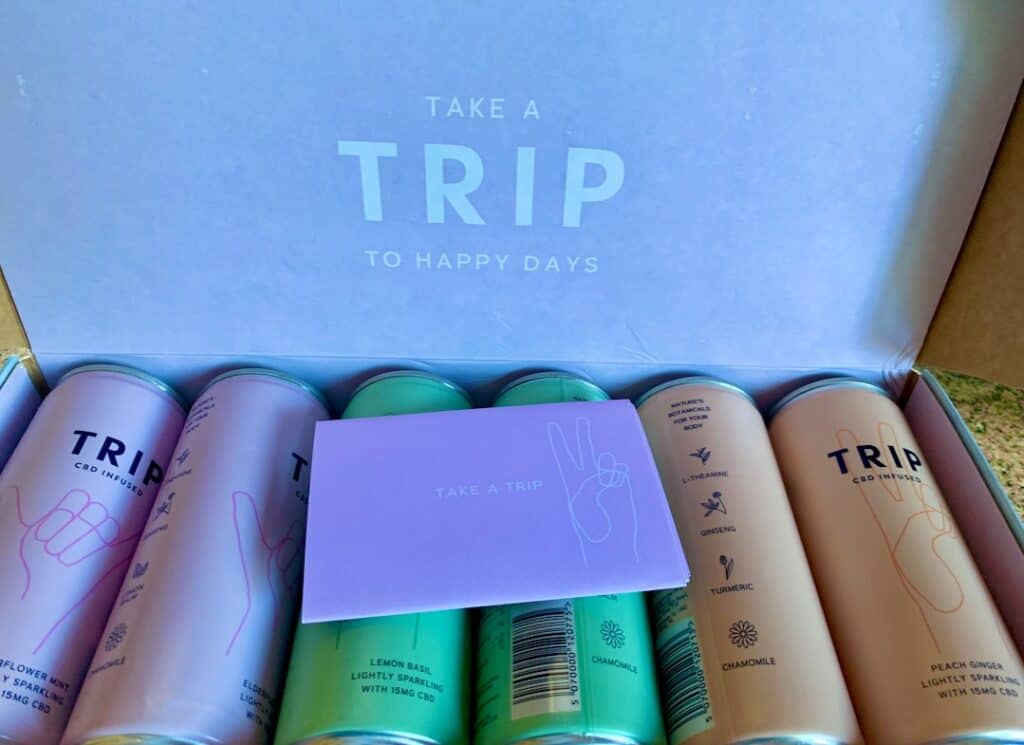 The Best Alcohol Free Wines (or Wine Substitutes)
Wine is a tricky drink to replicate without alcohol.
It's fair to say that the majority of the alcohol free drinks I've tried that have ended up unfinished down the sink have been alcohol free wines. All too often, they taste like expensive cordial. Finding a fantastic alcohol free red wine, especially, remains something of a holy grail for me as a non-drinker.
Having said that, just recently I came close.
Ariel Cabernet Sauvignon
After trying (and being disappointed by) several non alcoholic wines, I finally found a red that came close to ticking the box. It's Ariel Cabernet Sauvignon, made in California.
This is a de-alcoholised wine, with "aromas of black currants, cherry, blueberries and chocolate." Most importantly, for me, there's a small amount of mouth-coating tannin taste, that stands up to food.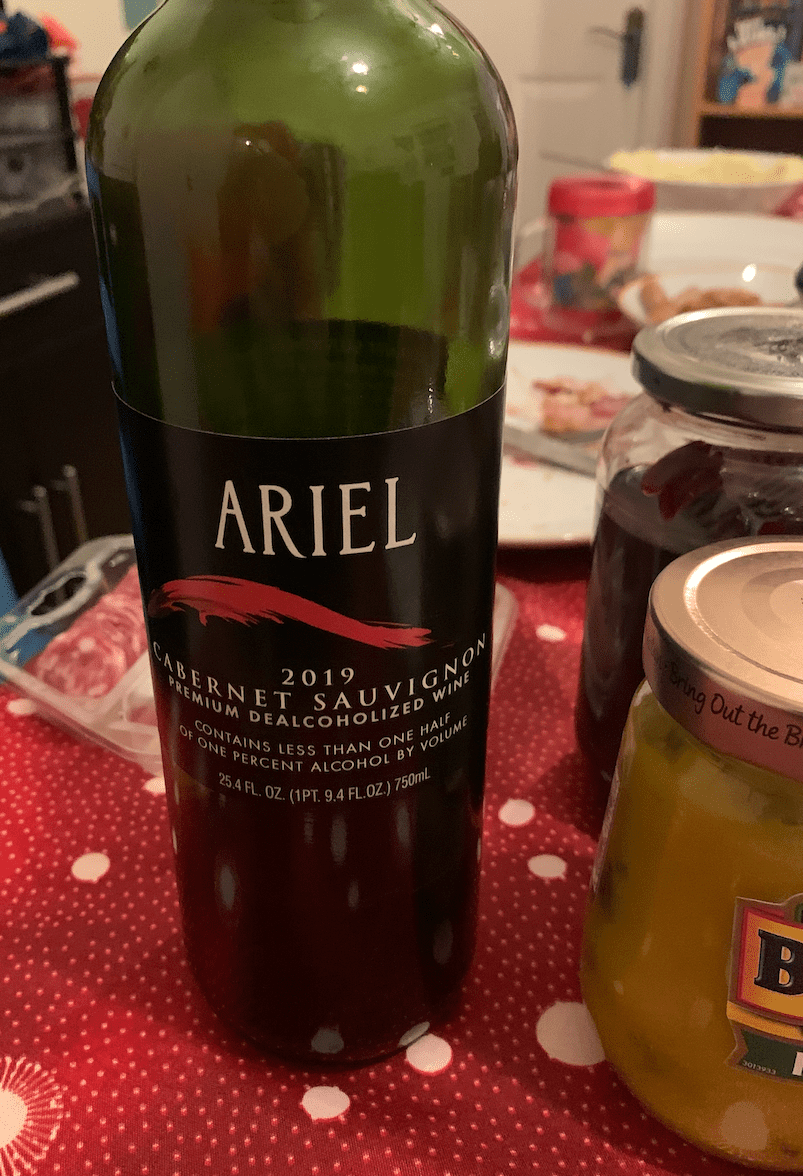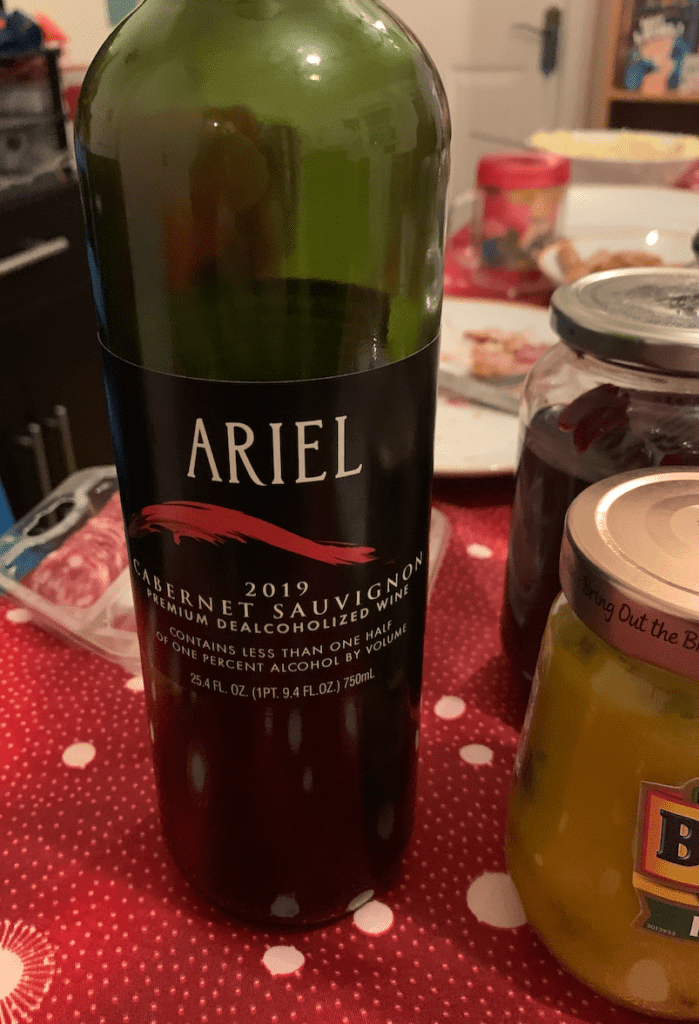 It's not perfect. There's still ever such a slight edge of blackcurrant cordial – and this wine is not really strong enough to act as a good foil for cheese. But it was great with a turkey and ham pie, and with our main Christmas dinner. Most importantly, it does taste of red wine!
I did also notice that it was at its best slightly chilled, and once it had been open for a day.

I will definitely be buying this again for special occasions. You can find it here. And if you're interested in alcohol free red wine, also take a look at Nine Elms – reviewed here.
Jukes Cordialities
Jukes Cordialities knocks the whole cordial debate on its head by actually being a cordial. While it's not sold as an alcohol free wine, it's intended to pair well with food, and serve well as a wine alternative.
Jukes is based on apple cider vinegar and fruit juices. It comes in gorgeous little bottles and has a real premium feel. It also has quite a premium price, which may put some people off.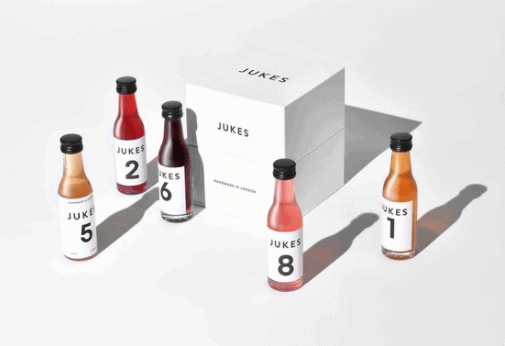 In my review of Jukes, I felt that the "white" and "rose" leaning versions were more of a hit. The rosé (Jukes 8) is absolutely outstanding, and I will be stocking up in the summertime. The reds, whilst very agreeable, don't have quite the strength and mouth-feel I was looking for – the Ariel recommended above comes a little closer.
All in all, though, these are a really fun choice, with great presentation that adds to the ritual of having an "adult drink."
You can find them on the manufacturer's site, or on Amazon.
A Couple of Important Points
Just before I conclude, a couple of important points:
Defining "Alcohol Free."
Several of the drinks I talk about here contain a trace amount of alcohol (0.5% or less). Here in the UK, and in many other countries, that is the threshold for classifying a drink as "alcohol free." It's often said that you'll find more booze in an over-ripe banana.
However, if you're cutting out alcohol entirely, you'll need to ensure you read the labels.
Please Proceed With Caution
I am personally able to drink "alcohol-like" drinks such as NA beers without them acting like a trigger and tempting me to drink. On the contrary, drinking these drinks plays a big part in helping me maintain a booze free lifestyle without a feeling of "missing out."
However, that's not the case for everyone. Plenty of people with alcohol misuse issues avoid drinks that resemble alcohol as they think they could be a "slippery slope." Only you can be the judge of that.
If in any doubt, I've reviewed plenty of seltzer waters and craft sodas too!
More Reading For You
If you're researching the best alcohol free drinks, it's likely you're feeling at least a little "sober curious!"
Here are some other articles from the site that may be of interest to you: