In some posts we review or mention products and services. We are always impartial but some posts may include affiliate links that can earn us a commission. Click here for details.
Since I quit drinking, I've become something of an authority on alcohol-free booze alternatives! In this Jukes Cordialities review, I take you through one of my latest discoveries.
The days when choosing not to drink alcohol meant a choice between lime and soda, Diet Coke or a grim-tasting alcohol free beer are long gone. Not only are there some incredible craft beers out there now, there are all kinds of other exciting "grown up" options.
This revolution in alcohol free drinks has been a huge help in preventing me feeling "deprived" at social occasions or when having special meals.
But, being honest, the one thing I do still miss sometimes is wine. My experience of alcohol free wines has been distinctly overwhelming, and it was that that led me to Jukes Cordialities as an alternative.
Let's start at the beginning.
What Is Jukes Cordialities?
Jukes Cordialities is a range of alcohol free cordials, which use organic apple cider vinegar as a base. This is NOT a range of alcohol free wines, although the drinks are clearly inspired by wine, and suggested as being suitable for food pairing.
The Jukes Cordialities range consists of two "reds," two "whites" and a "rosé," at the time of writing.
Jukes Cordialities was created by Matthew Jukes, a "world famous" wine taster. The drinks are intended to "engender a similar, satisfying perfume, mouthfeel and aftertaste of a fine wine."
Do they live up to that billing? You'll have to read on to find out.
Jukes Cordialities Review: My Honest Assessment
Just before I go any further, I want to emphasise that I paid for these products with my own money. I received no freebies, and am not an affiliate. All opinions are very much my own.
Presentation
I don't normally include a "presentation" section in a drink review – but Jukes Cordialities' warrants it, just as a one off!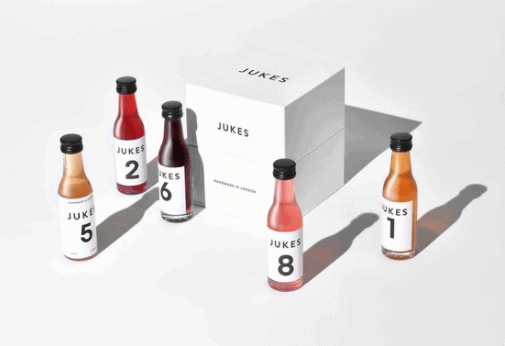 The drinks come in a box of nine small bottles. You can buy a box of a single variety, or a mixed "Tasting Box," which is what I went for. They each contain 30ml. This is enough – in theory – to create two 125ml glasses when diluted. More on that in a moment.
As you can see from the image above, the presentation is awfully luxurious. It's even better in the Flesh, as the box is high quality and each individual bottle comes wrapped in tissue paper. One small criticism, however, is that neither the box, the leaflet inside, nor the bottles themselves explain which of the Jukes varieties is which.
With such great packaging, it seems a shame this has been forgotten. On several occasions I've had to reach for my phone to look up which is "the crisp one" or "the rich one." By contrast, Three Spirit drinks (another alcohol free brand I've tested recently), provide a really useful booklet with full descriptions and cocktail recipes.
They do all look rather gorgeous though, it has to be said.
Serving Jukes Cordialities
Jukes drinks are easy to serve. The idea is that each pretty little bottle creates two 125ml glasses. You dilute them with water – your choice of out of the bottle or out of the tap, still or sparkling.
I've personally opted for cold, still water from the Brita Water Filter in my fridge. For the two white and the rosé options, I've been adding ice.
Now, 125ml is – in theory – the size of a small glass of wine. In reality, I don't think many people pour a glass that small at home! The same seems to apply with Jukes Cordialities. I'm only getting one drink out of each bottle, especially as I'm finding that – for my taste – I don't like to add quite as much water as it says.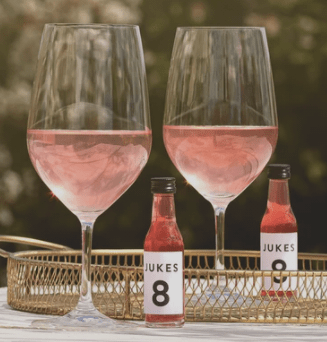 This is no big deal, other than the fact that it has an impact on what it costs to have these drinks in my regular "alcohol free rotation."
The Taste
The most important thing, surely, is how these drinks taste – and I shall run through each variety in turn in a moment.
First, however, an overall assessment:
The good news is Jukes Cordialities certainly tick the "complex, grown-up drink" box. They have nuanced and interesting flavour, with a slight savoury, mineral edge. They bite – just a little – in the throat, so it's clear you're drinking something rather more sophisticated than "posh squash!"
So what about as a wine substitute, or for food pairing?
I have both good and bad news here: The whites and the rosé are a hit for me. It was in fact the rosé that compelled me to buy these drinks in the first place. I LOVE a salmon-coloured Provence rosé, and it's one of the few drinks I still miss after a year away from booze.
Whether it's to sip in the sunshine, or wrap around some grilled prawns, Jukes 8 (The Rosé) is a fine substitute. The same applies to Jukes 1 and Jukes 5, both whites that are similarly great for garden sipping and food pairing.
While the reds are perfectly pleasant, they don't tick the same box for me. Serving either the Jukes 2 or Jukes 6 with a steak just makes me yearn for a glass of Malbec! (If I do decide to return to alcohol some day, it's red wine that I'll do it for!)
Jukes Cordialities: Flavour By Flavour Tasting
Jukes 1 (The Rich White)
This one is described as "citrus and herbal." It's the richer of the two whites in the Jukes Cordialities range, and I narrowly prefer the other.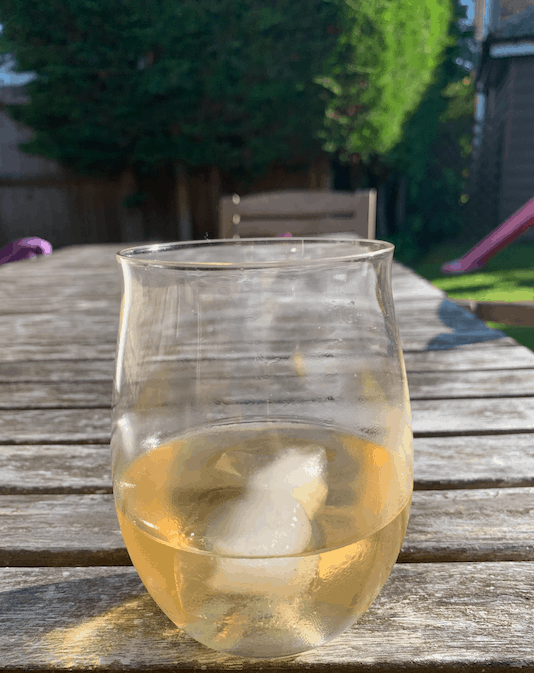 That's not to the detriment of this one, however, because it's a very pleasant sipper. There's definitely an edge of honey to it, and a pleasing little throat bite, so long as you don't over-dilute it. Although the drink is based on apple cider vinegar, I'd advise you to ignore any Jukes Cordialities reviews that say the drinks taste of vinegar, because this is nonsense to me – and I've tried each of them neat.
The tasting notes for this one mention plum, apple, pineapple husk and peach blossom. I won't pretend to have a palate that distinguished any one of those specifically! However, that's a good thing, I think, because the intention here is to create a drink with a wine-like complexity. Mission accomplished.
MY RATING: 7/10
Jukes 2: (The Bright Red)
This is the lighter of the two reds. It's very pleasant, so long as you shake off any hope that it's going to taste like red wine or leave your mouth coated with tannin taste.
You can certainly pick up some apple and cherry taste, though I couldn't really detect the promised "smokiness." Of the two reds, this is the sweetest, to my palate. Again – all very nice – but not ticking the red wine box I hoped it would.
In fairness, both of the Jukes reds are described as being fruity. This one could form the basis of a very nice alcohol free "sangria." Unfortunately, a common criticism of alcohol free red wine is that it tastes like "fancy fruit juice." And so does this.
MY RATING: 6/10
Jukes 5: (The Crisp White)
OK, now we're talking.
While I know I can't expect an alcohol free cordial to taste just like a Marlborough Sauvignon Blanc, this has similar notes of gooseberry, apple and pear. There's also that slight honey taste running through it.
Jukes 5 is more "guzzleable" (is that a word?) than Jukes 1. Try though I may to make this one last, I can drain a (double sized) glass very fast on a hot day.
Neither of the Jukes Cordialities whites is rich enough to be "cloying," but this is the lighter of the two. Both are good with food, but I'd be inclined to suggest this for fish and salads. The slightly heavier Jukes 1 paired surprisingly well with roast chicken.
MY RATING: 8/10
Jukes 6 (The Deep Red)
You can probably guess that I'm going to be less complementary about this one and – yes – it's fair to say I'm less taken with the Jukes reds. The promise of a "deep" red gave me the hope that I may have found something to stand up to cheese or rich pasta. Sadly not.
But let's be fair to Jukes 6: It delivers rich berry fruit, a pleasing (but short-lived) aftertaste, and enough of a richness that you feel inclined to sip it rather than glug it. Most enjoyable, if not something that seems ideally suited to food pairing.
(As an alternative for food pairing, take a look at Nine Elms.)
MY RATING: 7/10
Jukes 8 (The Rosé)
Jukes 8 was the first variety I tried, and the reason I bought the range in the first place. I've tackled this Jukes Cordialities review with a completely open mind, so I don't think there's any confirmation bias here…but it's my favourite of the range.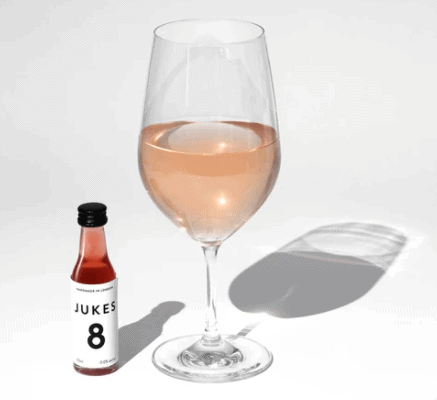 When I first tried Jukes 8 I had friends over, and we all tried it. We all agreed that it has a pleasant mineral salt tinge, and is both fruity and dry. It slips down ludicrously easily – just like a dry French rosé.
It wasn't until I wrote this review that I noticed the Jukes website mentions Provence in the description. This rosé is a hit, stops me missing the real thing, and allows me to drink as much as I want with no hangover!
MY RATING: 9/10
Value: Are Jukes Cordialities Worth It?
It's time to address the (rather "high end") elephant in the room: price.
Premium alcohol-free drinks can be rather expensive, and Jukes Cordialities are no exception. In the absence of a promotion, a box of nine small bottles costs £35 (or £38 for the mixed pack.)
That works out to £3.88 per bottle. Now, in theory, each bottle makes two drinks BUT – as I said above – 125ml is a very small measure. To get the same amount of drinkable liquid as you get in a bottle of wine, you'd need three bottles (£11.64) – and that's far more than many people spend on "everyday" wine.
There's another contrast here that I can't help making: My current favourite "booze alternative" is Three Spirit. It's a very different proposition, as it's a spirit alternative rather than a wine alternative. Plenty of people complain about the price of Three Spirit, but it only works out to £2.50 per drink – so it's still a fair bit cheaper than Jukes Cordialities, even when adding the cost of a mixer.
I really like Jukes Cordialities, and I've enjoyed reaching for one for special moments: pre barbecue, or with a roast dinner I've spent hours preparing. But I have to be honest and say that the price will likely deter me from always having some "in stock."
I'll almost certainly buy some more Jukes Cordialities at Christmas – but neither my wife nor my accountant is likely to approve if I start spending £35 on cordial a couple of times each month!
Conclusion
If the price of Jukes Cordialities was a little lower, I'd be buying it regularly. They're complex, adult drinks, the presentation is drop-dead gorgeous, and the whites and rosé, especially, really do scratch the wine itch for a non-drinker.
Unfortunately, having a Jukes stash in my house at all times is a little beyond my budget. If you're feeling flush, or simply wanting a treat while you're not drinking, I'd highly recommend Jukes Cordialities – but it's hard not to compare what you get for the money with the wealth of other alcohol free drinks available these days.
Where to Buy Jukes Cordialities
When you see the stockists list for Jukes, it certainly seems aimed at the "if you have to ask, you can't afford it" crowd! It's available in Fortnum and Mason, The Wolseley and The Conran Shop, amongst other places.
Otherwise, you can purchase direct from the Jukes Cordialities website.
While You're Here:
More alcohol free options for you: