In some posts we review or mention products and services. We are always impartial but some posts may include affiliate links that can earn us a commission. Click here for details.
Can an alcohol free beer ever really live up to the "real thing?" In this Lucky Saint beer review I look at a product that changed my own answer to that question.
I quit drinking alcohol in August 2020, and Facebook's targeted advertising bots didn't take long to work it out. I saw adverts for all kinds of low and non alcoholic drinks. Lucky Saint was one that kept appearing, and I decided to take a punt on a case of 12 bottles.
You'll find out exactly what I think of it in this Lucky Saint review – but suffice to say I've ordered several more cases since.
Is Lucky Saint Alcohol Free?
Lucky Saint is an "alcohol free" beer, but if you visit the Lucky Saint website you'll notice that it's actually 0.5% ABV. However, in Europe and the US, at least, that's the threshold for an "alcohol free" beverage.
Put it this way, this isn't a product that's going to get you drunk. Ripe bananas can contain as much alcohol as this, and I wouldn't consider eating one of those as breaking a period of sobriety.
Lucky Saint Beer Review: Presentation
Lucky Saint alcohol free beer scores highly on presentation. If you buy a case, the feeling begins as soon as you open it. There's a blue inlay, with the bottle tops poking through, and a definite "premium" feel.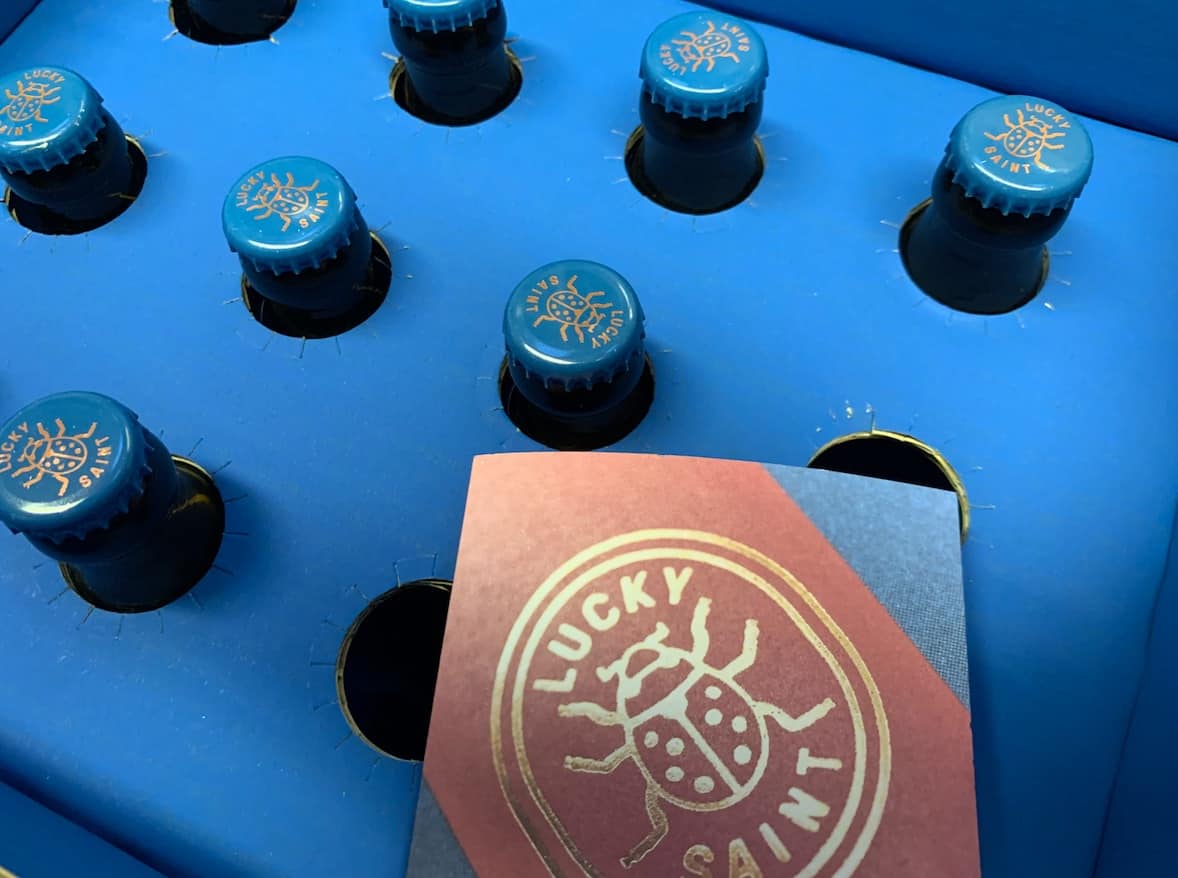 The stubby bottles are heavy and solid – more like a bottle of American craft beer than the cheap French bottles you can grab in every supermarket. One (very) small criticism, if you like to drink from the bottle as I do, is that the inner rim can sometimes feel a little rough on the tongue – but I'm really fishing around for downsides here!
Unlike many of the purveyors of alcohol-free drinks, which have exploded in popularity in recent years, Lucky Saint sticks to just one product. I respect this approach. I've bought far too many "mixed cases" from other companies and found only one hit among far too many misses. There's nothing wrong with doing one thing and doing it well.
Quality and Flavour
Alcohol free beers have made enormous leaps forward lately. If, like me, you last tried them some years ago, you're in for a treat.
For me, the big test is whether you'd know it's alcohol free. Lucky Saint passes that test with flying colours. I'm pretty sure I could pour this into a glass for an alcohol drinker and they'd never suspect they weren't drinking a 4/5% premium lager.
It's not only Lucky Saint that achieves this. Since starting to explore alcohol free beers, I've discovered plenty that resemble their hangover-producing brothers and sisters. But I've also sampled a fair few that taste like the unpalatable alcohol-free beers of old.
Lucky Saint is an unfiltered lager. You can't expect the rich flavour of a craft ale, because that's not what it's all about. It has just enough going on to elevate it and keep things interesting. It's refreshing enough to act as a good summer barbecue guzzler, but with enough fruit and malt depth to suit the colder months of the year too.
Straddling the seasons like that is something very few "real" lagers manage effectively, so it's impressive to find it in an alcohol free choice.
How Is Lucky Saint Made?
If you're reading a Lucky Saint beer review, you probably want to understand a little about how the drink is made.
Some alcohol free beers are brewed to be alcohol free, others have the alcohol removed as part of the manufacturing process. Lucky Saint falls into the latter category, with the booze removed using vacuum distillation.
As such, it's made from all the same ingredients you'd find in a "proper" lager, including German hops and spring water from Bavaria. Luke Boase, the Founder of Lucky Saint, used a lot of persistence, perfectionism and trial and error to get the formula right, and it shows.
Calories and Other Nutritional Information
Each bottle of Lucky Saint contains just 53 calories. There's 3.5 grams of carbs per 100mls, and 0.6 g of protein.
These statistics make Lucky Saint very diet friendly. I was on Weight Watchers when I first ordered these and was delighted to see them come in at just two points per bottle, or a Friday-night-friendly three points for two bottles!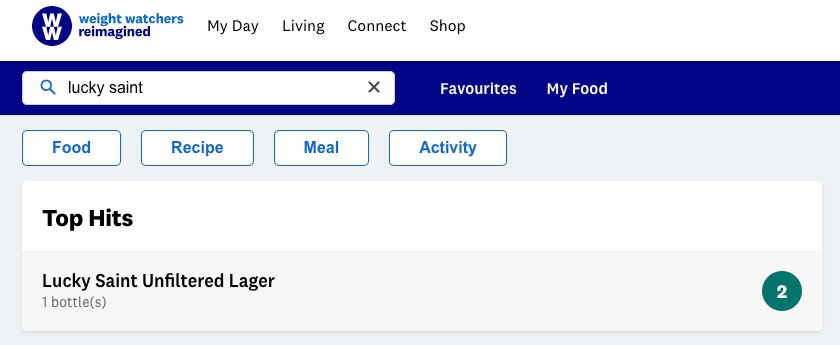 Lucky Saint beers are also completely vegan – so big ticks all around for the nutritional side of things.
Value
There's one question that often arises around alcohol free beer – why is it so expensive?
Lucky Saint isn't overpriced, but it's not cheap either. The exact price is dependent on how many bottles you buy (or if you subscribe for a regular case – see below), but it averages out to around £2 per bottle.
There's no getting away from the fact that you can go to a corner shop and find "normal" lager for half that, but not usually at the "craft" end of the spectrum. It's also worth recognising that beer like this is actually more involved to make, as the alcohol has to be removed when the product would otherwise be finished!
I'm not here to argue about the cost one way or the other. I've personally found that one of the benefits of quitting drinking is having more money – so the price is fine with me.
Where to Buy Lucky Saint
I purchased my Lucky Saint direct from the company, but the beers are also available from Amazon UK on fast delivery:
You can also find Lucky Saint in several UK bars, predominantly around London and the South East. I'll personally be delighted the first time I see it on draught. (In fact, whilst typing up this Lucky Saint beer review, I've discovered a pub in my local town has it. I know where I'll be going after lockdown!)
Lucky Saint Beer Subscriptions
You can also subscribe to Lucky Saint deliveries for periods of three, six and twelve months. It's a tempting proposition, especially as I've purchased roughly a case per month. But I personally like to mix it up a bit and try different things. After all, I have to have something to review!
Lucky Saint Review Verdict
I've been really impressed with Lucky Saint, and now always have a case in my garage. I can't give a more genuine recommendation than that.
But it's not just me. A friend of mine has been over a few times and shared several with me, and always remarks that you just wouldn't know it's alcohol free. He's the same friend who poured away a Moretti Zero in disgust when I gave him that. (I actually don't mind the latter, but it comes nowhere close to Lucky Saint quality).
Whether you're a non drinker, or looking for an occasional healthy option or something to ease you through a month off the booze, Lucky Saint is well worth a look. It's certainly worth ordering some online rather than making do with an inferior alcohol free option from the local shop.
Lucky Saint: A Great Alcohol Free Choice