In some posts we review or mention products and services. We are always impartial but some posts may include affiliate links that can earn us a commission. Click here for details.
CBD has become a pretty massive deal over recent years. A recent survey showed that 29% of UK residents have now tried CBD products. This is unsurprising when they're so ubiquitous on almost every high street. Even household names like Boots and Holland and Barrett sell CBD nowadays.
I published a review of Trip CBD drinks some time ago. I now follow that with this Trip CBD Oil review. But before I get into it, I shall tell you a little about my own experience with CBD, and add a few (perhaps controversial) opinions about the CBD industry in general.

Let's begin.
The CBD Marketplace
Anybody keen to learn about the benefits of CBD soon discovers that it's all a bit of a minefield. It's a crowded market with a lot of lofty claims, and no shortage of – frankly – garbage products that are not worth the money.
I was something of an "early adopter" when it comes to CBD. I've been using a wide range of products on an (almost) daily basis for several years. I'm also an obsessive researcher, and have spent many many hours learning about the technicalities of how CBD works, dosages, and the meaning of mysterious terms like "isolate" and "full spectrum." (More on those in a moment).
A side effect of this is that, over recent years, I've found myself in many high street shops being told absolute nonsense about some of the CBD products on sale. You really do have to do your research to ensure you end up with products that provide genuine benefit. (A spoiler for this Trip CBD Oil review is that Trip is one of the more decent ones, but we'll come to that in a minute!)
I suspect a fair few of the 29% of Brits who have tried CBD have ended up disappointed – not because it wouldn't ever work for them, but because they were using a crappy product, or something with a dosage so low it would be unlikely to do anything useful.
I guess the above should serve as some reassurance that I know what I'm talking about then it comes to CBD. Let's talk a little about how it's helped me, and why I continue to take it.
CBD Benefits – And My Experiences
Much has been written about the mental and physical health benefits of using CBD. I must mention that I'm not making any health claims whatsoever, and can only comment on my own experiences.
Healthline lists the following as health benefits of CBD, based on research:
Better sleep.
Reduced pain and inflammation.
Better heart health.
Relief from IBD symptoms.
Reduced anxiety and depression.
Personally, my two main reasons for using CBD are to relieve anxiety, which I struggle with, and to help with sleep and insomnia.
CBD has helped enormously with my sleep. I feel that it helps me to relax, and definitely helps to "take the edge off", allow me to unwind in the evening, and (sometimes) ease my racing thoughts.
I say sometimes, because CBD isn't a miracle cure. If my anxiety is particularly high, CBD can relieve it, but it won't cure it. Most of the time, CBD helps me get a really good, solid nights sleep, and also helps me drift off much more easily. But every now and then I'll still get one of my insomnia nights – they're just much rarer these days.
I'll come back to some more general discussion around CBD later in this Trip CBD review – but let's get on and talk about the product.
Trip CBD Oil Review: First Impressions
Trip has become a very successful UK CBD brand. When I first tried Trip drinks, I ordered them online, but you now see them all over the place. Both the drinks and the oil are now stocked in Holland and Barrett, and you can find all of Trip's products on Amazon UK.
I personally like Trip's branding and packaging. It feels premium, and I particularly like the attractive oil bottles (although a little see-through section so you could see how much is left would perhaps make sense!)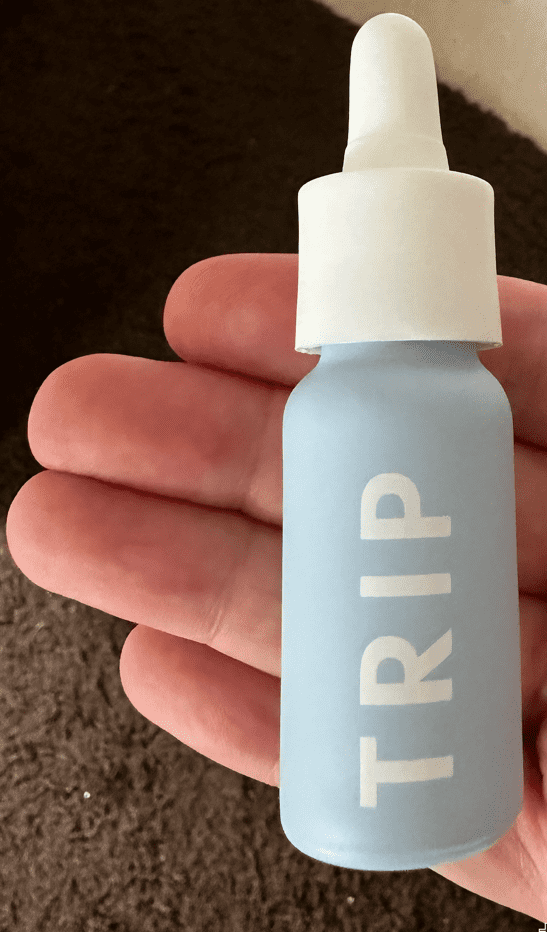 Interestingly, I happened upon an animated Facebook discussion recently, where a few people were criticising Trip's choice of brandname. They felt that the word "Trip" had negative, drug-related connotations. I guess it's a point of debate, but it all seemed a little silly to me. We're all grown-ups and Trip's wellbeing focused marketing certainly doesn't seem to point to psychoactive effects. Anybody looking for such will be sorely disappointed with any CBD products available in the UK!
Trip CBD Oil: Ingredients and Credentials
Trip CBD Oil is made from "the highest quality, vegan, gluten-free CBD."
Fair enough – I mean it's not as if any CBD has meat or gluten in it, but it's still a true statement!
Trip also adds botanicals such as ginseng, turmeric and and chamomile to its CBD oil. This is something I'm seeing more and more in CBD products these days. With Trip, it certainly has a flavour benefit, as I talk about below. Beyond that, I've not noticed anything tangibly different, effects-wise, compared to other CBD products.
Trip uses "premium CBD derived from hemp" and is made in the UK. The company's website says that all products are third-party lab tested, and that people can get in touch with any questions. Lab certificates are not availabel on the Trip website, or at least not that I found.
Is Trip CBD Oil Full Spectrum, Broad Spectrum or Isolate?
The ingredients on the bottle of Trip CBD oil I have in front of me state:
MCT Oil (from coconuts).
CBD.
Natural mint flavouring.
Chamomile extract.
What it doesn't state is whether the CBD is full spectrum, broad spectrum or CBD isolate.
In case you're wondering what on earth I'm banging on about, here's a quick explanation.
Full spectrum CBD products include not just CBD, but a whole host of other cannabinoids – usually including a (legal) trace amount of THC – the bit of cannabis that gets you high.
This doesn't mean that a full-spectrum CBD product will get you high, but many people believe that this closeness to how nature intended it creates an "entourage effect," delivering the effects of CBD at their best.
(For what it's worth, I do tend to find that full spectrum products often provide the most notable "effects" (such as they are), such as a notable onset of relaxation. However, no legal CBD product in the UK gets you "high."
Broad Spectrum is essentially the same as full spectrum, but with all of the THC removed.
Isolate is usually 99+% pure CBD – and best for those who want to avoid even the tiniest trace of THC and other cannabinoids. It's CBD in its purest form – which is either a benefit or disadvantage depending on your viewpoint.
I'm guessing that Trip CBD oil is isolate-based. I've contacted the company to confirm, and will update this review as soon as I know.
Trip CBD Review: My Experiences
I've used both varieties of Trip CBD oil (Wild Mint and Chamomile and Orange Blossom and Chamomile) over a period of several months. In both incidences, I've chosen the stronger 1000mg variety, over the weaker 300mg. (I discuss dosage below).
I usually take somewhere between half and two-thirds of a dropper when I'm relaxed in bed and almost ready to sleep. I find that Trip's oil sees me drifting off very quickly once it's kicked in – usually after 30-45 minutes.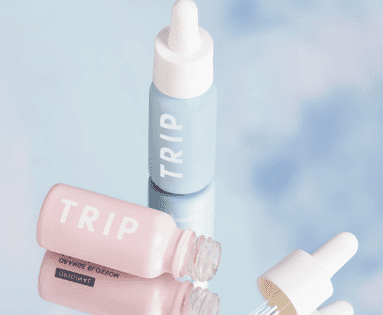 I almost always sleep very well after taking CBD. I also tend to have very vivid dreams. This can be a good or a bad thing. I recently suffered a bereavement and my mind had a lot to process. Vivid is good when the dreams are good – but not so much when they're bad! However, I did some Googling and found out many positive benefits of the subconcious processing things when we sleep. I now take more of a "bring it on" attitude to my dreams – whatever they turn out to be.
I do also find that I often tend to wake up feeling nice and chilled after using Trip's CBD – which is lovely on a Saturday or Sunday morning.
One thing I particularly like about Trip's CBD oil is the taste. I don't mind the earthy cannabis taste that you get from some CBD oils, but some people hate it, and it's not always what you want. I particularly like Trip's Wild Mint variety, because I can use it after brushing my teeth without immediately wanting to brush again!
I tend to use CBD oil as a bed time thing (I prefer gummies and vapes for any daytime use, which is only occasional for me). Mileage will inevitably vary for treating conditions like stress, anxiety, depression and IBS.
A Word on Dosage
Each full dropper of Trip's strong variety contains approximately 66mg of CBD.
CBD dosage is an incredibly personal thing. Some people claim to have positive results after three drops of a weak oil, others claim to need much more. The UK Food Standards Agency has recently started recommending a maximum of 70mg per day.
I'm not sure what science that's based on. Clinical studies have used daily dosages of anything from 20mg to a staggering 1500mg per day.
For what it's worth, I take somewhere between 25mg and 70mg per day usually. However, that's not advice on a recommended dosage for you.
There are two other things that cloud the dosage debate even further. They're both a bit scientific, but if you really want CBD to work for you, it's worth doing some study.
The first is bioavailability. This is all about how much CBD actually gets into your system depending on how you consume it. Vaping CBD, for example, delivers far more of the active ingredient than a swallowed product. That's why many people recommend taking oil by leaving it under your tongue for a minute or so before swallowing. (This is a good primer on bioavailability).
Even more technical is the fact that CBD seems to work on "an inverted U-shaped dose-response curve." As I understand it, that means that there's an optimal dose for everybody, and both too little and too much can mean missing that optimal dose.
How the above seems to translate for me is that while the "right" dose of CBD can make me relaxed and perhaps even sleepy, too much doesn't make me more relaxed or sleepy. It can go the other way, and I go beyond sleepy and into energised.
What I'm saying here – perhaps in a rather long-winded way – is that you really do have to find your OWN dosage. There's no easy route to that, with everybody and every body being very different.
Trip CBD: Value
The standard price for Trip CBD Oil, per 15 ml bottle is:
£18 for 300mg.
£39 for 1000mg.
This is a fair and average price for this kind of product, and it's worth mentioning that it often seems to be on offer. (For example, the 1000mg was £25 at the time of writing this). Note that you can also save 15% and with code AFFTRIP15 using this link.
Verdict
Trip CBD deserves its place in my medicine cabinet.
It feels like a…clean product in every way – from the high-end packaging to the effects. It tastes good, and not "weedy", which is pretty rare for CBD oil. I personally find that it relaxes me and helps me to sleep and dream.
Recommended.
(Please note that while I self-purchased my first bottle of oil for this Trip CBD Oil review, the second was sent to me free of charge. My opinion cannot be bought, and these opinions are solely my own).