In some posts we review or mention products and services. We are always impartial but some posts may include affiliate links that can earn us a commission. Click here for details.
The abundance of intriguing non-alcoholic drinks out there nowadays makes it a lot of fun to be a non-drinker.
In this Nine Elms non-alcoholic drink review, I look at one of the large selection of products I purchased for the holiday season.
This one had a special pride of place, because it was the bottle we chose to accompany one of the main Christmas meals with the family.
But did it live up to our expectations? You'll have to read on to find out!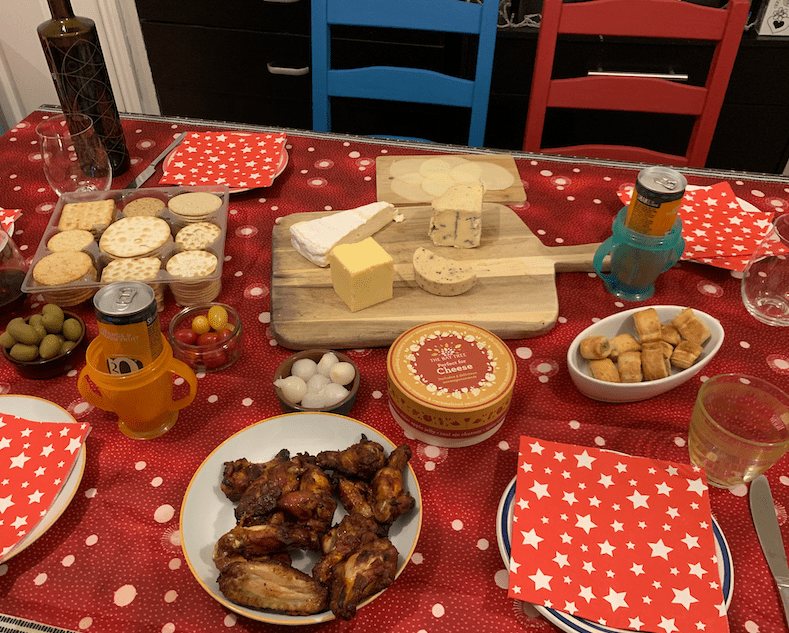 What is Nine Elms No.18?
Nine Elms No. 18 is a non-alcoholic drink, intended as a substitute for red wine.
It's important to emphasise that Nine Elms is NOT a non-alcoholic wine. It's actually a "ruby velven."
This is how the manufacturer describes it:
"(Nine Elms) is not meant to emulate wine, but does share many of wine's characteristics, providing a satisfying and inclusive alternative for food lovers choosing not to drink alcohol."
Since quitting drinking, I've found many drinks that have proved to be a more than satisfactory replacement for the alcohol-based equivalents. Alcohol free beers like Lucky Saint have been played a huge part in making sobriety enjoyable and easier than I expected.
But red wine has proved incredibly hard to match. I've opened bottle after bottle of alcohol free wine that have delivered nothing more than an unsatisfactory (and often expensive) fruit cordial experience.
Nine Elms has won several awards, including two Imbibe "No and Low" taste awards and a Lux Life award for excellence in food pairings – so our hopes were high. Were they realised or dashed? Let's find out.
The Taste Test
Nine Elms Ruby Velven doesn't taste like red wine – more on that in a moment.
But it somehow feels a lot more like red wine than many alcohol free reds. "Velven" seems to be a word invented for this product, but it's somehow very appropriate. It feels silky and coats the mouth, just like a wine does.
Taste and aroma wise, it's faintly medicinal – although I think the Amazon reviewer who described it as "like cough syrup" was being rather uncharitable. Like Three Spirit, this is a non-alcoholic drink that brings something new to the table – and you're likely to either like it or not.
The good news is that it doesn't taste like an expensive cordial. To be frank, I would have been rather put out if it did, because it doesn't come cheap. Flavour wise, it tastes of dark berries, and leaves a lingering tannin that prepares your palate for food.
But WHAT food? That's an important question.
Nine Elms Food Pairing
I think I was a little ambitious to initially attempt pairing Nine Elms with a cheese board.
Although it stands up well to food, the strength of a hunk of stilton instantly wiped out the tannin taste. It was better with mild and creamy cheeses – but cheese did not seem like a natural partner.
Results were much more satisfying with meats – specifically cold turkey leftovers! Nine Elms would also be a pleasing choice with a Sunday roast.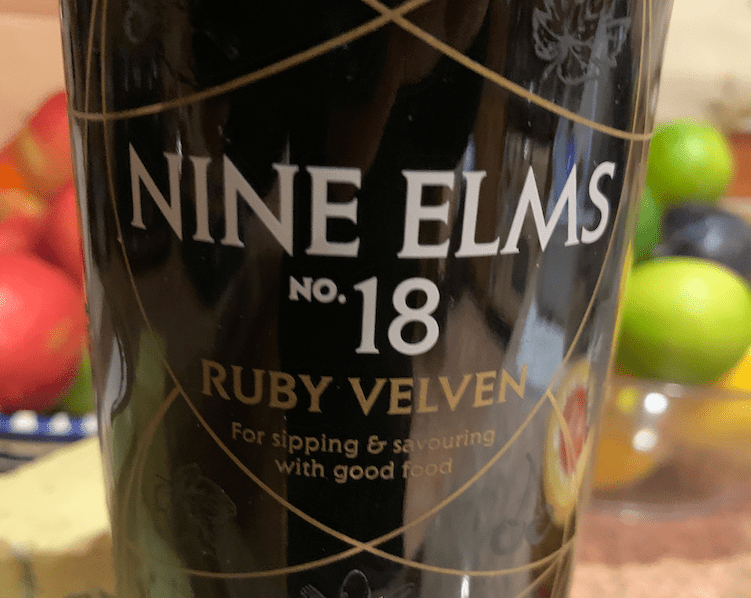 I also rather enjoyed Nine Elms on its own, and found it enjoyable – perhaps more enjoyable – when slightly chilled. I've yet to try it with tonic, but think that could be pleasant too. It felt like a good "grown up" drink to sip slowly at the end of a meal.
So is Nine Elms Worth It?
This is a tricky question to answer.
Nine Elms is not cheap. In fact, it costs more than much of the wine it sets out to replace. That means that it has to be more than just good to justify a repeat purchase.
While my guests and I enjoyed this drink, I think it falls slightly short based on that criteria.
If it cost less, I'd be willing to buy more – try more food pairings – and learn its intricacies, but its current price puts it firmly in "special occasion treat" category.
It doesn't help that around the same time, I also discovered Ariel Cabernet Sauvignon, an alcohol free red wine that I included in my recent list of the best alcohol free drinks. I felt this came a little closer (if not all the way) to the red wine substitute I'd been seeking – and at a slightly keener price.
Nine Elms is intriguing and enjoyable. It gives a wine-like experience and mouth feel. It's a quality product, and it's beautifully presented. But while I may well try it again in the future, it's not quite landed in the category of alcohol free drinks that I will buy again and again.
Calories, Nutrition and Alcohol Content
Nine Elms No. 18 is classed as "non alcoholic" and meets that legal definition in most countries. However, it's not entirely alcohol free, with an alcohol content of 0.3% by volume.
One very pleasing piece of news is that it only contains 12 calories per 75ml – although we had much larger servings. As somebody who watches his weight, this makes it a guilt-free treat.
Alternatives
Nine Elms reminded me a lot of another product I've reviewed, Jukes Cordialities.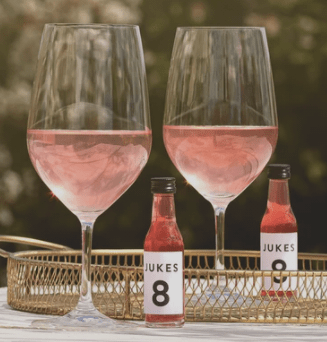 Jukes is another drink that isn't wine, but tries to take its place. There's not a huge amount to choose between them, with each outdoing the other on certain details. Nine Elms wins on mouth feel, but Jukes pushes slightly ahead on flavour, especially as it's a product that you can dilute to taste.
If you're living an alcohol free lifestyle and are in the market for a wine substitute, I'd urge you to stump up the cash to try them both for yourself. Taste is a very personal thing – something reflected in the Amazon reviews for these products, with reviews largely split between five star and one!
Conclusion
I hope I'm not sitting too firmly on the fence with this Nine Elms review! I liked this non alcoholic drink enough to feel positive about it, but not quite enough – especially given the price – to truly rave about it.
The guests who consumed it with me felt much the same.
The world of non-alcoholic drinks is very exciting at the moment, and ever evolving. These drinks have to really stand out for me to buy them again, rather than try something else on my ever-expanding list.
That said, I'm sure I will come back to Nine Elms at some point. That point will come sooner if the manufacturers manage to get the price down a little!
Other Reviews to Check Out