In some posts we review or mention products and services. We are always impartial but some posts may include affiliate links that can earn us a commission. Click here for details.
Recent years have seen a revolution in fantastic alcohol free beer. The days when it was tasteless and uninspiring are long gone – great news for non-drinkers (like me), and people looking to cut down on alcohol.
Now, manufacturers are taking things a little further, and creating alcohol free drinks with "added extras," designed to provide an alternative to the relaxing and social effects of booze.
In this Impossibrew review, we look at a new product on the UK scene, intended to do just that.
Let's start right at the beginning.
What is Impossibrew?
Impossibrew is an alcohol free beer, available as a lager and a "hazy" pale ale. The drinks are described as "mood enhancing," and contain a selection of "smart vitamins and minerals," intended to promote relaxation, make you feel more sociable, and enable you to sleep better at the end of the night.
These are obviously some bold claims! In this Impossibrew review, we discuss how realistic they are.
NOTE: Impossibrew is "alcohol free," as per the legal UK definition. This covers anything with up to 0.5% alcohol, which is what Impossibrew contains. If you need to avoid even the tiniest trace of alcohol, you'll need to try something with none at all. Heineken 0.0 is a solid choice.
What is IN Impossibrew?
Let's take a look at these mysterious "smart" ingredients in Impossibrew. They include:
Green Tea: Believed to have a whole host of health benefits, from improved brain function to anxiety reduction, green tea is popular across the world. It also contains natural caffeine, for an energy boost.
L-Theanine: Naturally occurring in some mushrooms and teas, L-Theanine is an amino acid believed to have a positive effect on brain chemistry. It's also thought to work synergistically with caffeine, "taking the edge off" the energy buzz. (It's also seen in another alcohol free drink we've reviewed – Three Spirit.)
Griffonia Seed: This seed is widely used in West Africa as a remedy for depression and anxiety. Studies around its effectiveness are limited, but it's believed to boost serotonin, the "happiness hormone."
5-Htp: Found naturally in Griffonia seed, 5-Htp is an amino acid that the body converts into serotonin. There are some solid studies around its effectiveness. (5 Htp also shows up in these Feel supplements).
When combined, these ingredients are intended to provide two parallel benefits: a happiness boost, and a natural relaxation effect.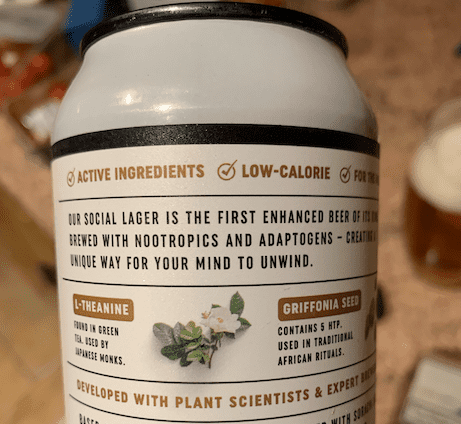 Before we move on to how Impossibrew makes you feel, let's discuss something that's arguably much more important: how is TASTES.
Impossibrew Review: The Taste Test
When I review alcohol free drinks, there's one major criteria I use: do I order it again after my initial test?
I'm pleased to say that Impossibrew passed this test. I was sufficiently impressed by my first experience with Impossibrew lager that I ordered another case. I will also be trying the Pale Ale in due course, and will update my review of Impossibrew when I do.
So how is it?
It's a solid lager, and one I think would easily fool a drinker – it doesn't taste alcohol free at all – so a big tick there.
While it's rare for any lager to set your tastebuds on a journey, Impossibrew does have more going on than most. It has a slight hoppy fruitiness, and a little edge of honey. There's no "medicinal" taste from the added ingredients – which was a relief.
I was actually pleasantly surprised to find the Impossibrew has a flavour that matches and perhaps even beats my benchmark alcohol free lager, Lucky Saint (reviewed here).
Impossibrew has a good, authentic beery mouth-feel, and it pours well.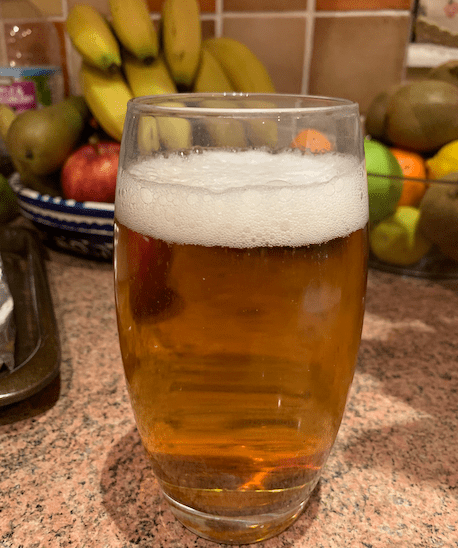 I point that out as a thing, because it's often an issue with alcohol free beers. I'm usually one of those neanderthals that drinks straight from the can or bottle. However, in the summer I drank some Brewdog Hazy AF with my father-in-law (a glass user!)
We were both quite surprised how "un-beer-like" the Brewdog beer looked in a glass. It was actually a little off-putting. As you can see from the image above, Impossibrew doesn't suffer the same affliction.
So…Looks like beer, tastes like beer – two big ticks. Does it feel like beer?
The Effects of Impossibrew
I've now reviewed several alcohol free drinks that claim to have some kind of buzz or effect. I'm a big fan of Three Spirit, and Trip Drinks were interesting too.
Assessing "effects" is way more subjective than reporting on taste. Different ingredients will have different effects on different people.
A good general rule is that anybody expecting to replicate the feeling of drinking alcohol is going to be disappointed. These are natural ingredients, not powerful substances.
That said, the effects of Impossibrew are there – albeit subtle.
I generally find that drinking an alcohol free beer at the end of a busy day has a relaxing effect regardless of added ingredients. There's actually some science to back this up, which suggests having an alcohol free beer can raise your dopamine levels and feel like a "reward."
With Impossibrew, it seems to go slightly further than that. This past weekend I had a social event that I really wasn't in the mood for – but a couple of Impossibrews did seem to kick me into a more carefree and sociable frame of mind.
Similarly, I had one recently after a very stressful day, and it did seem to provide just a little elevation. I was calmer, and ready to enjoy cooking our evening meal.
Your mileage will vary here. I will emphasise that this isn't some magical beer that will get you drunk without any drunken consequences. But it's a very interesting alternative for us non drinkers.
Calories and Nutrition
Impossibrew lager contains 14 calories per 100ml – so you're looking at 61.6 calories for a good-sized 440ml can. This makes it a pretty guilt free indulgence.
Impossibrew is also vegan friendly.
Other Feedback on Impossibrew
Impossibrew hasn't been on the market long, at the time of writing, but is already building a solid reputation. The website proudly shows off attention from the likes of NBC and The Evening Standard, and the Impossibrew TrustPilot rating is currently an average of 4.5 stars from 26 reviews.
Conclusion
As you will have no doubt noticed, this Impossibrew review has been almost entirely positive.
I should emphasise once again that this isn't a product that's going to see you catching a major buzz. But it's not going to give you a hangover either! Since it's a very drinkable lager, to me any subjective buzz is a bonus.
Most importantly, Impossibrew passes the "will I buy it again?" test. Perhaps you should give it a go too.
WHILE YOU'RE HERE: Read my Trip CBD Oil review.