In some posts we review or mention products and services. We are always impartial but some posts may include affiliate links that can earn us a commission. Click here for details.
Vitamins and supplements are often marketed as an effortless way to improve your health and wellbeing – but I've long been sceptical of how effective they really are. In this Feel Vitamins review, I've done some in-depth testing of various products from WeAreFeel, and shared my HONEST opinion.
While plenty of people – including some health professionals – extol the virtues of supplements, others are scathing. They question the need to take any at all, saying that a healthy diet provides all the vitamins you need. (I most recently heard this view in this book).
Presumably, you already know which side of the fence you sit on. If you're "pro supplements," this review of Feel Vitamins will help you decide whether to buy them via this innovative new online supplier.
WHILE YOU'RE HERE: Also check out my new Feel Skin Care review, and my review of Feel Protein Bars.
A Quick Word on My Background
Before we get into the meat of this Feel Vitamins review, a little about me, and how I've gone about the review process.
In recent years, I've become a bit of a convert to vitamins and supplements, due to a journey that began with Vitamin D. Here in the UK, the National Health Service now recommends that "everyone should consider taking a daily vitamin D supplement during the autumn and winter."
After following this advice, I noticed that my mental health throughout the dull winter months vastly improved. I used to suffer badly from Seasonal Affective Disorder. While I'm by no means "cured," I deal with the short dark days much better now, and Vitamin D seems likely to have played a part.
Since then, I've become very open to the idea of taking vitamins, figuring that despite my (pretty solid) efforts, my diet may not always be as healthy as it could be. Taking a regular multivitamin is unlikely to do me any harm, so what do I have to lose?
Reviewing vitamins and supplements is always highly subjective. You can't really tell if they "work," because it's impossible to know how you would feel without them. In this review of Feel, I've tried hard to be as thorough as possible, looking both at the effect of the products, and their presentation and credentials.
What Are Feel Vitamins and Supplements?
Feel is a UK company offering a range of vitamins and supplements, with the slogan "Nutrition, reinvented."
The product range includes basics such as multivitamins (sold as both capsules and the increasingly fashionable "gummies"), and more targeted supplements such as those for focus, digestion, immunity and menopause.
Feel is an online, mail-order business, with a subscription model. You can order any of Feel's products as a "one-off" basis, but the company charges a notable price premium when you do that. The idea is to work out exactly what you need, and then have it arrive monthly on your doorstep.

Feel has a clear focus on ethical ways of doing business: sourcing quality ingredients, using minimal packaging, and making everything vegan friendly are three examples of that.
Feel Vitamins Review: Product By Product
I ordered quite a selection of Feel products to complete my review, and you can find out what I thought of them below. Please note that I was NOT gifted these products, and purchased them all with my own money. As such, you can be sure my opinion hasn't been swayed by any freebies!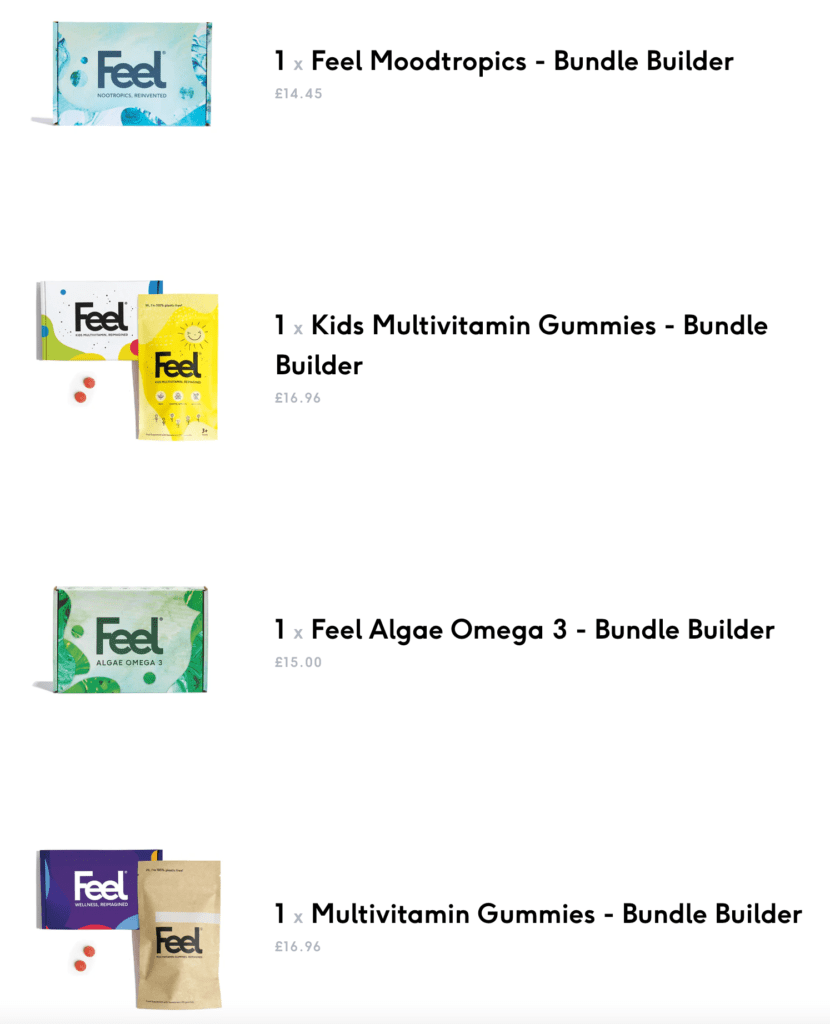 Feel Multivitamin Gummies Review
Taking vitamins in gummy form is a bit of a trend these days, and I have no problem with that. If I'm going to be taking supplements daily, why not feel like I'm getting to eat a couple of extra sweets too?!
Feel multivitamin gummies are vegan and sugar free. They're apple flavour – allegedly – but really, to me, they taste more like a generic fruit flavour. Still, they're perfectly pleasant. They're not particularly soft – perhaps closest in texture to a Wine Gum.
Effects wise – well, that's where it gets a bit subjective. It's not like a vitamin supplement has any discernible effect. However, I CAN say that I swapped my usual daily Vitamin D and Vitamin B complex tables for these (for a period of a month), and felt just as good. I'm fortunate enough to be able to say that I generally do feel pretty "healthy" and focussed (especially since I quit drinking!)
The recommended dosage for Feel Multivitamin Gummies is 2-3 per day. I made use of this by having two in the morning, and a third in the evening as a "sweet treat!"

VERDICT: Nothing to complain about here – 8/10.
Feel Kids Gummies Review
I also purchased some Feel Kids Multivitamin gummies. They look, feel and taste just like the adult ones, but obviously have different vitamin concentrations to the grown-up version.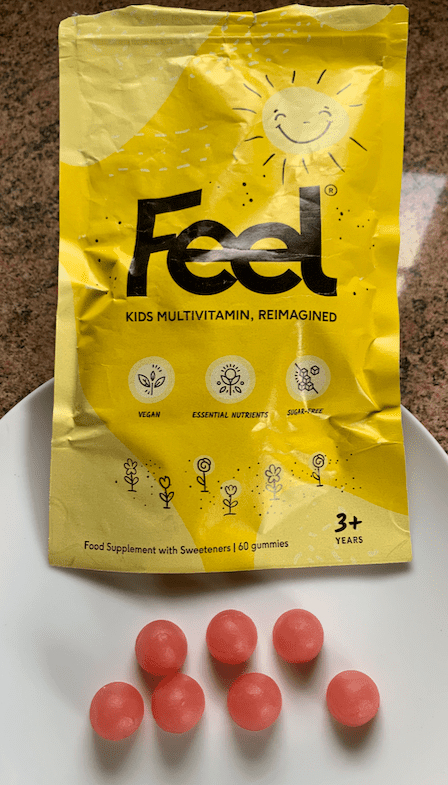 They were a hit with my two small children, both of whom usually have Haliborange "softie" vitamins from the supermarket. After just one day, they were asking for these instead – so I guess that's a big tick.
They do share the same fairly hard texture as the adult's vitamin gummies. I'm rather neurotic about choke hazards, so they are something I'd rather supervise my younger son eating, rather than handing one over and letting him run off.
They're sugar free and contain natural sweeteners.
VERDICT: A hit with my two youngsters – 8/10.
Feel Moodtropics
Now these were seriously interesting. I've become quite curious about nootropics, especially since quitting drinking. They're included in Three Spirit, one of my favourite non-alcoholic tipples, and also in Impossibrew, an "enhanced" alcohol-free beer.
Feel Moodtropics are designed to help with mood and stress. They include:
5-HTP from Griffonia Seed extract (said to boost "happiness hormone" serotonin).
L-Theanine (which is said to synergise well with caffeine, giving an energy boost without the "edge").
Bacopa Monnieri (claimed to "enhance memory and cognition").
Gotu Kola (said to "help minimise anxiety and stress").
The first time I tried these for my Feel vitamins review, I wasn't expecting much. How wrong I was. My wife and I both took a couple of the tablets half-way through a busy working day, and checked in with each other an hour later. We both agreed we were super focussed and motivated. I have to admit that alongside a coffee I felt kinda buzzed!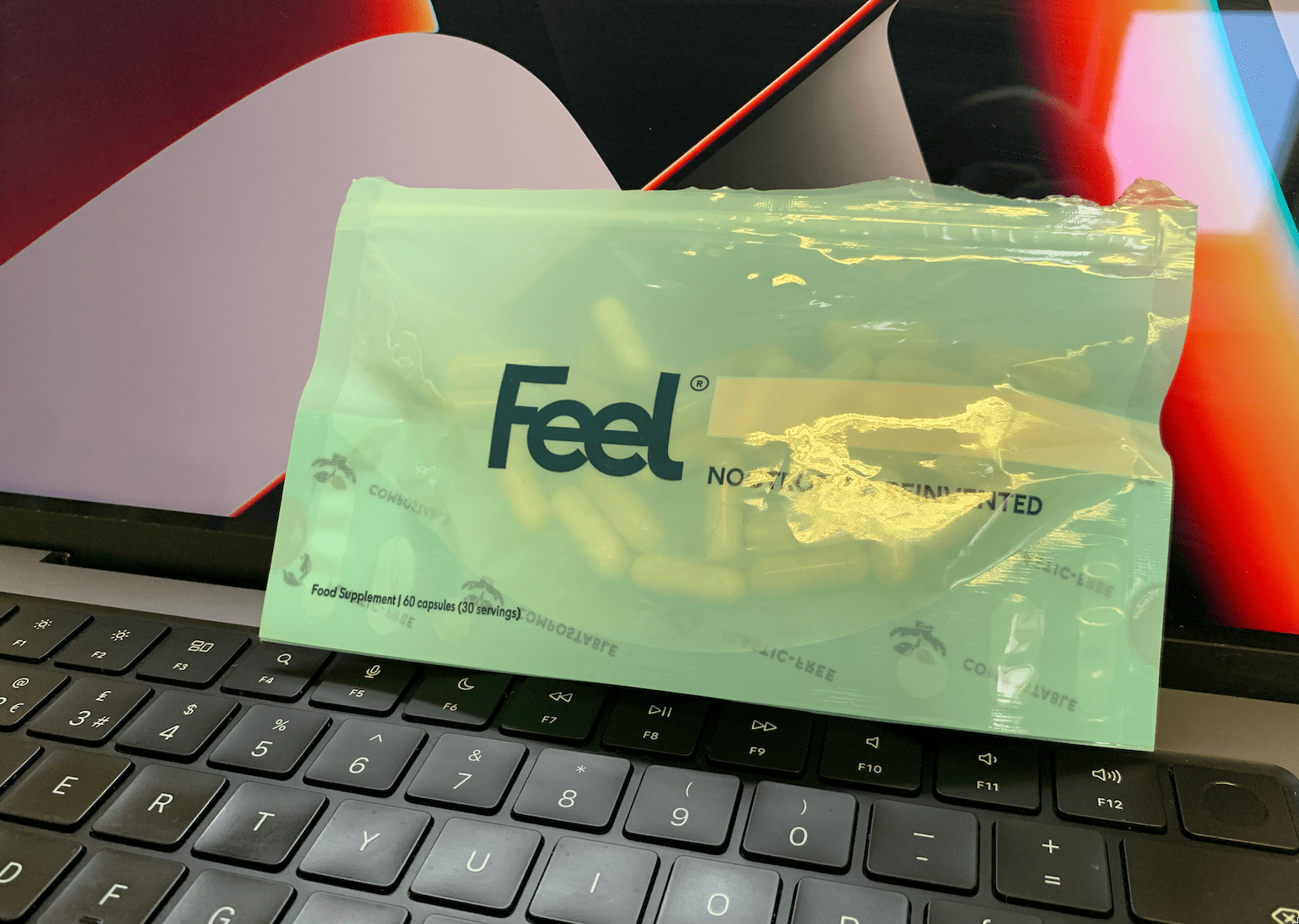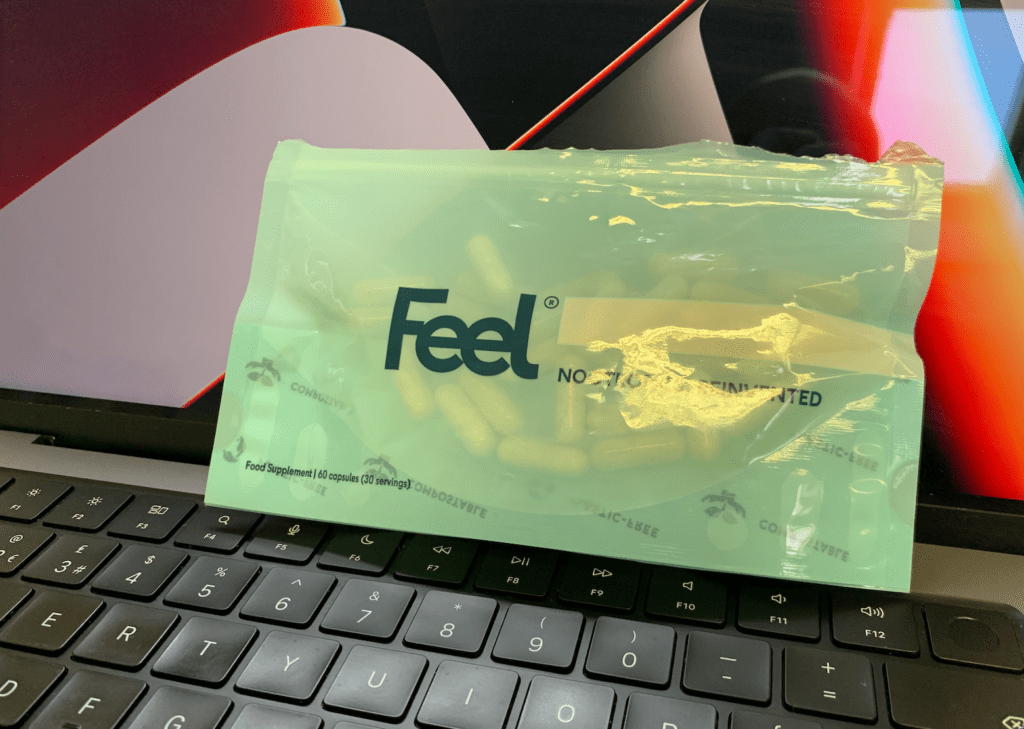 I've repeated the experiment a few times since, and I'm surprised to say that the effect of these supplements is more noticeable than I ever would have expected. In fact, I've started only taking one at a time, as it seems sufficient. Two – especially when I'm caffeinated – can make me feel a bit wired.
Obviously your mileage will vary. People can respond to supplements in very different ways, and it's important not to expect miracles. However, these gave me a notable boost, and it's made me curious to try some of the other Feel supplements, particularly their "Focus" and "Sleep" products.
VERDICT: A very useful tool for busy people! 9/10.
Feel Algae Omega 3
With this product, we go back to "subjective." These are Omega 3 tablets, and I get Omega 3 from fish, too. Do I wake up the morning after eating fish and think "wow, I feel TRANSFORMED!?"
Of course not. But there's mounting scientific evidence around the benefits of Omega 3. A tablet containing it has even been given FDA approval recently, to aid in cardiovascular health.

That's more than enough to convince me, and Feel's version comes with some solid credentials. It's made from natural algae (the tablets even have a natural, earthy / oily aroma!) And it's all vegan, non-GMO, allergy and gluten free.
VERDICT: A natural, high quality way to consume Omega 3. 9/10.
Presentation
I LOVE Feel's packaging. It's minimal and feels wonderfully eco-friendly. It's entirely plastic free. It was also great to receive a couple of unexpected product samples in the box.
Feel feels high-end. They're lovely products to receive, to have and to use. They make the mass-produced vitamins and supplements I used to buy from Amazon or the supermarket seem a bit dull.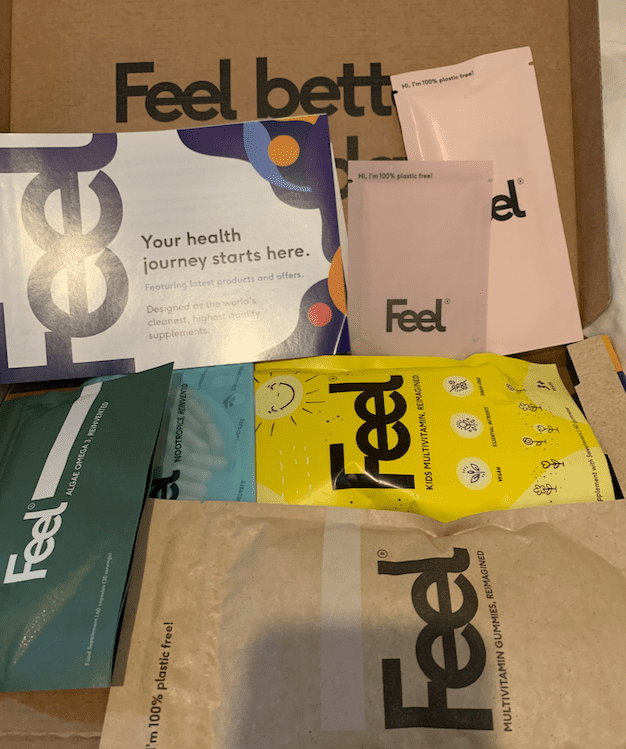 Eco and Health Credentials
Feel products are produced in Germany, and packed in the UK.
That's actually a bit of a big deal. If you're putting these products in your body, it's good to understand their provenance. There are plenty of cheap (and sketchy looking) vitamin pills out there – and there's always the chance they could be (at best) ineffective and (at worst) harmful.

Credentials-wise, WeAreFeel ticks all of the important boxes:
Non GMO.
Vegetarian and vegan friendly.
No "fillers, bulking agents and colorants".
Also notable is Feel's wealth of online information. You can find out every last detail about these products by browsing their website.
Subscriptions and Value
So, we arrive at the important question: Is WeAreFeel good value?

It's very hard to do a direct comparison of vitamin and supplement products. Often the exact quantities of the ingredients differ, and – more importantly – the quality and provenance can vary wildly.
Can you buy cheaper than Feel vitamins? Yes, undoubtedly. But there are some very good reasons not to always buy the cheapest – especially where your health is concerned.

I took a deep look at the children's multivitamins, to get a sense of the cost difference. Due to the fact that the mainstream brands are often on multi-buy offers, I can get them for less money than I paid for Feel. At full (non offer) price, the difference is fairly minimal. Am I prepared to pay a small price premium for the eco-credentials, the quality ingredients, and the service and presentation? Yes – I am – but your own opinion may vary.
With products like the MoodTropics, there's no direct comparison to make, but I feel they're good value for what they are.

That brings us on to Feel's subscription model. As mentioned near the start, there's a not insignificant price premium if you only choose a one-off purchase, rather than subscribing.

On some products you pay as much as 50% less if you subscribe. Unfortunately, this makes the one-off prices considerably less palatable. That said, there's nothing to stop you signing up for a subscription and cancelling after one month if you're not satisfied.
Overall, I'm not unhappy with WeAreFeel's value proposition – but I would love to see the gap between one-off purchase costs and subscriptions narrow. To be frank, I'd probably spend MORE with the company if what were the case.
Service and Support
As part of my Feel Vitamins review, I did have occasion to contact the company's support. I was impressed, as they got back to me quickly. Not only that, I was pleased that the issue I raised (the need to send an email to process a cancellation) was dealt with immediately and my feedback noted.
Companies like Feel are often judged on their service, and they passed with flying colours. I also note that they offer a "no questions asked" 30 day money-back guarantee.
Other Online Feedback
Before wrapping up this review of Feel vitamins, I had a quick look what other people have to say about the company.
Feel holds a 4.5 star average rating on TrustPilot at the time of writing. The majority of reviews are glowing. Most of the criticism is around difficulty cancelling. I cancelled with no issues whatsoever, so that's all I can really say about that!
Feel Vitamins Review Conclusion
Can I resist a trite and corny conclusion?
No, I can't. Feel vitamins did give me the "feel good" factor. From the packaging to the online presentation to the products themselves, I'm a fan of Feel, and will be ordering from them again.
My only negativity is getting into the flow of the subscription model. For example, while I could accurately predict how many multivitamins we will get through as a family, it's harder with stuff like Omega 3 and the MoodTropics. For example, I don't feel the need to take MoodTropics daily, and I don't see the point in taking extra Omega 3 on days I eat fish.
As such, I don't see the need for a subscription to ALL of it. I've paused to get my head around what I want as a regular order – but I WILL be ordering from Feel again very soon. I can't give a more honest recommendation than that.
While You're Here: