In some posts we review or mention products and services. We are always impartial but some posts may include affiliate links that can earn us a commission. Click here for details.
I have to confess that I was sceptical when I first ordered a selection of Three Spirit Drinks. But in this Three Spirit review, I'm going to explain why I was far from disappointed.
Before I start, I want to make something very clear: I wasn't paid for this review, not supplied with any free samples. I purchased Three Spirit myself, with my own money. The fact I've already "re-upped" and bought more should demonstrate that I'm a genuine fan.
For the real cynics among you, here's proof of a recent order – I've ordered more since!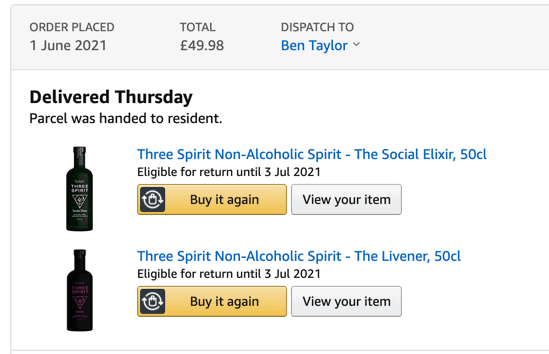 Let's start right at the beginning:
What is Three Spirit?
Three Spirit is a range of three alcohol free spirit-style drinks, known as The Livener, The Social Elixir and The Nightcap.
Described as "the functional and healthier booze alternative," these "plant powered" drinks include a range of natural herbs and botanicals, from fairly mainstream things like lemon balm and valerian, to rather more exotic ingredients like damiana and Lion's Mane mushroom.
As per the names of the drinks, each is intended to have a specific effect:

The Livener includes natural caffeine from green tea and guayusa, and is intended to give you energy and improve your mood – ideal for the start of a night out.
The Social Elixir is claimed to make you "floaty and flirty," and to "lift spirits and reduce inhibitions."
The Nightcap is the one for the end of the night, with ingredients like valerian and ashwagandha, to ease you into sleep and relaxation.
In this Three Spirit review, I will discuss both the taste and quality of the drinks, and whether they live up to their claims in terms of effects.
But first, a little background.
Why Did I Buy Three Spirit Drinks?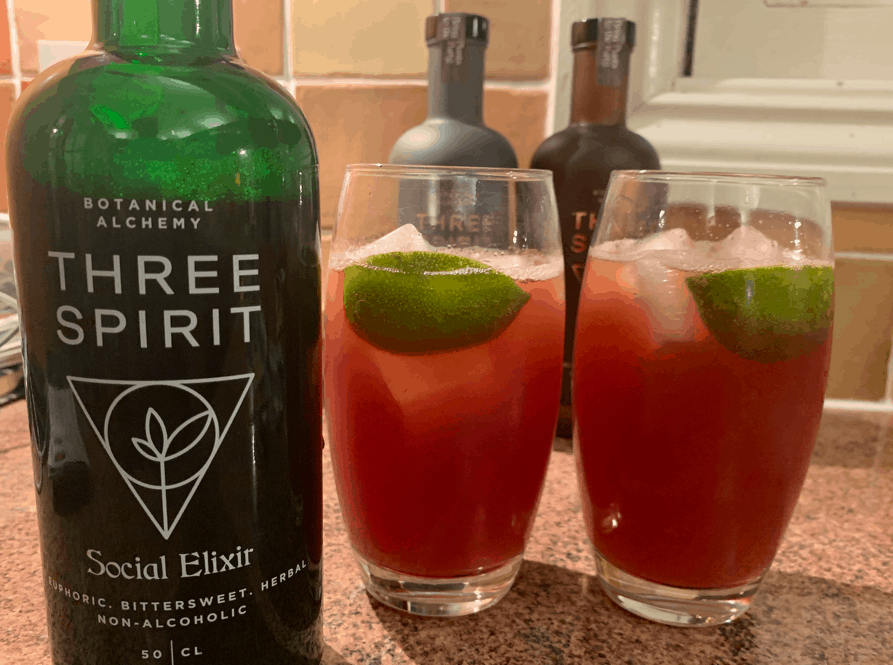 I quit drinking alcohol last August.
I'm generally very happy as a non-drinker, as I discuss here. But as summer got underway, it did all get a little more challenging, especially when planning social events with friends and family – events where other people would be drinking alcohol.
I've grown fond of all kinds of craft sodas, seltzer waters and alcohol free beers (and reviewed plenty of them on this site!) But I wanted something more, and Facebook's advertising robots seemed to know, because I kept seeing adverts for Three Spirit drinks.
It took me a while to take the plunge because – let's address the elephant in the room – they ARE quite expensive. We're talking the price of a good bottle of premium spirits, and you only get a 50cl bottle. We'll address the issue of value later in this Three Spirit review.
I eventually took the plunge – and I'm glad I did.
Let's look at each of the Three Spirit drinks, flavour by flavour.
Three Spirit Review: Drink By Drink
Before I give you a drink-by-drink rundown, a comment that I think is relevant to all of drinks in the Three Spirit range: These drinks all taste like something completely "new." There's certainly not one like gin, one like whisky, and so on. As Three Spirit themselves say: "they're kind of weird…in a good way."
So if you're looking for something to emulate gin, for example, you's probably be better checking out the Seedlip range. But read this Three Spirit review first – because these drinks really ARE weird in a good way!
Three Spirit Drinks Review: The Livener
The Livener is the drink I've consumed the most of since sampling the whole range.
Intended to get you in a lively and upbeat mood, The Livener is described as "exotic, fiery and fun." It does have a certain spice to it, and like a premium gin and tonic or an Aperol Spritz, it's the kind of drink where the first sip tastes a little challenging and astringent, before becoming moreish and tasty – almost improved by the ice melting a litle.
It's a great palate cleanser, with a fruitiness and a slight edge of ginger, something present in all of the Three Spirit drinks.
How to Serve
Three Spirit recommend a "Plant Tonic," which is a simple 50ml of Livener with good, premium tonic – Fever Tree Mediterranean is perfect. The combination is such a hit in this house that we've not deviated from it. However, there are other suggested concoctions, including a "Fierce Spirtz," with pink grapefruit and kombucha, and a "Livener Daquiri" with lime juice and sugar,.
The Effects
Of all of the Three Spirit drinks, The Livener – in my experience – has the most pronounced effects. Some of the herbal ingredients contain natural caffeine, so there's a definite energy boost. According to Three Spirit it's only equivalent to a cup of coffee.
To my mind, it's a much more pleasant feeling. It's like a caffeine hit without the jumpy "edge." I sometimes have a Livener and tonic before doing DJ sets, and it really does put me "in the zone." (I believe the lack of edginess is due to the presence of L-Theanine – but I'm no scientist, so don't rely on that as fact). Trip Drinks also make use of this ingredient, as does Impossibrew.
Let's be honest: These are herb and plant-based drinks – not narcotics! So if you expect to be bouncing off the walls, you're going to be disappointed. However, the effect is good and – to me – noticeable. I'm always ready to get stuff done after one of these.
Verdict
At a barbecue recently, we served The Livener to some of our guests, and it was a great success. It's a wonderful summertime sipper and definitely feels like a "grown up drink." As somebody who doesn't (currently) drink alcohol, this is perfect for taking the place of a pre-dinner Aperol Spritz or gin and tonic.
In fact, typing this up is making me want to pop into the house and make one.
Social Elixir Review
Social Elixir is the "fun and flirty" one, and the first of the Three Spirit drinks that I tried. It's also the most "gluggable," by a long way.
As I've already said, ginger is definitely a theme in these drinks, and here is where it comes through most strongly. The overall flavour is sweet, savoury and spicy all at once, with lots of fruitiness too. It's not at all challenging to the palate. It slips down almost too easily, leaving you ready for another.
Of all the drinks, this is probably the most "potion-like" when you pour it out the bottle. It's pink colour errs a little towards brown, and it also foams up a little when (as instructed) you shake the bottle. But taste wise – well I think it's just gorgeous.
(If you enjoy this, also take a look at the Blood Orange, Bitters and Cardamom from Punchy Drinks.)
How to Serve
The recommended "perfect serve" for this one is the "Light and Stormy," a mix of Social Elixir with ginger beer or ginger ale, and a sliver of lime. Once again, Fever Tree is the perfect choice but – in all honesty – I didn't feel it lost anything on a day when I used cheaper Schweppes mixers.
Other options include a "Social Spritz" – with blackcurrant cordial and orange peel.
The Effects
When my wife and I first tried the Social Elixir, the effects felt very noticeable. It put us into a party vibe, and we certainly felt very upbeat – in the house on a Friday night with some tunes on.
After drinking a lot more of it, I do wonder how much of that effect was down to us feeling that we were having an "adult drink" for the first time in ages. I think there is some caffeine in this one too, so you get a small boost from that. It's certainly very enjoyable to drink, and perfect for when others around you are drinking – so fun, yes, flirty? I'm still on the fence on that score!
Verdict
I love this one, and so did some recent guests. It makes for a great thirst quencher on a summer day, although people who dislike ginger need not apply. Even with a simple mixer like ginger ale, it creates a cocktail with a layered flavour, and enough going to to prevent you envying those with "real" cocktails in their hands.
The Three Spirit Nightcap
Before I could type up my Three Spirit review, I had to finally try The Nightcap.
I must confess that I didn't expect to like it. I've never been a drinker of dark spirits, and the closest I've ever really come to "after dinner" drinks is a Disaronno over ice on occasion.
I was really surprised by how much I liked The Nightcap.
It's very strong and rich, with the definite throat burn that you'd get from a whisky. However, it's also surprisingly "approachable." After my first "sip and wince" experience, I took more time with it, letting it wash around my taste buds before slowly swallowing.
And – wow – it's good. The most prominent flavour is of maple syrup (actually the main ingredient alongside distilled water) – but it's also spicy and nutty with a little vanilla. There's a LOT going on here, and it leaves you wanting another sip to see what else you can detect in the flavour. Despite the bite, it's actually surprisingly sweet.
How to Serve
This is a simple one – Three Spirit suggests serving The Nightcap over ice, with no mixer. I'm inclined to think this is spot on, as I don't think it would benefit from being mixed. That said, there are some cocktail recipes on the website, including a "Zen Penicillin," which includes lemon, ginger syrup and honey.
I may have to try that next time I have a cold.
The Effects
The reason I took longer to try this one is that lots of reviews of The Nightcap commented on just how effective it is at making you sleep.
I tend to have more need to be awake than asleep these days. However, I'd been having a bit of an insomnia spell, so thought that was the perfect moment to give it a go.
I'm sorry to say that despite the valerian, hops and other herbs, it didn't immediately send me off to dreamland. In fact, my insomnia spell continued, and I was still up until gone 2am that night. So while it was a great drink, it wasn't a magical sleepy potion – not for me anyway. (In fairness, once I was asleep, I did sleep well that night).
Verdict
Three Spirit Nightcap wasn't a drink I expected to like. While I suspect it will take me much longer to get through the bottle than it will for the others in the range, I was genuinely taken by the flavour, and the lovely, syrupy mouth-feel.
The lack of a "knock you out" effect is a double-edged thing. It will probably mean I drink more of it, because I'm no longer fearful that a couple of Nightcaps-on-ice will mean "game over" for the day. Everybody's body chemistry is different, so your mileage may well vary.
WHILE YOU'RE HERE: If you enjoy darker spirits, check out my review of Caleno Dark and Spicy.
Health and Nutrition
Three Spirit drinks are low in calories – especially compared to alcohol. Per serve (without mixer):
The Livener: 43 Calories.
The Social Elixir: 26 Calories.
The Nightcap: 30 Calories.
Since these drinks contain various herbal ingredients, Three Spirit do advise against pregnant women drinking them. My niece, a diabetic, commented that the sugar content doesn't make them very "diabetes-friendly." If in doubt, check the ingredients, consult your doctor etc.
Three Spirit Drinks: Value
At the time of writing, a 50cl bottle of Three Spirit costs around GB£25 here in the UK. They're $39 in the US – a little more than the exchange rate equivalent, but that's no surprise with Three Spirit being a British company.
The most economical way to try them out yourself is to order a sample pack from the company. This is £39.99 for 3 x 20cl bottles, which will make you four full-sized drinks of each variety.
So…the big question:
Is Three Spirit Worth It?
Three Spirit drinks are expensive. However, it's important not to compare the prices to alcoholic spirits. They're very different products, and Three Spirit is always quick to point out that many of the herbal ingredients don't come cheap – especially when sourced sustainably.
Three Spirit is completely worth it if you're willing to pay for quality, and if you don't expect the drinks to replicate all the effects of alcohol with no downsides at all.
For me, discovering Three Spirit has been fantastic. As I said near the start of my Three Spirit review, I'd reached the point where I was finding it a little harder to refrain from alcohol. These drinks give me something tasty and enjoyable to drink at the start, middle and end of every social event (and – increasingly – on several weekday evenings!)
For a party or barbecue, all I need to do is add in a Diet Coke here, and an alcohol free beer there, and I have lots of variety that prevents me ever feeling deprived – and all without a hangover.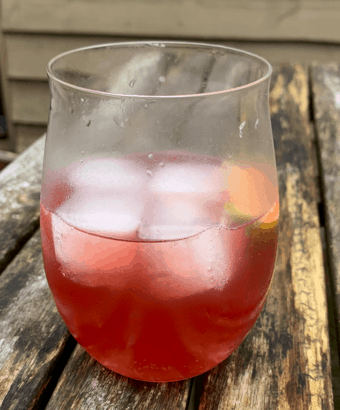 Conclusion
I have to admit I've been raving about Three Spirit to anybody who will listen recently.
It's not always easy. Many people (usually quite heavy drinkers) are highly sceptical about these drinks – especially as the manufacturer suggests you may catch some sort of buzz. That buzz is subtle, but very much present.
Taste-wise, Three Spirit drinks are way nicer than I dared to hope when I ordered them. As per a testimonial that Three Spirit rather amusingly include in their booklet: "Thought this was just over priced hippie bulls&*t, but a friend bought me a bottle and it's very tasty."
The final affirmation for me was when I served Three Spirit to some guests. I wanted some validation to make sure I wasn't just convincing myself these are so good, so as to prevent myself missing alcohol. But no – they really are full of flavour and, most of all, rather interesting and exciting to drink.
And with my Three Spirit review concluded, I'm off to pour myself a Livener.
Footnote
It's now been a while since I first tried this product. I thought it might be good to return to my review of Three Spirit to add more of a long-term view.
I'm still a big fan of the range, and have had a chance to try it out on several more people!
The Social Elixir is definitely the variety that's won the most praise – in fact we've gone on to gift it to one person because they liked it so much.
I've also experimented with larger "doses" of the drinks. I am quite sensitive to caffeine, and found that an extra Livener was a bit much for me – so I will proceed with some caution there from now on!
All in all, however, we've kept the whole range in the house since first trying it, and will continue to. It's a big hit – with both the drinkers and the non drinkers.
Where to Buy Three Spirit
You can buy Three Spirit on Amazon, where as well as getting full bottles, you can also grab a sample pack of all three varieties.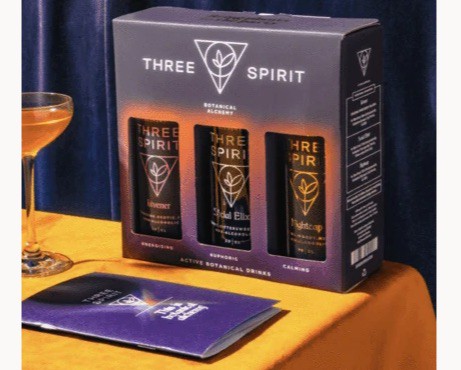 You can also buy direct on the Three Spirit website.
While You're Here!
Sampling interesting alcohol free drinks has become a bit of an obsession for me. Here are a few more reviews for you to check out: