In some posts we review or mention products and services. We are always impartial but some posts may include affiliate links that can earn us a commission. Click here for details.
I was really excited to try to the Ploom heated tobacco system when it recently arrived here in the UK. In this Ploom review, I discuss – in lots of honest detail – whether it lived up to my expectations.
Before we start, I need to get a couple of key points out of the way:
Important
Ploom is a tobacco product. As such, I must emphasise that it's not a risk-free product and – as such – I must not recommend that anybody use it. Although "heat not burn" products are generally thought to be less harmful than cigarettes, the refill packs do state that "this tobacco product damages your health and is addictive."
By the same token, Ploom is only intended for people who already consume tobacco and are over 18. This information is specific to the UK, and age limits and warnings may differ where you live.
My Experience and Background
I was an relatively "early adopter" of "Heat not Burn" tobacco use. As I explain in my IQOS review, I switched to Heat not Burn (specifically IQOS) several years ago, which allowed me to finally quit a long-standing smoking habit.
I'm very much aware that consuming tobacco is a poor life choice. However, I do firmly believe that using heated tobacco is a sensible harm reduction step if you would otherwise smoke cigarettes. I have (subjectively) noticed considerable improvements in my own health, such as a vast reduction in coughing and breathlessness, since making the switch.
Heated tobacco also offers an alternative to "traditional" vaping with nicotine-based liquids. While many smokers have successfully switched to vaping (and Public Health England even states that it's "95% less harmful than smoking,") plenty of others have found that vaping hasn't worked for them. That certainly applies to me – it never scratched the itch, despite me spending a LOT of time, money and effort on it.
Until very recently, IQOS has been the only heat-not-burn choice available to those of us in the UK. Others, including the BAT Glo, are available in other countries. The release of Ploom finally gives us an IQOS alternative. In this Ploom review, we examine whether it's a good alternative.
First – the basics:
What is Ploom?
Ploom is a heated tobacco system that delivers nicotine by heating tobacco in small cigarette-like sticks (known as Evo sticks), using a handheld electronic device.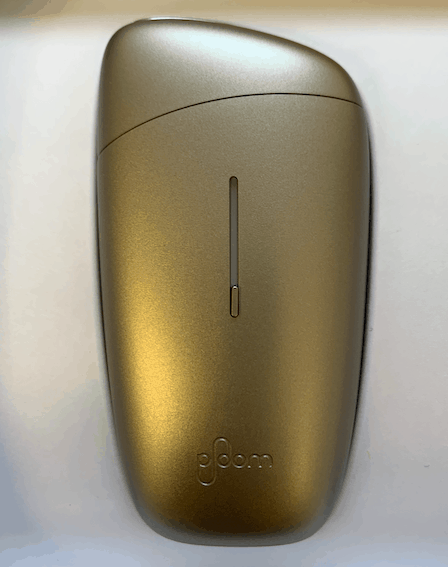 At the time of writing, Ploom is available in a limited number of countries, including the UK, Russia, Japan and Italy.
Ploom is an alternative to the more widely-known IQOS system.
Who Makes Ploom?
Ploom is made by the international tobacco giant, JTI. The company is best known for cigarette brands such as Winston, Camel and Benson and Hedges. Like many tobacco firms, JTI is branching out into "reduced risk" nicotine products, of which the Ploom is one.
How Does Ploom Work?
The Ploom system uses a compact rechargeable device to heat small cylinders of tobacco, which closely resemble traditional cigarettes. They even have a filter just like a cigarette.
Ploom heats its Evo sticks (marketed as "refills,") using a convection system, known at the HeatFlow heating system. This differs from the IQOS, which uses a heated blade to warm the tobacco.
Using the Ploom is simple. You insert an Evo refill into the device, switch it on, and wait for it to heat. You then draw on the stick as you would a cigarette. Once the stick is complete, the unit vibrates, and you discard the finished stick. Since the tobacco is heated and not burned, the material does not burn away, and emerges from the unit as it went in, but with a slightly toasted "appearance."
Ploom Review: The Equipment
Let's do a bit of a virtual Ploom unboxing.
My Ploom starter kit "bundle" arrived in an attractive and minimalist black box. Inside was another box containing the device itself, and five packets of Evo refills. (I was able to choose the varieties when I made my order).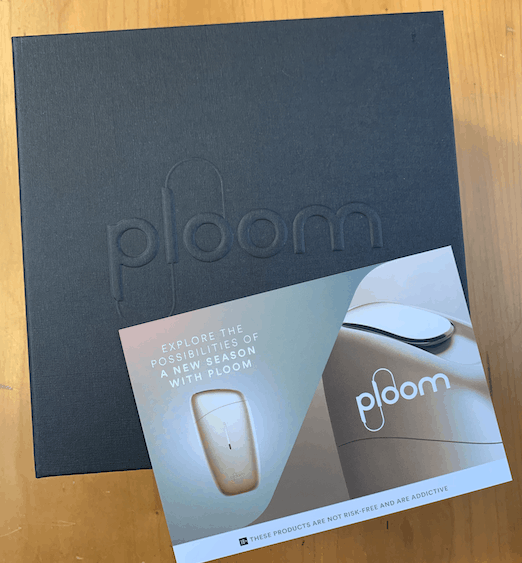 The packaging is good quality and reasonably "high end." However, I feel inclined to say that while unboxing an IQOS feels like unboxing an iPhone, unwrapping a Ploom gives a rather more Google or Samsung vibe! It all seems more functional than "luxe."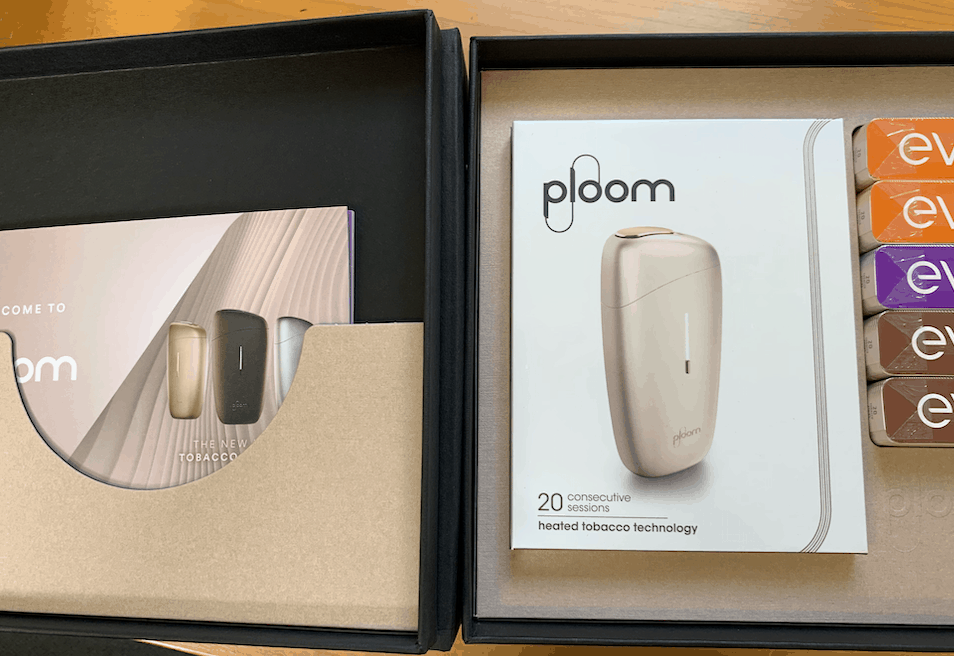 What Do You Get?
In the main device box you get:
The Ploom device (a Ploom S) – in your choice of Matte Black, Champagne (light gold) or Steel Silver.
A small user guide.
A mains adaptor.
A USB-C charging cable.
A black plastic cleaning tool.
If you order a starter pack (which is the logical way to try out the Ploom), you also get a larger introductory guide, and your chosen Evo sticks.
My Experiences: What is Using Ploom Like?
Let's move onto the most important part of my Ploom review: what's it actually like.
How to Use Ploom
The operation of the device is very simple.
You need to give it an initial charge, which for me took no more than an hour. I was a good boy, and gave it its advised full charge before trying it out.
To use the unit, you flip back the top cover and insert an Evo stick, being careful to leave the small air holes below the filter visible (it's easy to push it in a little too far and neglect to do this).
You then hold down the button on the device until it vibrates. You have the option of a standard heating mode, or a stronger "intense" mode which is activated if you hold the button down for a second vibration. You then wait around 20 seconds (longer for the intense mode) for a further vibration, which indicates your Evo stick is ready to go.
Or at least that's the theory – read on!
Once your stick is approaching done (around four minutes), you get another vibration to inform you that you have 20 seconds to go, and then a final long one when it's time to stop puffing and discard the stick.
That's about all the device does: There's a battery meter on the front, and you can see the charge level every time you flip the cap open. This display also serves to show you the heating progress, and to give you a visual indicator of how much time you have until each Evo stick is done.
Taste and Experience
I have to be very honest in this section of my Ploom review. My feelings on the experience itself are mixed – to say the least.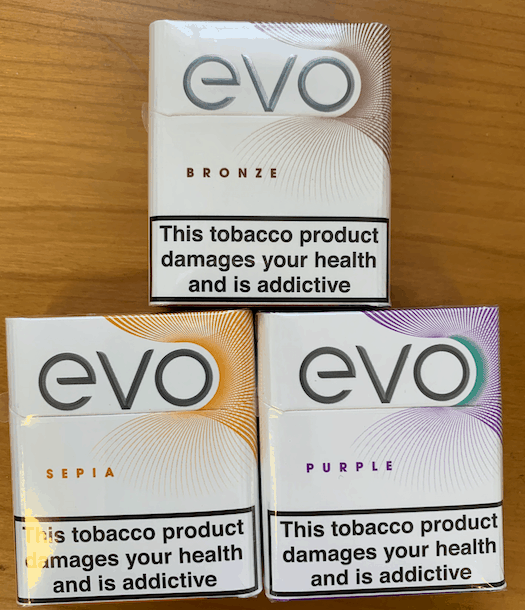 As soon as you begin to heat an Evo stick, you can smell the tobacco heating. It's not an unpleasant aroma, although it errs a little towards a sweet caramel popcorn smell, which some may find cloying.
The actual taste of the sticks is similar – it IS tobacco, so it tastes like tobacco – but you shouldn't go in expecting it to taste exactly like a cigarette. Most of that taste comes from the fact you are burning it! Think of the smell of a freshly opened packet of cigarettes – the taste resembles that more than a burning cigarette.
So: an acceptable / pleasant smell and and an acceptable / pleasant taste – what's not to like?
Well, unfortunately, my issue is a lack of much visible vapour while I'm consuming an Evo stick. To my mind, when the device vibrates to say it's "ready," it doesn't really feel like it is. And that's on the "intense" mode. On the standard mode, it never feels to me like it's producing much of anything.
Quick note: I know that heat-not-burn manufacturers avoid using the term "vapour," but it's the easiest word to use to illustrate my point. Whatever you want to call it, I don't feel like I'm seeing enough of it!
I've worked my way through plenty of Evo sticks, and every time I find myself wishing that they worked how they do from about half way through the experience. Until that point I'm getting flavour, and some level of "throat hit," but I just don't feel like I'm blowing much (if anything) out.
I should mention here that I am inevitably using my experience with IQOS as the best frame of reference. IQOS Heets use propylene glycol with the tobacco, so it may be that that's why you see a lot more "vapour" when you use them. For me, that lack of fake "smoke" does make the Ploom experience seem less satisfying.
But they work, and they do deliver a nicotine "hit." Another plus is that they don't seem to leave much AT ALL in the way of lingering smell. IQOS doesn't smell much, but it does have a well-known "fart" smell when you heat a Heetstick, and a smell that lingers a little if you choose to use it inside. Ploom is even less smelly than IQOS – and that's a good thing.
How to Clean Ploom
Cleaning is another area where Ploom is better than IQOS.

Because there's no blade, the Ploom device just doesn't get anywhere near as dirty. The plastic cleaning tool provided is intended to help you clear out any debris in the heating chamber – but, in truth, there doesn't end up being much to clean.
This is actually quite a big deal, because maintaining an IQOS is one of the downsides of that device. Performance notably degrades if you don't keep an IQOS clean, and the cleaning process itself is quite cumbersome, involving a cleaning tool and cleaning sticks.
IQOS may (in my opinion) provide a more satisfying experience – but when it comes to maintenance, Ploom wins hands down.
Ploom Evo Sticks Reviews
Here in the UK, Ploom offers four different types of sticks, or "refills," known as Sepia, Bronze, Purple and Emerald. Next in my Ploom review, I shall provide some general feedback, and then discuss each in turn.
The sticks themselves are longer, but very slightly thinner, than an IQOS Heet.


Now this is very much a quirk of my personal opinion, but the Evo sticks somehow feel more like cigarettes to me. As a long-term IQOS user, that gives me the (perhaps slightly ridiculous) feeling that it's a step closer to smoking. If you're still on the cigarettes, that may seem like a good thing!
Another tiny (and slightly pedantic) thing is that all of the sticks are exposed when you open the packet. With Heets, they are in two individual sections of ten, each behind a separate paper seal. Whether this keeps the second batch any fresher is negligible, but it's another small detail that contributes to the "premium" feel, and makes them seem distinct from cigarettes.
I've already talked about smell and taste, and all of the Evos deliver a tobacco taste. A downside for me is the after taste. One thing I like about IQOS is that it doesn't leave a cigarette-like after taste in my mouth.
With Evo sticks, I get a reminder of how my mouth used to taste after a cigarette, and I don't like that any more! In fact, if I have a Heet after an Evo, I almost feel like the Heet tastes like an Evo. It's a taste that lingers – but again, that could actually be pleasing to those only just switching from smoking.
Ploom Evo Sepia
Sepia is the lighter of the two cigarette flavours – probably the best fit for fans of Marlboro Lights or Camel Blue. It's a good, rounded tobacco taste, which doesn't carry the popcorn flavour you think it might from the smell. It's probably my favourite of the two tobacco options.
Evo Bronze
Evo Bronze delivers a much stronger tobacco taste. It's almost too strong for me, making me think of full-strength Benson and Hedges, or even a cigar. This one provides the longest-lingering aftertaste, which could be a good or bad thing, as already discussed.
Evo Purple
Purple is a fruity menthol and – my word – it's strong. If you're in the UK, think blackcurrant Hall's Soothers throat sweets or Lockets.
This is a a good strong flavour, and certainly clears the sinuses! However, for me it's almost too strong, hitting my throat and making me stop inhaling sooner than I would like to, which compounds my issue with not getting enough "vapour" from the Ploom generally.
Ironically, although I'm not a menthol fan, Evo Purple is probably my favourite variety – but it could do with having the menthol dialled down.
Ploom Evo Emerald
At the time of writing, I've not yet tried Ploom Evo Emerald, but I will be sure to update this review as and when I do.
What is in Evo Sticks?
Evo tobacco sticks contain a special formulation of tobacco, but beyond that it's hard to answer this question.
Let's face it, big tobacco companies don't really have the best reputation for transparency. That said, I should give credit where it's due. Something I highlighted in my review of IQOS is that there is a full ingredients list available for IQOS Heets. I may not understand what the vast majority of the ingredients ARE, but – hey – at least it's there.
I've not been able to find an equivalent list for Ploom Evo sticks. The FAQs are pretty vague on some details, simply referring to a "bespoke tobacco formulation." Furthermore, a question about tar content simply says "EVO tobacco sticks are different from conventional cigarettes, and each person uses it differently, therefore a comparison is not possible."
I'm willing to stand corrected if there's more information out there that I've not yet found. But the vague FAQs feel a little lacking to me. I'd like to understand more about what I'm consuming.
How Safe is Ploom?
Ploom isn't risk free, and it doesn't claim to be either.
Safety is relative, and it's a reasonable assumption that inhaling heated tobacco is better for you than inhaling smoke, tar and burning paper.
Ploom isn't yet available in the US, so doesn't have the same FDA status as IQOS. However, it is allowed to be marketed in the UK without the same graphical warnings as cigarettes.
It's likely safer than smoking. But it's not good for you. If you want to do the best thing for your health, you should avoid smoking or vaping of any kind – but you probably already know that.
Ploom Pricing
Ploom pricing is in two parts – the cost of the device, and the cost of the Evo refill sticks.
Ploom has been quite aggressive here, by pitching the price of the refills at a lower level than IQOS Heets. Those themselves are much cheaper than cigarettes.
The Ploom "bundle" shown in this review, consisting of the device and an initial five packets of refills, costs £39 here in the UK. There's also a trial offer, where you can pay just £10 for the bundle initially, with the option of sending it back with no extra payment taken if you don't like the device.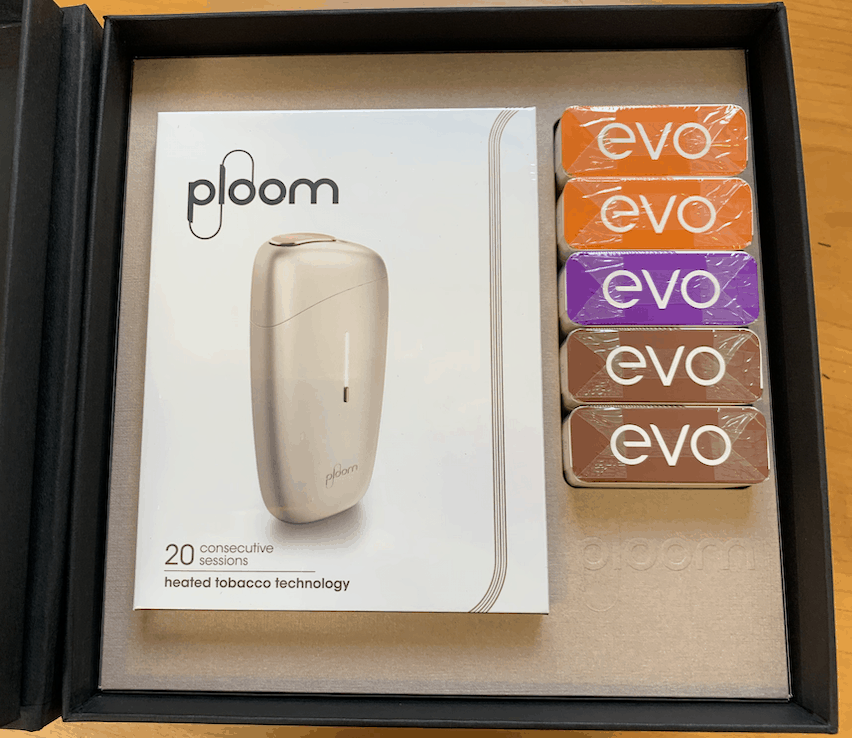 The Evo refills work out to £4 per packet – 20% less than Heets for IQOS.
Ploom vs. IQOS
I've touched on quite a few of the inevitable comparisons between Ploom and IQOS already. If there is interest, I will produce a full IQOS vs Ploom comparison article in the future, but let's run through it quickly here:
Beginning with where the Ploom is better than IQOS: Both the device and the tobacco sticks are cheaper. The device is also easier to maintain and far less of a hassle to clean. If you choose to consume your heated tobacco indoors, the smell from Ploom doesn't linger quite so much. Finally, the tobacco taste resembles a cigarette slightly more closely.
But there's a lot on the flip-side too. IQOS is a more established device, and feels more refined. Most importantly, for me, it delivers a more consistent and satisfying experience (although it's also far from perfect). For gadget fans, it does feel "cooler," more stylish, and more luxurious.
In case you've not already guessed, I will be sticking with IQOS – for now at least. The biggest flaw of the Ploom, for me, is that it doesn't really feel as if each tobacco stick "gets going" until half-way through. However, I would imagine there will be future versions and new refinements, and I'm intrigued enough to try it again when they appear.
Tips for Using Ploom
Take advantage of the trial offer. You only risk £10 by trying it out, and can send the device back if you're unimpressed.
Always use the "intense" mode, activated by waiting for two vibrations when you power on the device.
Keep an eye on the battery charge level, and ensure you carry a USB-C charger. While it's handy that the Ploom lasts for multiple uses (around 20), you will need to keep it charged.
Ploom Review: Conclusion
Ploom doesn't feel like it's quite there yet for me.
While the lack of an IQOS-style blade brings great benefits in terms of cleaning, maintenance and ease-of-use, it does feel like the device struggles to heat the tobacco enough to deliver a satisfying experience from the first drag. It gets there eventually, and those inhales that start at the two minute point are great, but the wait is frustrating.
I'm not saying you should avoid the Ploom, and with the £10 trial offer, it's definitely worth giving a go, whether you're looking for an IQOS alternative, or a way to give up the cigarettes. One area where Ploom does excel is with an authentic tobacco taste, which many aspiring non-smokers never manage to find with vape products.
The question I keep returning to is whether I'd have managed to give up cigarettes with Ploom as I successfully managed to with IQOS. I'm not convinced I would. But – on the other hand – I'm keeping the Ploom and not sending it back. I think there's potential for the next version (or even just the formulation of the Evo sticks) to be much improved.
I'll be watching closely.
Ploom Pros and Cons
The Good
Inexpensive, and a great trial offer.
Very easy to clean and maintain.
Good tobacco taste.
The Bad
Not particularly satisfying.
The menthol fruit flavour is good, but WAY too strong.
Not enough transparency regarding ingredients.