In some posts we review or mention products and services. We are always impartial but some posts may include affiliate links that can earn us a commission. Click here for details.
One thing you can always count on in the UK is bad weather scuppering the best-laid plans.
Under normal circumstances, I'd probably have cancelled my trip to Junkyard Market Norwich. There was nothing remotely spring-like about the torrents of rain bolting down, and the biting wind was the irritating icing on the cake.
But there was nothing normal about these circumstances. The lockdown in the UK was easing, and I was on my first trip away from home in many months. My visit to Norwich Junkyard Market was to be my first proper meal out in over a year, as well as my first opportunity to meet some family members since "pre-pandemic."
We were GOING – weather be damned.
I'm setting the scene because I want to be clear that I really didn't see this place at its best. That said, I still found plenty to be positive about for this Junkyard Market Norwich review.
So let's begin.
What is Junkyard Market Norwich?
Junkyard Market is a new street-food concept, with locations in Norwich and Chiswick (at the time of writing). More locations are planned, with 10 anticipated across the UK by the end of summer 2021.
The "market" plays host to a bar, and a range of pop-up food outlets. As I understand it, some outlets are guests or on rotation, while others are a more permanent fixture. When I visited Junkyard Market Norwich, one option was an upscale burger joint up from London.
The market has tables and covered marquees in the middle, with the food outlets around the edge, all complemented with graffiti art and arty "junk," such as containers (one of which is the bar), and the shell of a London taxi.
It makes for an atmospheric environment, and an innovative and different way to dine out. There was still a good vibe when I visited, despite the insanely rubbish weather.

How Does Junkyard Market Work?
When you arrive at Junkyard Market (pre-booking is needed), you check in at the entrance and are shown to a table. When we visited, this involved finding a table that wasn't being encroached on by rain.
Once you're seated there are no menus. Instead, you scan a QR code with your phone and are taken to a web page that lists all of the food options. You can order individually or as a group, with payment taken on your phone. The ability to all order individually allows people in big groups to pay for their own food, avoiding those endless bill-splitting debates.
There's nothing to say you only have to order once. In fact, you're almost certain to put through more than one order, as you order drinks from the bar separately. This is very much a place where you can try food from multiple outlets – and you'll probably want to!
Junkyard Market Norwich Review: Our Experience
I don't want to turn my Junkyard Market review into an endless rant about the weather. However, it is relevant again here…
Ambience
Due to the rain and wind, the venue was forced to make extensive use of the marquees in order to provide shelter. This meant we didn't get to really soak up the ambiance and visual appeal of the place.
I understand that Junkyard Market usually has DJs playing and other entertainment. The weather didn't allow for any of this (although I did hear "Everybody Loves the Sunshine" piped over the sound system at one point, which seemed cruelly ironic.)
I mention all this because I think it's fair to say we had a rather rushed and trimmed-down experience at Junkyard Market. As such, I've kept that in mind for my review.
Service
Here's my first big tick: Efficiency.
Despite the weather, the venue was very busy (and I believe fully booked). Despite this, the intuitive ordering system worked extremely well, with food and drink arriving swiftly and without error. Staff were routinely dropping off drinks for different tables without missing a beat. I feel this deserves considerable credit – it felt like a well-oiled machine.
I also must say that I rather like ordering with a phone and paying at the time. No need to get a bill – you just leave when you're ready. More places should do this!
The Food
Obviously the food is the big thing, but it's impossible to do a Junkyard market review and generalise about it – because it all comes from different places.
Our small group sampled several things. I'm a sucker for any kind of gourmet burger, so my order was pretty much pre-determined as soon as I saw it on the Facebook page. It was from Nanny Bills, a London chain.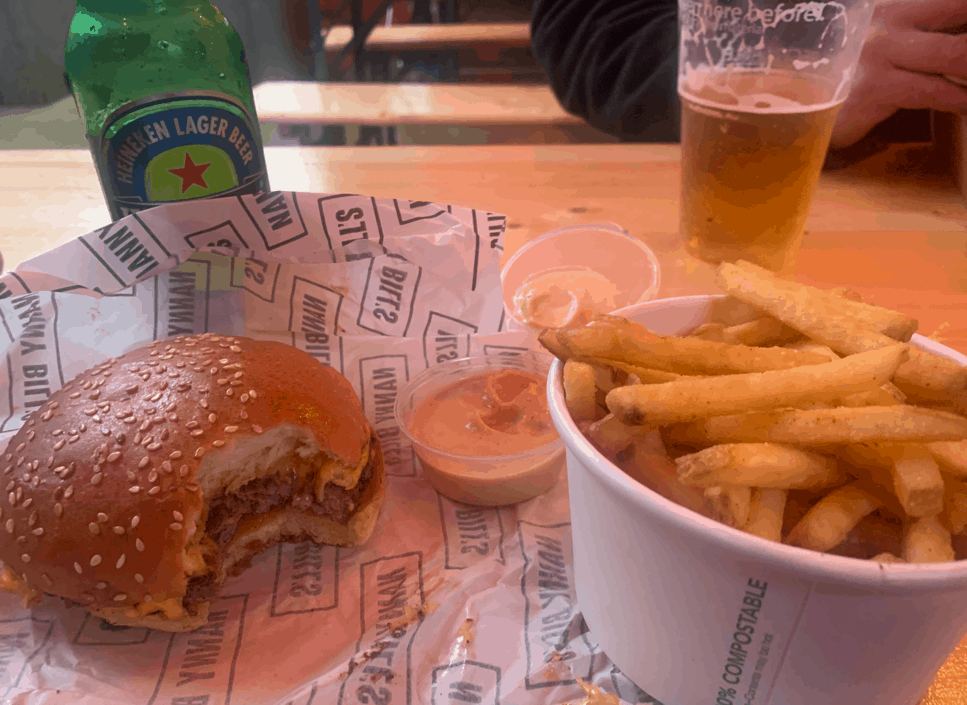 The burger earned a solid 7.5, and the fries were really good. Ten years ago I probably would have raved about the burger for weeks, but these days we're spoiled with ubiquitous Shake Shack, Five Guys, GBK and numerous other great burger options. It was delicious, but it wasn't "stand out," and it was hard to discern each of the different components of the filling.
My own burger was also rather out-shone by the Asian-style chicken burger my niece ordered from Da Ja kitchen.
I did have a certain level of "plate envy" – especially when I tasted the sauce on the fries. It was something akin to a katsu curry sauce but with more spice and a more interesting depth of flavour.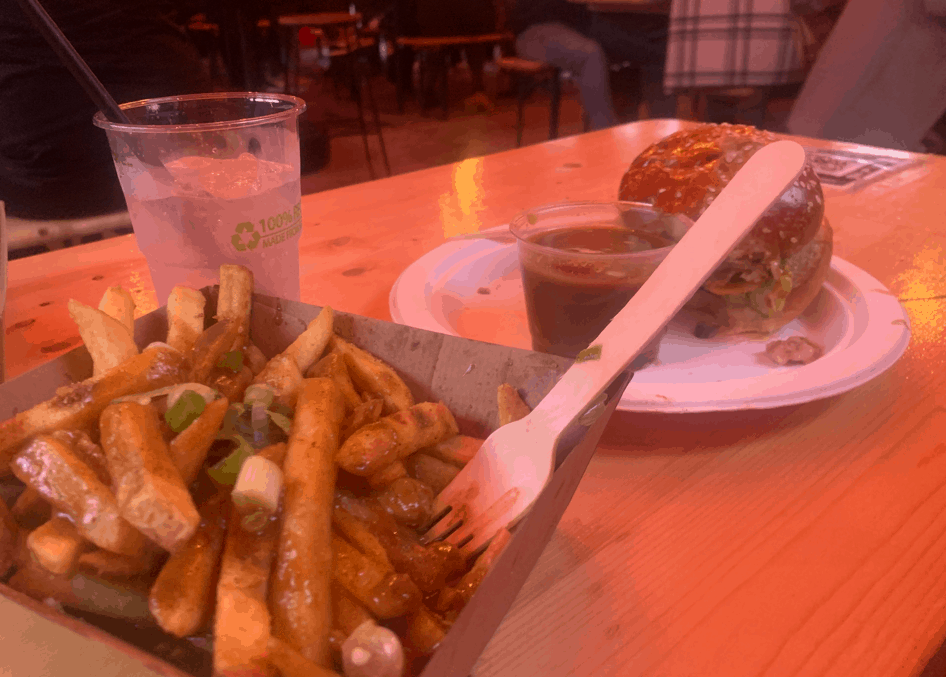 My niece's husband has a Turkish Pide that he spoke highly of, and we all ended with churros.
Now when I say churros, I don't mean just churros, which – let's face it – should be enough of a sugary treat in their own right. I mean churros with a ludicrous selection of trimmings. My included Biscoff crumbs and biscuits, toffee sauce, banana slices, almonds, and probably some other things I've now forgotten.
It was well presented and incredibly indulgent but – if I'm being honest – WAY too much for one person and probably more appropriate to be shared between four. By the time it arrived, it wasn't only wet and windy, it had also suddenly turned really cold – so thoughts were starting to turn to taxis and dry routes home (or, in my case, to my warm Airbnb).
Drinks at Junkyard Market
A quick word on the drinks:
The selection was good, with plenty of beers and cocktails on offer. One of our party was also very pleased to discover a range of boozy coffees and hot chocolates – perfect for the weather we had – and joyfully dug into a Disaronno hot chocolate.
Just one criticism: As a non-drinker (at least at the time of writing), I'm always a little dismayed if my only alcohol free beer option is Heineken Zero. Now don't get me wrong – there's nothing at all wrong with Heineken Zero – it's one of the best of the mainstream 0% options. BUT there are SO many good craft alcohol free beers out there now. Please, venues, give us sober folk more choice!
Covid Safety
When moving around the UK these days, you'd be forgiven for thinking that many people (and businesses) have forgotten we're still in a pandemic. But there are plenty of us who still take it seriously, and you can be sure that we notice whether venues do too.
I'm pleased to say nothing concerned me at Junkyard Market. All the staff wore masks, and wearing them was mandatory at the entrance and when moving between tables and to the toilets. There were hand sanitiser stations dotted about the site.
How to Book
Pleasingly, Junkyard Market doesn't charge for admission – you only pay for your food. However, you do have to book a table and time-slot in advance. To protect against no-shows, they take a refundable deposit.
You can book on the website here.
Exactly what food outlets will be there are any time can vary from week to week. The Junkyard Market Norwich Facebook page is the best place to look.
The Verdict
Junkyard Market is a great concept, and based on the fact the place was heaving on a very wet evening, it's clearly appealing to the masses.
I cannot write a review of Junkyard Market Norwich in the same way I would write one for a restaurant. You're not dining in a single restaurant, so you can't generalise about the food.
High-end "street food" is the thing here, and after months of lockdown and healthy eating, I thoroughly enjoyed a blow-out (and felt suitably queasy for a while after my indulgence!) If I were to dig deep for criticism, I'd say it would be good to see some pop-ups spanning the more low-fat end of the street-food spectrum, but that may have just been the luck of the draw on my visit.
Credit where it's due: this setup works, and makes for a memorable evening, even when the weather is doing all it can to spoil it. Junkyard Market's friendly and notably efficient service stands out too.
I will definitely be returning when I'm back in Norwich later in the summer – hopefully in drier conditions.