In some posts we review or mention products and services. We are always impartial but some posts may include affiliate links that can earn us a commission. Click here for details.
I adore designer clothes. But I don't like paying the – let's face it – sometimes outrageous prices for them. In this Ashford Outlets review, I discuss the place that ensures I rarely have to.
I'm fortunate enough to live rather near to Ashford Designer Outlets, and frequently visit to stock up my wardrobe.
Well, I say that. Obviously the pandemic put paid to my normal routines. But this week I finally visited again after a long hiatus. I thought it a good moment to write an Ashford Outlets review – and to provide some tips for making the most of this discount shopping mall.
Let's start with some quick basics:
What is Ashford Outlets?
Ashford Outlets (Ashford Designer Outlet) is a discount shopping mall located in Kent, UK. It's part of the worldwide McArthur Glen chain, and features over 70 shops. The stores mostly sell designer clothes, but you can also find homewares, linens – and sweet treats from Lindt and Haribo!
Ashford Outlets is primarily outside, albeit with plenty of shelter. Thanks to several restaurants and food outlets, and a good children's play area, it makes for a good family day out.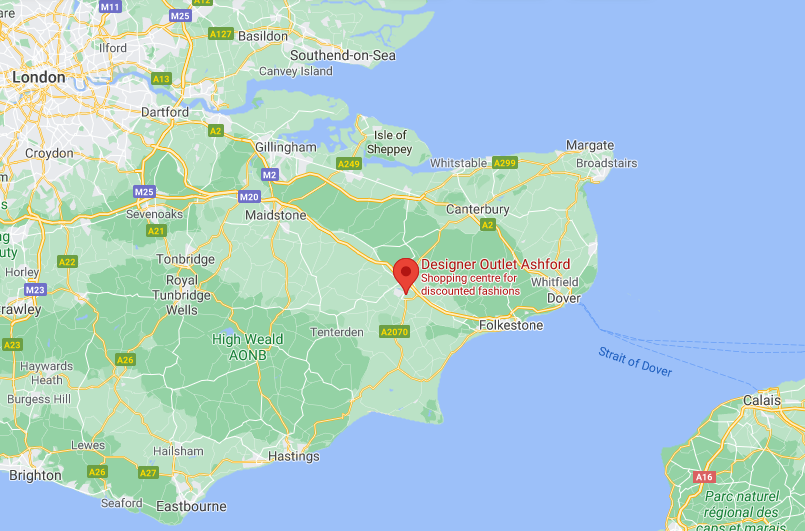 Ashford Outlets Opening Hours
The opening hours at Ashford Outlets sometimes change – with longer hours at Christmas, for example. However, the core opening hours are as follows:
Monday to Friday: 10am – 8pm
Saturday: 9am – 8pm
Sunday: 10am – 6pm (large shops open 11am – 5pm due to Sunday trading laws).
When is the Best Time to Visit Ashford Outlets?
As I mention in my tips below, when you visit Ashford Outlets can greatly impact how enjoyable the experience is.
If at all possible, avoid weekends. Unsurprisingly, this is when the stores are at their busiest. I've seen queueing systems to get into certain stores on these days, even before Covid restrictions meant a limit to the number of people in a shop at one time.
If you have to visit at the weekend, my own experience suggests it's best to hit the outlets at the very start or very end of the day.
During the day on a weekday is a JOY at Ashford outlets. On my most recent visit (a Thursday afternoon) I felt like I had many of the shops to myself – a great experience!
Ashford Outlets Review
Prices
I've been to a LOT of outlet malls, in many different countries.
The USA tends to act as my benchmark. America is great at outlet malls, and I have fond memories of when the GBP/USD exchange rate made for some truly epic bargains.
At the other end of the scale, I've been to some outlet malls in mainland Europe that have felt horribly disappointing price wise.
Ashford Outlets falls somewhere in the middle on price (see my tips for more on that). But as an experience, it's very close to a US mall. The environment is great too, with everything feeling very spacious. The car park is in the middle, with the stores all in a circle around it – this works WAY better than it sounds!
Food at Ashford Outlets
The food options aren't amazing at Ashford Outlets, but there's a good selection of UK restaurant big-names, such as Yo! Sushi, Pizza Express, Wagamama and Five Guys.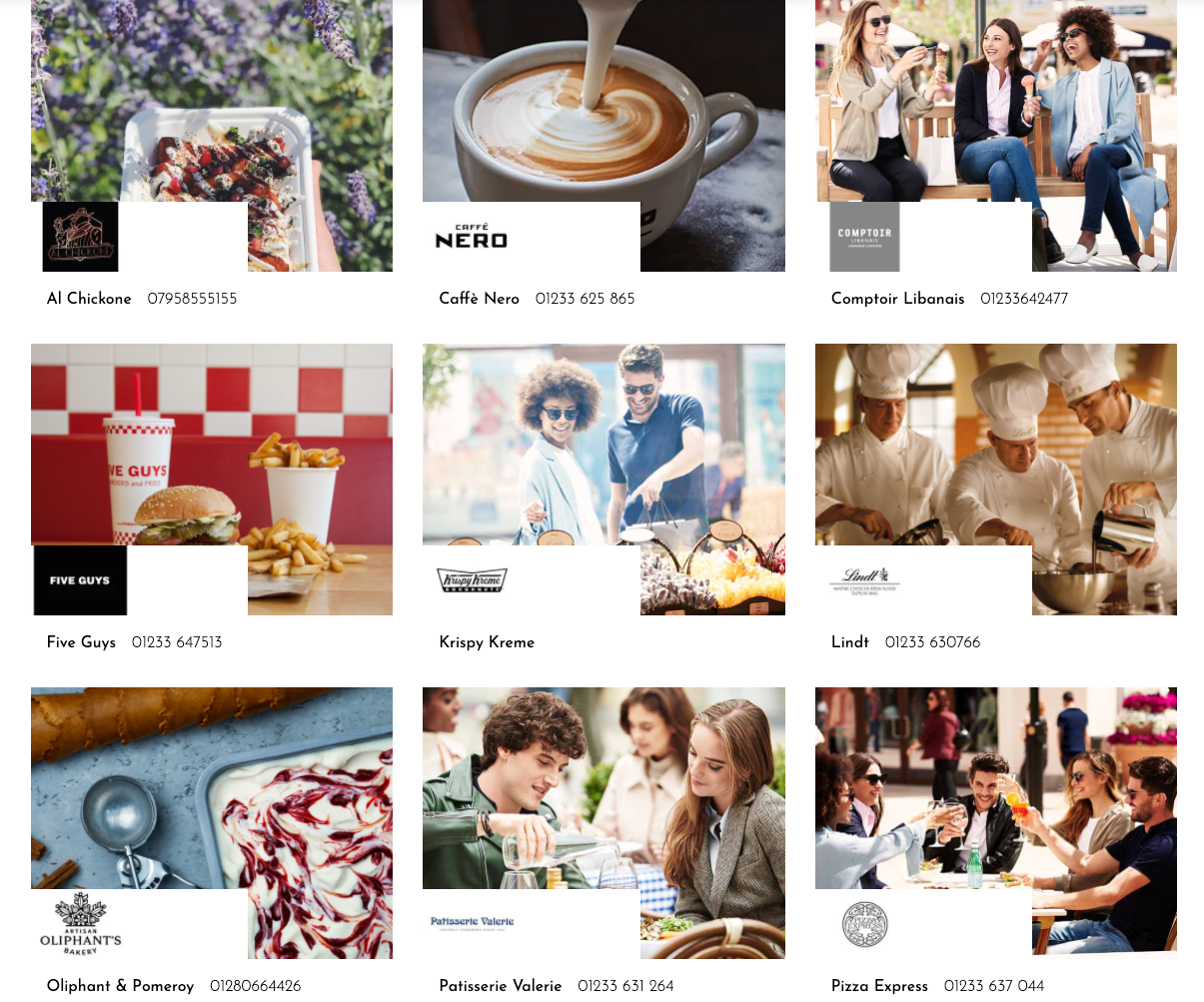 While the options are fairly pedestrian, the restaurants themselves are clean and "high spec," and most provide both indoor and outdoor seating.
There are also a few food carts dotted around the mall, including one doing great hotdogs, and another that sends the tempting aroma of churros around the centre.
Other Facilities
There are LOADS of toilets and baby changing facilities at Ashford Designer Outlets. They are always sparkling clean – some of the best public toilets you'll find!
There's also a decent playground to keep the kids entertained.
There's ample car parking, which is relatively inexpensive and includes some "overflow" options for busier days. I personally tend to take the train, with Ashford International station just five minutes walk away.
Shops at Ashford Outlets
So what about the most important thing? The shops themselves!
They vary.
Some, such as Ralph Lauren and Abercrombie and Fitch, are big "flagship" style stores that are as large and as glitzy as you will find anywhere in the world. (But don't get me started on the lighting in Abercrombie and Fitch – it might look cool but it makes it really hard to see what you're looking at!)
Others shops are more underwhelming. For example, Hugo Boss always seems a bit "bare bones," and Guess is just way too cluttered and stressful to wander around. Shops do seem to change and swap around sometimes, and there always seems to be something in a different place on each visit!
One thing that's notable is that the service is good in almost all of the shops. Most of the staff are helpful and attentive, to the point that the less good employees really stand out.
So, all in all, shopping at Ashford Designer Outlets is an enjoyable experience – and a relaxing one too if you visit at the right times.
The Best Stores at Ashford Outlets
As I will explain in my tips below, different shops stand out on every visit, and there's little consistency to where you'll find the true bargains. You tend to "luck out" in a few different shops each time.
However, here are some highlights. These are the shops that I almost always buy something from when I visit.
Ralph Lauren: I almost didn't include Ralph Lauren here, because on my most recent visit it was the shop where I found the fewest big savings. But it's a lovely, airy shop to wander around, and you can usually save a worthwhile amount on staples like polo shirts, especially when compared to prices in high street shops and department stores.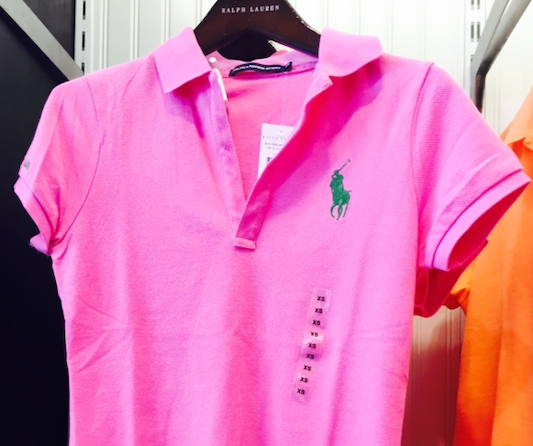 Gap: I ALWAYS find bargains in the Gap outlet, especially when it comes to children's clothes. The store sometimes gets rather messy – more the fault of the customers than the staff…
Lindt: With a huge pick and mix selection of luxury chocolates, and lots of other tempting treats, I always have to pop into Lindt – and it's all considerably cheaper than it is in the supermarket.
Molton Brown – Another shop where you can always find worthwhile deals, I tend to go to Molton Brown at Ashford Outlets in the run up to Christmas each year. Keep an eye out for bundles of trial / travel size products, which make great presents and are often a real bargain.
Skechers – Not everyone loves Skechers, but if you do, the prices in here are consistently low, and they always have a good range of sizes.
Abercrombie and Fitch – With the exception of the dreadful lighting, Abercromie and Fitch is one of the best stores at Ashford Outlets. I've never NOT found good bargains, and there's a huge choice. Set aside a decent amount of time for this shop, as there are endless sale rails at the corners, where many of the best deals lurk. The fitting rooms can get quite busy here.
Timberland – A lovely spacious store, and one where there are always good savings. The range isn't huge, but I almost always have something from here when I leave the outlets.
Tips for Ashford Outlets
After visiting so many times, I feel like a bit of an Ashford Outlets pro – so here are a few tips for you:
1. Visit at the Right Time
I've already talked about the best times to visit Ashford Outlets, and it makes a HUGE difference. Queueing up for crowded stores is no fun, so try to avoid the weekends, when the masses descend.
2. Give ALL the Stores a Chance
Like me, you no doubt have your favourite brands – as well as some that don't interest you.
All I would say is, don't set your heart on getting amazing bargains from just one or two specific shops. Every time I visit Ashford Designer Outlets, I find the best bargains somewhere completely different. There are also always some inevitable disappointments.
On my last visit, there was nothing particularly cheap in Ralph Lauren, but Tommy Hilfiger had some HUGE savings on left over winter clothes, and I picked up a gorgeous jumper from All Saints for about 80% off the original price.
Keep an open mind, because it's pure luck of the draw when you will come across a shop that's having a clear out of some remaining stock. You will ALWAYS find some huge savings, but you can't predict which stores will have them.
3. Allow Plenty of Time
You won't make the most of Ashford Outlets with a quick visit. I'm always there longer than I expect.
The mall is BIG – bigger than it appears when you arrive. And you do have to be willing to delve into the sale rails to find the very cheapest items.
Take your time – make a day of it – and remember to eat!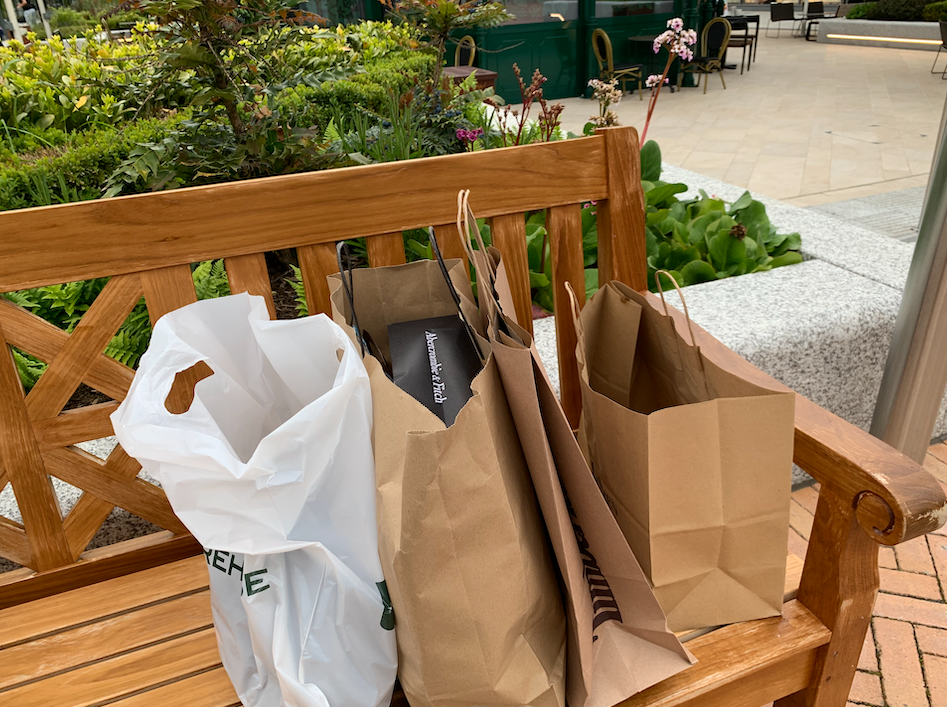 Covid Safety at Ashford Designer Outlet
Shopping has a whole extra layer of complexity at the time of writing. Many of us are venturing into shops again for the first time as Covid restrictions are eased, and are very aware of how seriously each shop is taking health and safety.
The good news is that the mall is extremely clean, including the toilet facilities.
The picture in the individual stores is more varied. All tend to have hand sanitising stations, one way systems, and a maximum number of customers in at one time. In most stores, you have the reassuring sight of the staff wearing masks.
BUT…a couple of shops – Guess and Calvin Klein, I'm looking at you – were very disappointing when it came to Covid safety, with no masks in sight among the staff. This blasé attitude – both to the law, and to customers – angered me, and I didn't spend anything in these shops as a result.
Another issue related to Covid safety is fitting rooms. MOST shops have their fitting rooms open at the time of writing, but some (including Timberland and Calvin Klein) had opted to leave theirs closed. I've no idea of the rationale here, but it seems a shame that they've made that decision – if you can't try clothes on, you gain little from visiting a store over browsing online. So…a double fail for Calvin Klein.
Conclusion
As you can probably tell, I LOVE Ashford Outlets. Just how much is a bit of a running joke among some of my friends.
But there's good reason for it. It's well-laid-out, there are always some bargains on offer, and it's about as pleasurable as shopping can be – IF you don't visit when it's too busy. If you take one thing from my Ashford Outlets review, it should be that.
If you're been chomping at the bit to do some "real life" clothes shopping, there are few better places in the UK to do it than Ashford Outlets. The shops are mostly "mid range" designer – we're not talking Gucci and D&G – you need Bicester Village for that kind of thing – but anybody except the fussiest fashionista ought to find something to please them here.