In some posts we review or mention products and services. We are always impartial but some posts may include affiliate links that can earn us a commission. Click here for details.
Guilt-free drinks, with zero calories and no artificial nasties, are all the rage these days. Since I gave up drinking alcohol, I've become a bit of a specialist in them!
One of the seltzers in my regular rotation is Dash Water (you can read my review here). It tastes good, and I find the fact the company uses "wonky" reject fruit rather endearing. As such, I was intrigued when I heard they had launched a new range of mixers, in the form of Dash Soda Water.
I quickly ordered a mixed case. Over the past few weeks I've been sampling them, both alone and as mixers, so I could report back in this Dash Soda Water review.
Read on to find out what I thought – but first, the basics.
An Introduction to Dash
Dash is a UK-based company, best known for Dash Water, a sparkling spritzer made from "wonky fruit." For any American readers, it's a rather similar product to La Croix.
Although Dash has a strong online presence, and sells its products direct (both for one-off orders and as a subscription service), it's becoming increasingly common to see them in mainstream shops. Stores such and Sainsbury's, Boots and Waitrose now stock Dash drinks, and you can even get them in the air on British Airways flights.
Dash has now branched off into mixers too, with the Dash Soda Water range, which is what's reviewed here.
NOTE: You can currently save 50% on all Dash waters and soda waters using code WONKYWATER50 here.
Dash Soda Water Review: The Basics
The Dash Soda water line-up consists of three flavours: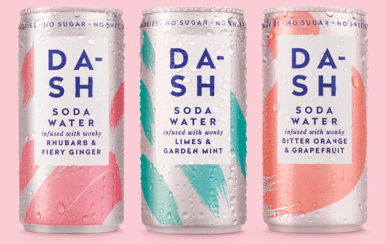 Dash Rhubarb and Fiery Ginger
Dash Limes and Garden Mint
Dash Bitter Orange and Grapefruit
In common with Dash Water, these sodas are made with infused "wonky" fruit, and offer the trinity of "no sugar, no sweeteners, no calories."
One thing worth nothing is that Dash Soda Water is very much marketed as a mixer. It literally says "made for mixing" on the website. However, I became rather fond of drinking these on their own, in place of my normal morning can of spritzer.
The Tasting: Flavour By Flavour
Before I jump in to discussing each flavour, I'd like to make a general comment:
Dash Soda Water is really rather impressive for flavour, especially when you consider that it's a zero calorie product with nothing artificial in it. The flavours are – with one exception – more noticeable and concentrated than they are in the (already very good) Dash waters.
Rhubarb and Fiery Ginger
This was the first Dash Soda Water flavour I tried. As somebody who's not a fan of rhubarb, I didn't have high hopes.
I was pleasantly surprised, as the combination with ginger produces something both sweet and lightly spicy. It doesn't have that slightly challenging flavour I associate with rhubarb – it's just enjoyably fruity.
For me, this one is perhaps the most exciting as a mixer, as I'm a lover of ginger. I've taken to often using it in place of tonic when I have a Three Spirit Livener (I have a review of Three Spirit here). I suspect it would work well with gin too, and possibly whisky.
The only slight negative I would raise is that if you take too long over your mixed drink, the combination of the soda and the melted ice can mean that you end up with something more noticeably diluted than if you were to choose tonic.
But – all in all – this one's a hit, and much better than expected.
VERDICT: 8/10
Limes and Garden Mint
This part of my Dash Soda Water review is undoubtedly the easiest to write: this flavour, perhaps rather predictably, tastes like a mojito.
That's not a criticism.
The flavour is definitely more mint than lime, and it's really quite strong for something with no calories.
While the obvious use for this is within a mojito style cocktail, I rather like this on its own. It's refreshing in the morning and certainly gets the taste buds feeling lively. But if I still drank booze, I'd happily reach for some white rum to mix with this.
VERDICT: 9/10
Bitter Orange and Grapefruit
The Bitter Grapefruit and Orange Dash Soda is definitely the most "muted" of the three, in terms of both aroma and flavour. When I cracked the first can of it, I practically had to wedge my nose in to detect much of a smell.
The orange definitely comes through more than the grapefruit, and it's a deep and rich orange, rather than an artificial "soft drink" aroma (for that, check out Ugly's water range). So it IS rather nice, but there's not much of it. This particular flavour, to me, tastes more like soda water than anything else. It could do with a few more of those "wonky" fruit!
VERDICT: 6/10
A Word on Price
One thing I've noticed since quitting alcohol is that some brands really push their luck with what to charge customers for fancy soft drinks!
I'm pleased to say that I've noticed Dash Soda at really good prices, both direct from the manufacturer and elsewhere. It may be that it's just being priced so keenly as a "launch window" thing, and the fact the cans are a 200ml "mixer size" (rather than a "soft drink size" 330ml) is a factor too. However, I have to say that I've been quite pleasantly surprised by the prices I've seen for these products.
Nutritional Stuff
As already mentioned, these sodas have "zero" calories, although as you will see from the screenshot below, there are actually 2Kcals per 100ml. Presumably that's few enough to qualify as "zero" from a marketing perspective.
There's also nothing nasty to speak of in these drinks. The flavourings are entirely natural, the water is spring water, and beyond that there's nothing but citric acid and bicarbonate of soda. I can't imagine anybody objecting to the ingredients list.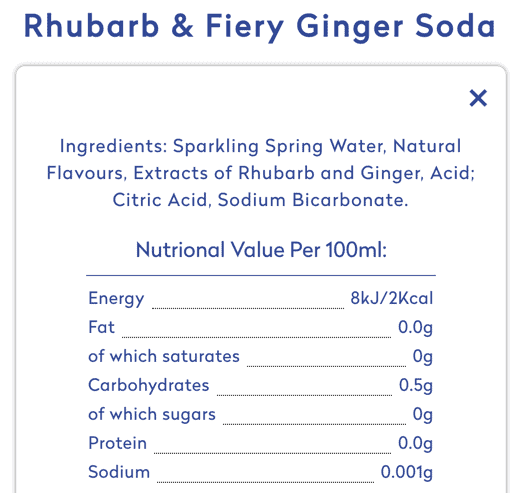 Ethics and Credentials
When I do a soft drink review, I like to delve a little into the ethics behind the company. I'd rather support firms that "do the right thing," both ethically and environmentally.
Dash gets some big ticks here: The company only uses aluminium and glass – no plastic at all, and the fact the products use fruit that would otherwise be wasted is as eco-conscious as you can get.
Finally, Dash has accreditation from B Corporation, an organisation that "balanc(es) profit with people and the planet."
Verdict
This new range of soda waters is a great addition to Dash's popular water range. As with every drinks range I review, there are some flavours I like better than others. However, the best of them squeeze in a LOT of taste for something that's very healthy compared to a sugary soft drink or mixer.
Recommended.
Where to Buy Dash Soda Water
The best place to buy Dash Soda is direct from the company's website, especially at the time of writing, as there are some great trial offers on mixed packs, and the company is currently running a big 40% off promotion.
If you're in the UK, you can also find Dash Soda Water on Amazon.
WHILE YOU'RE HERE: Check out my Trip Drinks review.
Dash Soda Water: Good Mixed, AND Neat!
Ingredients and Credentials