In some posts we review or mention products and services. We are always impartial but some posts may include affiliate links that can earn us a commission. Click here for details.
The craze for fruity sparkling waters shows little sign of dying down. In this Ugly drinks review, I look at one of the many sparkling "seltzer" waters to have hit the shelves in recent years.
If you'd told me a year ago that I'd be a big fan of seltzer waters – to the point I was actually writing sparkling water reviews – I would have laughed.
But then I quit drinking alcohol.
Products like Ugly drinks tick a lot of boxes, and not just for those of us who've decided to ease off the booze.
They typically have few or no calories and additives, so are great for people trying to live a healthier lifestyle. They offer an alternative to soft drinks that are packed with artificial sweeteners – chemicals that can actually make you crave more real sugar.
I've consumed and reviewed LOTS of these waters. In this Ugly drinks review, we look at one of the products that's increasingly ubiquitous on supermarket shelves – both here in the UK and now in the US too.
An Introduction to Ugly Drinks
Ugly drinks is a flavoured water brand that started out in the UK. The company has branched out and now has a US presence too.
Ugly is quite unique in the seltzer world when you look at the branding. Most of these sparkling waters try to put across a high-end, natural feel. This includes the big name that kicked off the craze: La Croix.
The branding for Ugly drinks is very different. In terms of colour and design, it "feels" much more like a soda range.
Despite this rather cartoony approach, Ugly water comes with some strong credentials when it comes to health and the environment.
We'll cover all that in a moment. But first the most important thing – what does it taste like?
Ugly Drinks Review: Taste Test
Flavoured seltzer waters are something of an acquired taste.
People used to sugary (or sweetened) sodas are often underwhelmed by the amount of flavour. This leads to Amazon reviews saying things like "fizzy water with no taste."
People saying these things are missing the point. Ugly drinks are flavoured with fruit extracts and oils. There are no sweeteners and no calories (well – 1 kcal per 100ml, which you'll burn off lifting up the can!)
I've now been drinking at least a couple of seltzers each day for over six months, and can assure you that your palate very quickly adapts to these drinks. There's actually a huge amount of nuance between the different brands and flavours. You just have to be willing to accept that these drinks are never going to taste like Fanta or Lilt – and nor are they intended to.
In fact, having compared many of these waters, I'd actually go as far as saying that Ugly drinks is the brand I'd recommend that fans of "old school" soft drinks try first.
While they're nowhere near that "soda" taste, they do have good, tangy flavours going on. They DO actually taste a little more "synthetic" than others I've tried such as Dash Water and Loveau. However, for soft drink fans, that's arguably more of a good thing than a bad thing!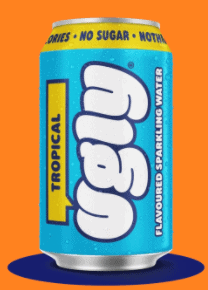 Here's a little round-up of the flavours I've tried. Since I first wrote up this Ugly drinks review, I've had a chance to try out the newer cherry and strawberry flavours, and added my thoughts on those.
Ugly Drinks Tropical
My favourite of the Ugly Water flavours, Ugly Tropical is a pineapple and grapefruit flavour that smells and tastes more like "fizzy pop" than any other seltzer water I've tried. This is ideal for bridging the gap between a healthy choice and a "treat" drink.
Ugly Water Lemon and Lime
From my favourite to my least favourite! There's nothing at all wrong with this flavour, but I just find it a little uninspiring. In fairness to Ugly drinks, I said the same about the lemon flavour from Dash. (My "gold standard" for lemon-flavoured seltzers is the Yuzu, Lemon and Lime from Loveau).
Ugly Drinks Peach
I only have one wish when I drink a peach flavoured drink: PLEASE don't make it taste too sweet, or anything like the Archer's I got drunk on as a teenager. Ugly Peach passes this test, with a pleasingly heady aroma and a refreshing peach taste that's not too sweet.
Ugly Water Triple Berry
Another variety that comes almost as close as the tropical to hinting at a sugary "soda" flavour. As with all of these waters (from all brands) the smell on opening a can sometimes makes you think you're in for a little more taste than you actually get – but you soon get used to that.
Ugly Cherry
This one is really rather impressive! Given that it's all natural, it has an astonishing amount of flavour, and could convert even the most determined spritzer-sceptics. This one has become my favourite of the range.
Strawberry Ugly Water
The new strawberry Ugly flavour somehow smells more like a sugary soda, despite only using natural flavours. But the taste is fairly muted, and definitely more of a spritzer. It's inoffensive, but not my favourite.
All in all, Ugly drinks provides a good selection of flavours (even before the two new additions). If you buy a variety case (as I usually do), you won't find there's one flavour that's a huge disappointment when you grab it from the box!
Nutrition and Ingredients
Like all of these waters, Ugly's list of ingredients is short.
You're consuming nothing but carbonated water, and flavours made from nothing but "essential oils, fruit extracts and natural aromas." Notably, there's no added citric acid in Ugly waters, which usually makes an appearance on the ingredients list for other brands.
It does seem to me the Ugly take a rather different approach to flavours than some of the other brands, most of which concentrate purely on the fruit – not the oils and "natural aromas." This results in flavours that can be more interesting but perhaps a little less natural tasting.
Calories-wise you're looking at 1 per 100mls, so roughly 3 per can! Drinking these is NOT going to see you put on any weight, and the calories are so low that they're allowed to refer to the drinks as having NO calories.
Finally, the question I always ask: where does the water come from? Apparently it's "local water…treated with a filtration system." I have to be honest and say this doesn't appeal to me as much as hearing that I'm drinking spring water – although there's no practical reason why that should be the case.
Eco Credentials
Ugly uses 100% recyclable cans, and pledges to "making every effort possible to minimise their effect on the environment."
The company also contributes to charitable causes. At the time of writing, it's supporting Girl Up, a gender equality charity.
Ugly Drinks Review: Conclusion
Ugly drinks has taken a bold and different approach to this product range. I wonder if they're trying to straddle both the traditional soda market and the market for healthy drinks. The latter is the one that most of their competitors focus on.
When you dig below the surface, it's pleasing to see that the company has positive credentials, and isn't hiding nasty additives in these drinks.
Ugly's flavours make them drinks I'd be more likely to grab as a treat than have as my healthy gesture first thing in the morning, but that's no bad thing. As I said before, it surprises me that I'm reviewing these seltzers, and I'm even more surprised how much variation there is between the brands!
Where to Buy Ugly Drinks
Ugly drinks are available widely in supermarkets now (at least here in the UK). However, I prefer to buy them online. Here are some of the options currently available from Amazon:
Alternatives to Ugly Water
Check these out:
Ugly Drinks – Seltzer Water