In some posts we review or mention products and services. We are always impartial but some posts may include affiliate links that can earn us a commission. Click here for details.
San Pellegrino has always been at the premium end of the mineral water spectrum. Their Italian soft drinks (such as the eternally popular Aranciata) are also deservedly popular, delivering a soda with a touch of class – and a much better flavour than a can of Fanta!
With this in mind, the launch of the Essenza range certainly grabbed my attention. If you've been on this site before, you will know that I'm (currently) both alcohol free and keen to keep my weight down. As such, I've tried many different zero-calorie "seltzer" waters.
In this San Pellegrino Essenza review, I look at how this range compares to the (ever growing) competition.
What is San Pellegrino Essenza?
The San Pellegrino Essenza range consists of a selection of zero-calorie sparkling waters with fruit flavours (there are also some coffee based flavours now – more on that below!)
The drinks are made with mineral water and contain no sweeteners or calories.
Presentation
Unsurprisingly, the San Pellegrino Essenza range scores highly on presentation.
The drinks usually come in tall 330ml cans. Until recently (here in the UK), the drinks came with a foil seal over the top, which added an extra, classy touch. The decision seems to have been made to do away with these.
Given that they make no real functional difference, I have no issue with this. In a world where we should all be environmentally conscious, unnecessary packaging does nobody any favours.
In some countries, you can also get Essenza in plastic bottles.
San Pellegrino Essenza Review: Flavour by Flavour
The Essenza range is available across the world. As is often the way, the flavours available vary from country to country (I found this out with their soft drinks on a trip to Sardinia, where I was delighted to find several varieties I'd never seen in the UK).
I mention this because I'm UK based, so I concentrate here on reviewing the flavours I've tried myself. For example, the US gets Blood Orange and Black Raspberry, which isn't available here.
One "pro tip" for fans of these drinks: you can often find a wider range on Amazon than you can find in the shops – something I often take advantage of when I want to get hold of La Croix, which isn't sold in Britain.
Let's look at the flavours one by one:
This is pretty special.
Given that you're drinking something with no calories OR sweeteners, it has an extremely fruity smell – and it's definitely a morello cherry aroma, and not a whiff of cheap, artificial cherryade.
In all honesty, not all of that aroma makes it to the taste, but it still crams in a lot of flavour. I've reviewed a lot of sparkling, flavoured waters, and San Pellegrino Essenza is certainly a contender for the best of the bunch.
The cherry is definitely the over-riding flavour here – I can't really detect much in the way of pomegranate – but that's not to the drink's detriment. It really does taste like a flavoured drink, not just a fizzy water with the vaguest hint of fruit.
VERDICT: 9/10
This is another winner, with an enticing smell the moment you crack the can open.
Once again, San Pellegrino has pulled off the feat of truly delivering the aroma and taste of the exact fruit mentioned on the can. Somehow this is clearly tangerine rather than orange! But – once again – one fruit does win over the other, with only a hint of the promised wild strawberry.
This one is particularly refreshing, and while somebody expecting a super-sweet saccharine flavour like Fanta may be disappointed, it delivers much more taste than most sparkling flavoured waters.
VERDICT: 8/10
For some reason this one doesn't seem to be as widely available as the other two reviewed here. Many of the supermarkets only seem to stock the others, and I only realised this one existed when I saw it on Amazon.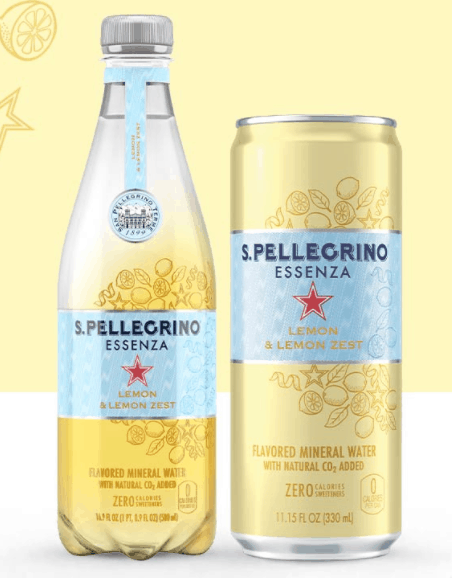 In almost every sparkling fruit water review I've written, I've said that the lemon flavour is the most uninspiring. I'm pleased to say that's not the case here. The trick seems to be the zest, with the aroma – in particular – truly delivering sweet zest as well as just refreshing lemon. I've already ordered a second case of this.
VERDICT: 8/10
San Pellegrino Essenza: Other Flavours
As I explained above, not all Essenza varieties are (yet) available here in the UK. As such, I've not been able to try the Blood Orange and Black Raspberry, or the Pink Grapefruit and Citrus.
I'm not in the business of reviewing things I've not tried, which is why there's not a full description of these ones here yet (sadly some reviewers just make stuff up, but that's not how I roll). I will update this review as and when I get a chance to try them.
Essenza Coffee Flavours
As I sat down to write my review, I did a little research and found out that San Pellegrino has now launched an additional range of coffee-based flavours.
These are (sadly) not yet available in the UK, but I will try them the moment I get my hands on some. The flavours are:
Cocoa and Coffee
Exotic Vanilla and Coffee
Smooth Caramel and Coffee


Like the rest of the range, these have zero calories, but I notice that they also have added caffeine along with the flavourings.
The question does occur to me whether the world really needs coffee flavoured sparkling water. It's either the best or worst idea ever, and I won't be able to know which until I get my hands on some! I will be eagerly looking out for either an official UK launch, or for some imports to find their way onto Amazon.
Calories and Nutrition
All of the San Pellegrino Essenza drinks have zero calories. However, experience of reviewing such products has led me to realise that zero calories doesn't always mean zero "nasties."
On this occasion, I'm pleased to report that the ingredients list doesn't reveal any nasty surprises. For each of the drinks, you're only looking at mineral water, CO2 for carbonation, natural fruit flavours, and "other natural flavourings." Whatever the latter are, they do a great job!
So no sweeteners, chemicals or unpleasant things – a big tick from me.
Value For Money
So, a glowing review so far, but what about the cost?
This is where the news isn't entirely good. When San Pellegrino Essenza is in the supermarket at full price, it can be rather expensive. Thankfully it's often on a pretty drastic promotion, but I do tend to check the price carefully, as the full price can be high. I confess I sometimes buy another brand and wait for the next offer.
I have found that Amazon can be a good place to buy Essenza (let's leave the debate about supporting Amazon for a different post). Certainly here in the UK, it's often cheaper there than in the supermarkets – and it's the kind of thing I tend to buy in bulk.
Conclusion
I've not really had much negative to say in this San Pellegrino Essenza review. Putting aside the (sometimes) high cost, it's one of the best (if not THE best) flavoured sparkling water range out there at the moment.
I've had good feedback when serving it to guests – a couple of whom already buy it themselves. It feels like a "treat" drink, and with no calories or sweeteners you can feel virtuous while enjoying it. What's not to like?
Where to Buy San Pellegrino Essenza
You can find the full range on Amazon here. You also tend to increasingly see Essenza on sale in six-packs in supermarkets.
More Flavoured Sparkling Water Reviews
I drink a LOT of these, so have reviewed several too! Check out: