In some posts we review or mention products and services. We are always impartial but some posts may include affiliate links that can earn us a commission. Click here for details.
If you love music and have yet to discover the joys of watching DJs on Twitch, you're missing out.
Twitch DJs have helped to save my sanity during recent lockdowns – with great music and a strong sense of community. It never feels quite right to say that good things have come out of an awful pandemic, but this emerging scene is genuinely inspiring. It also gives you a great way to support DJs you love while they're unable to get out into the world to perform.
It surprises me that more listeners haven't yet jumped on board. But the reasons for this started to become clear when I recently tried to explain how Twitch works to a couple of music-loving friends.
You can simply watch a DJ live streaming on Twitch. You don't even need a (free) account. But it's much more fun to get properly involved. At that point, there's suddenly quite a lot to learn. Despite my considerable enthusiasm, it's clear that all the terminology – talk of "bits," "hype trains," "raids" and "channel points" – makes the platform intimidating to some.
So that's why I'm writing this. It's a quick guide to watching DJs on Twitch, with an explanation of all the terms and some specific recommendations of DJs to look out for and follow.
Let's start with the absolute basics:
What is Twitch?
Twitch is an online live streaming platform that was originally intended for streaming feeds of video games. You can watch the feeds live on your computer or mobile device.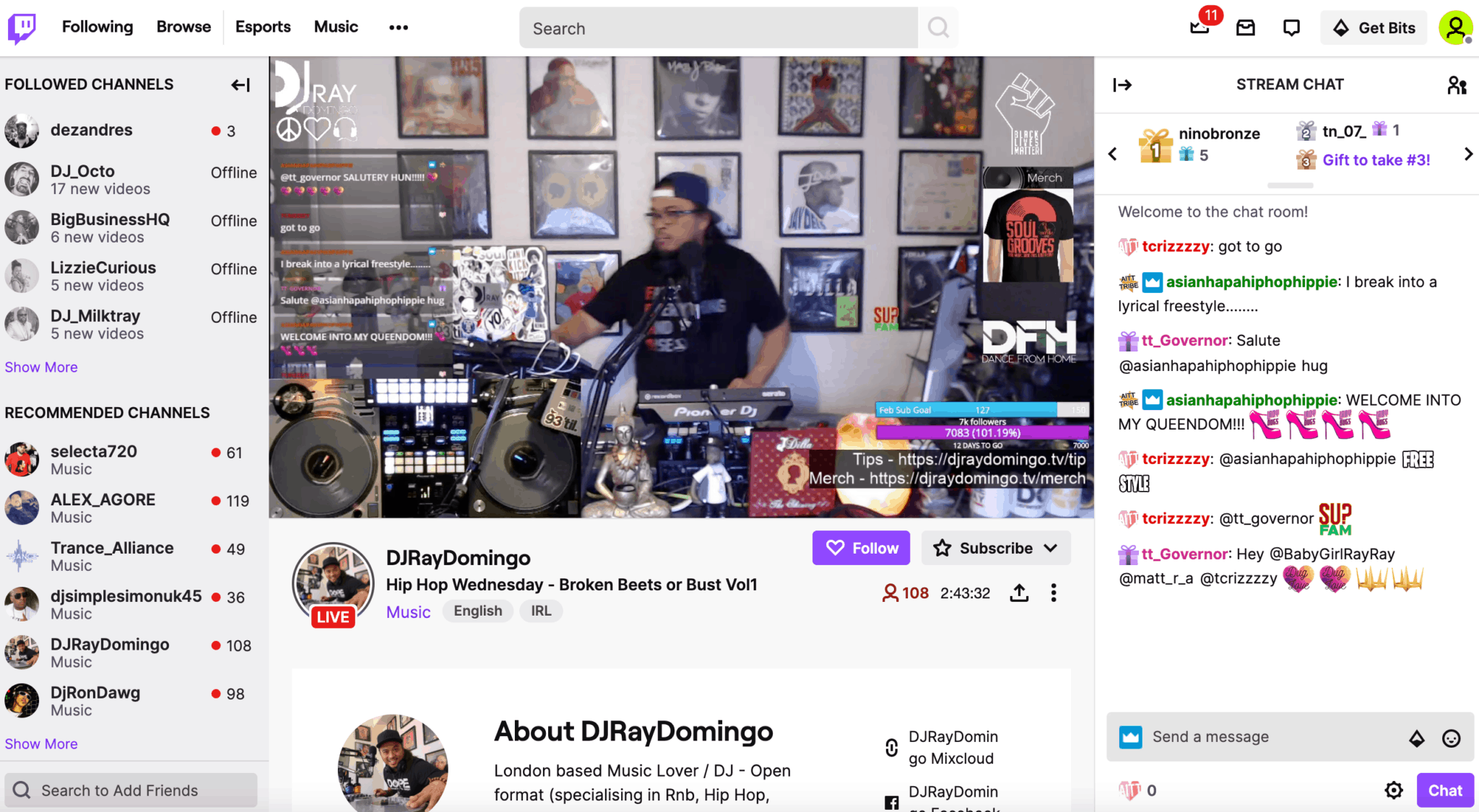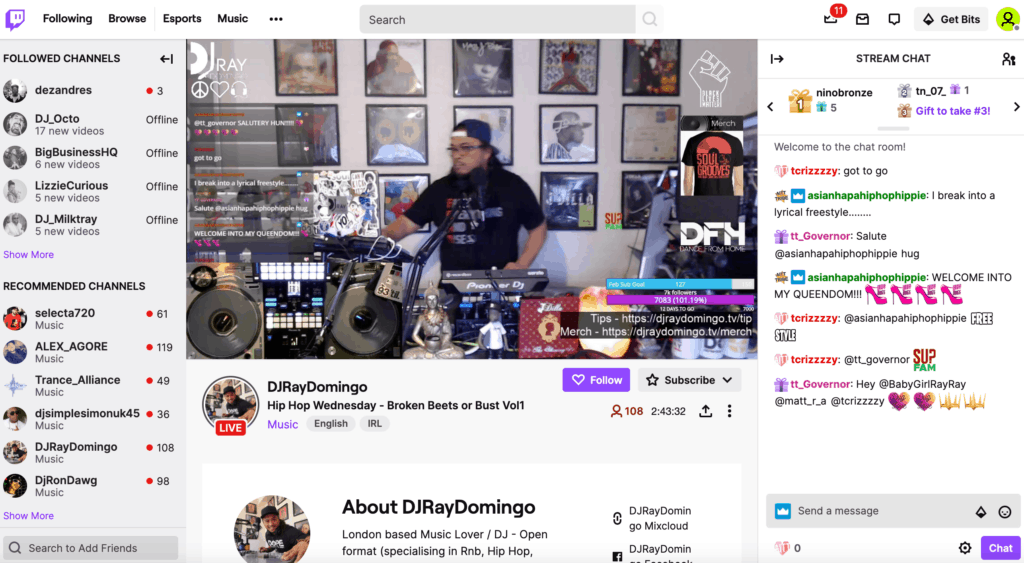 Twitch is still widely used by gamers, but there's now an emerging scene for Twitch DJs and musicians too. They perform live on camera, and while they do, those watching and listening can interact with them, and with the other viewers in a chat window.
Twitch is completely free, and any financial contribution you make to performers is entirely optional. As I've said, you don't even need an account, but you do need to sign up if you want to join in discussions, or use any of the other fun features that make Twitch for DJs particularly fun and involving.
I should emphasise that it's not just unknown bedroom DJs that perform on Twitch (although some of the most enjoyable sets I've watched have come from smaller DJs who I'd never heard of before). Plenty of internationally-known names run regular streams. I've enjoyed sets from the likes of David Morales, Louie Vega and The Shapeshifters, among others.
Sometimes there's a whole range of famous DJs all online at the same time, giving you the virtual equivalent of wandering from stage to stage at a festival – just without the overpriced food and the overflowing toilets.
An Introduction to Twitch Terminology
When you first watch a DJ on Twitch, you'll notice there's a lot going on. It's quite overwhelming at first, and I'd love to have had a guide that taught me – in simple terms – what it all meant.
I didn't find one, so I had to create it myself.
The main video window is where you see the DJ perform. Some keep it simple, with just one camera on the DJ and the decks. As the DJs perform from home, it feels oddly intimate to "be" in their living room or studio.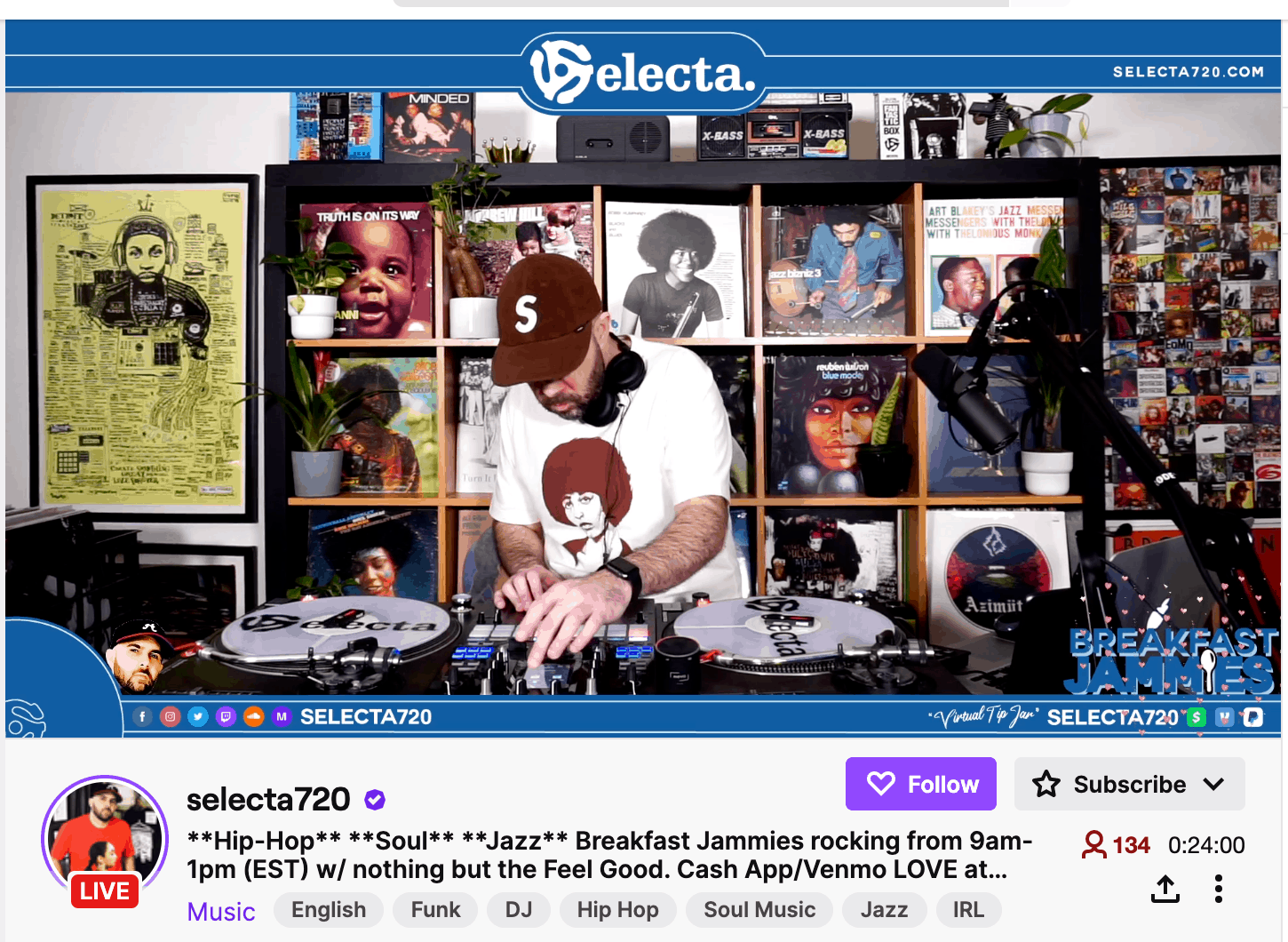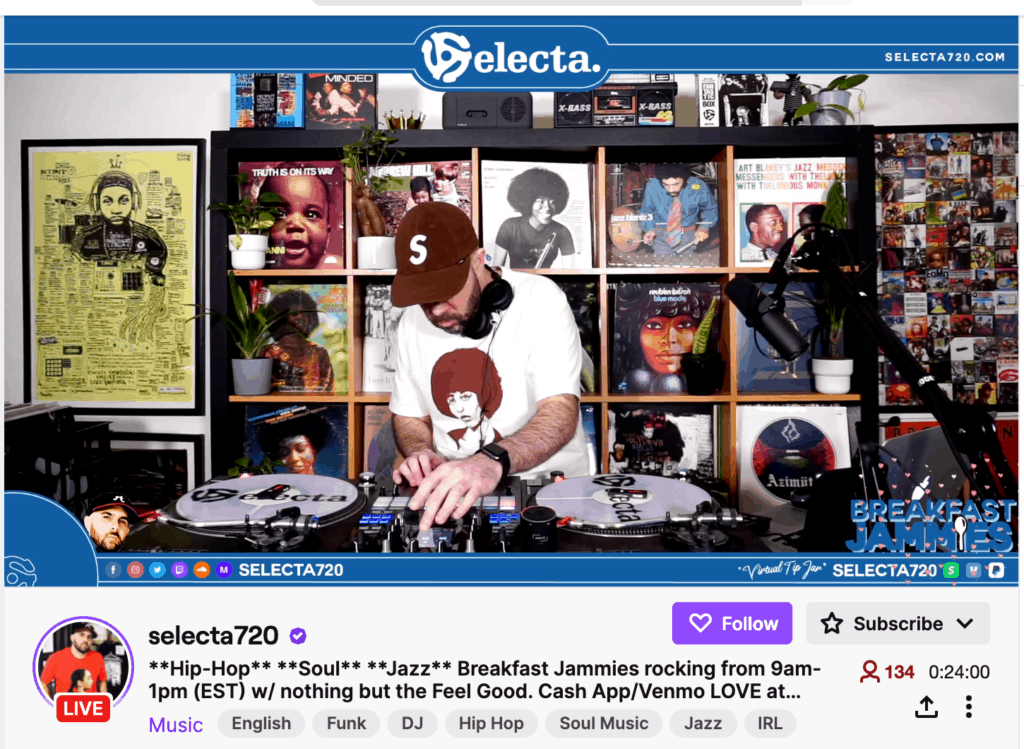 Other DJs have fancier setups, sometimes with multiple cameras including one on the mixer (fascinating for those, like me, who do a little casual DJing as a hobby). Some have cool graphics and animations running too.
Underneath the video window, you have options to follow and subscribe. You can also see how many other people are watching at the time.
The chat window is where people talk during a set. You also see a LOT of emojis (emotes) scrolling by on this feed, which initially seems a little low-brow and frivolous until you understand how the emotes work (more on that below).
The DJs often get involved in the chat, or participate on the microphone – responding to questions, thanking new subscribers and donors, and generally adding to the atmosphere. The best DJs to watch on Twitch are those that create a chatty and inclusive atmosphere. Some are better at this than others
Following a streamer just takes one click and costs nothing. If you follow a DJ, you are notified whenever they start a stream and you can also see which of your followed DJs are playing at any time.
Subscribing to a streamer means that you choose to financially support a stream by paying a monthly (or one off) fee. This is £4.99 here in the UK, with some discounts available including one on your first subscription and others if you subscribe for multiple months. If you're an Amazon Prime member you also get one subscription free.
When you subscribe, the streamer receives a percentage of the fee, with Twitch keeping the rest for maintaining the platform.
As a subscriber you get certain benefits: Adverts are switched off so you don't have to watch an ad when you load up a stream, and you get a badge showing your subscriber status. You also typically get some subscriber-only emotes to use in the chat (more on that in a moment). Some streamers offer other benefits to subscribers such as subscriber-only streams and chat.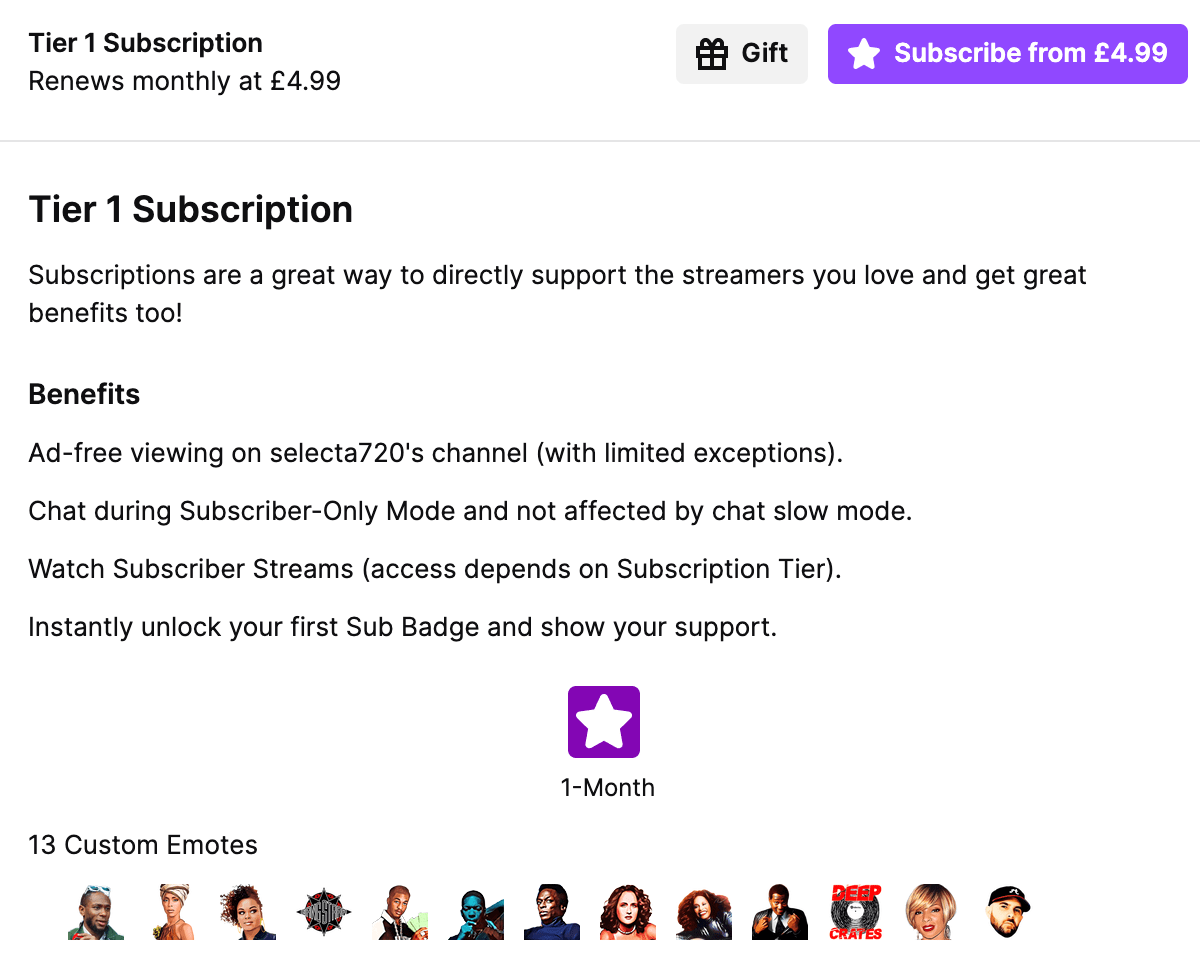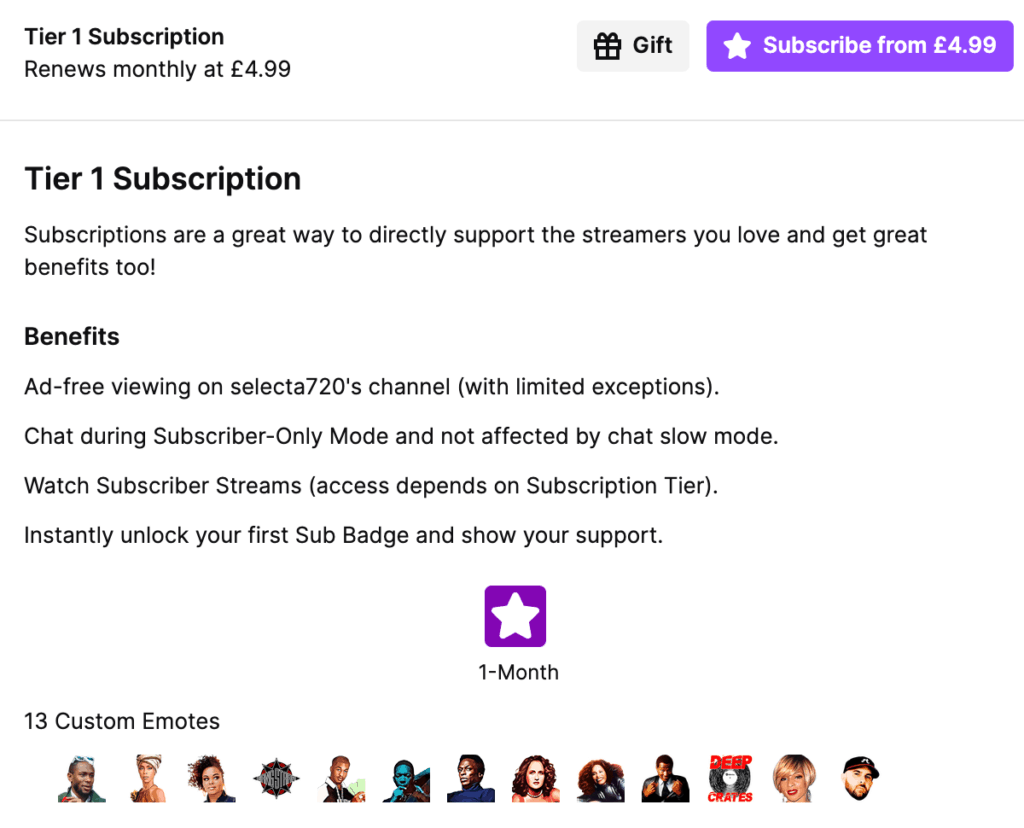 Gift subscriptions are one my favourite features of Twitch. Viewers can give and receive paid subscriptions, which provide extra support to the DJs and add to the warm-and-fuzzy community feel.
"Gift subs" are more popular than you might expect, and the generosity of people on Twitch will restore your faith in humanity. I've seen people give out multiple subscriptions at a time and it's always appreciated.
Channel Points are points earned by doing things on the channel, such as following, subscribing, or simply just watching the stream for a certain amount of time.
You can redeem the channel points in various ways. With a small number of points you can get more emotes, customise them, or highlight chat messages. Once you collect a decent stack, many DJs give you innovative ways to use them. Some allow you to make requests, or "pull up" a tune you love so they start it again. Others allow you to use your channel points to trigger animations or other fancy effects.
Bits are a Twitch currency that you buy direct from the platform. You can then "cheer" or "show love" with the bits, for example when a DJ plays a tune you adore or simply to say thank you at the end of a set. As with the subscription payments, sending bits supports streams and sends money to the creators.
Hype Trains are triggered when a streamer receives an influx of bits or subscriptions in quick succession. The start of one often spurs on more watchers to get involved, which can make the hype train proceed through multiple levels. It's definitely the most "gameified" part of watching DJs on Twitch, but it's a bit of fun and tends to happen a few times if you're watching a well-populated stream.
Raids happen when DJs end a set and take the viewers off to another person's stream. You can take part in a "raid" by simply remaining on a channel as one performer's stream comes to an end.
If you think about a raid from a streamer's perspective, it's all rather fun and exciting. You can be performing to a small group of people, then suddenly have hundreds turn up from another channel. Many of them typically click follow, with some going on to be subscribers, donors, and long-term fans.
From a watcher's perspective it's also great. I've discovered awesome DJs I'd never otherwise have known about, due to being part of a Twitch raid.
Hosting a channel is when a Twitch member has somebody else's stream live on their own channel, giving the stream broader reach.
How to Get Started Watching DJs on Twitch
Now you know what all the terms mean, you're probably wondering how to dive in. Well, it's not hard. I'd suggest starting off by browsing the main music page. Set up a free Twitch account to get the full experience, click on a few streams and see what you find that you enjoy. (I've shared a list of some DJ streams I particularly recommend below).
It's certainly worth following streamers you like the look and sound of. It helps to support them, and also teaches Twitch's algorithm a bit about your taste, so that it recommends similar channels.
Then, if you can afford it, subscribe to a couple of your favourite channels, and invest in some "bits" so that you can cheer and donate when it feels appropriate. There's no obligation to do this, but – well – it's nice.
Chat, Emotes and Etiquette
The chat part of Twitch can feel quite intimidating at first, with lots of colourful emotes scrolling by and a lively chat full of people who appear to know each other.
The best advice is to lurk at first, and learn the vibe of each channel. Some CAN feel "cliquey," but do remember that some of the people in these chatrooms have been supporting the streamers since day one. They may know each other (or even the DJs) in person, or may have conversed in the chat with people before.
Over time, you begin to see the same Twitch handles again and again. Since many DJs are genre-specific, don't be at all surprised if you start to see the same people in multiple DJ's chatrooms. You've simply found your musical tribe!
When it comes to diving in, there are no hard and fast rules. However, it's not customary to jump in and start requesting songs, and it's certainly not appropriate to criticise or "be a dick." DJ Twitch is almost entirely devoid of trolls and idiots, and the communities and moderators work hard to keep it that way.
Just be friendly, be kind, and respect the other people in the group. Pay attention to people's chat badges, which show various things such as whether they're subscribers (and for how long), and whether they've donated bits or gifted subscriptions.
About Twitch Emotes
The other graphical thing you will see a LOT of in Twitch chat are emotes.
There's more involved with emotes on Twitch than it additionally appears.
There are Twitch-wide emotes that everybody can use, channel-specific emotes that you can gain access to by subscribing to channels, and others you get for other reasons such as participating in hype trains.
As I said near the start, I was a little sceptical about the emotes to start with. I'm 43 years old and my usual emoji arsenal in everyday life is limited to the "laugh out loud," the "angry face" and the "raised eyebrows.'
But the emotes on Twitch are customised by each DJ. You can also customise them yourself and – most significantly – use them across multiple channels. So, if you gain access to a cool emote by subscribing to a specific DJ, you can use it in the chat when you're watching a different one.
I'm never going to be the biggest fan of emotes / emojis. But joining in and sharing a electronic "group hug" when everybody's in lockdown and collectively listening to a poignant tune is a wonderful thing. (And not something I could have ever imagined a year ago!)
(I've had Twitch on in the background whilst writing this, and just as I typed that part a DJ gave a tribute to somebody who had passed away the previous day. The chat window was flooded with a big selection of different heart emotes. It's hard to explain an emotional "moment" on Twitch, but they happen more than you might think. And in challenging times it can be helpful and inspiring).
Recommended DJs on Twitch
I think I've now covered all the basics of the Twitch DJ scene. All that remains for me to do is recommend some of the DJs I most enjoy watching.
There is a bit of a UK bias here, and also one towards my taste in music, which primarily spans disco, house, soul and hip hop. But be assured you will be able to find your own genre.
The Nextmen: A London-based duo of DJs and producers who I've loved for a long time and seen live in the real world (simpler times!) They play everything from hip-hop to soul and drum and bass, alongside lots of intriguing edits and bootlegs, including some of their own. One member (Dom) is known to sometimes deliver one-off "pop up" sets that last a VERY long time!
The Shapeshifters: The Shapeshifters (AKA Simon Marlin) plays primarily soulful house and has some great formats for his streams. I particularly love "Wax Wednesday," where Simon randomly plays records from his collection, complete with lots of chat and anecdotes about the music. The community here is a wonderful thing, full of true music lovers. There's always a lot of love and kindness in the room.
DJ Mark Oxford: Mark Oxford is a UK-based all vinyl DJ with regular shows five days per week. He's warm and friendly to watch and plays a great selection of music from the 80s and 90s – which is very much my comfort zone!
SteveDiscoNewsome: A fairly recent discovery of mine. A very friendly room, and a music selection that involves "anything with soul and balls." There's plenty of disco, and this is a DJ that's not scared to include the odd cheesy choice (this is NOT a criticism!) The DJ's a real character and fun to watch.
Sam Tweaks: Another vinyl DJ with a vast selection of eclectic 45s. Sam had lots of great soul and hip hop and often plays early in the day, making watching him DJ on Twitch perfect for when I'm doing a "work and lurk."
Summing Up
If you've yet to watch DJs on Twitch, I'd strongly recommend giving it a try. You can always just "lurk" and see what it's all about, but it becomes much more involving if you dive a little deeper into the platform.
I do wonder what will happen to the Twitch DJ scene once Covid is in the rear view mirror. I can't imagine it remaining the same once the DJs are all deservedly jetting all over for high-paid real-life gigs. But I hope with all my heart that some of them continue to maintain a Twitch presence. For those of us with children and an aversion to portaloos, the ability to access a line-up of incredible DJs without leaving the house is amazing.
So I shall end by sending my sincere thanks to all of the DJs on Twitch. They've pulled me through some of this year's darkest moments, provided incredible entertainment, and filled my Shazam feed with undiscovered bangers. Please head over to Twitch and give them your support.
While you're here – some suggested content: