In some posts we review or mention products and services. We are always impartial but some posts may include affiliate links that can earn us a commission. Click here for details.
Whenever you buy a new gadget, you never really know if it'll be a success. Will you love it and use it daily, or will it quickly end up in the garage, adding to your clutter and giving you a sense of "buyer's remorse?" In this VicTsing diffuser review, I discuss a product that's firmly in my "love it" category.
I purchased my VicTsing diffuser on impulse. I'd had a terrible night's sleep, and woken up with excruciating sinus pain, something I suffer from a lot. I started the day wincing – both from the pressure in my sinuses and the shrieks of my noisy young children downstairs!
I started some online research into things that could improve my sleep and ease my sinus pain. I quickly found suggestions of an essential oil diffuser as a solution to both problems. I found a VicTsing diffuser on Amazon and quickly hit the "buy" button.
What is a VicTsing Diffuser?
A VicTsign diffuser is an electronic diffuser for essential oils. The company offers a range of different sizes and colours, most shaped rather like a bulb of garlic.
Using a VicTsing diffuser is easy. You fill the device with water and add a small quantity of essential oil. You switch the device on, and a small stream of scented vapour puffs out of the top, humidifying the air and releasing the scent of the oil into the room.
VicTsing Diffuser Review: My Experiences
You can buy VicTsing diffusers in a range of different sizes. I went for the model with a 300ml water reservoir – more than enough to keep the diffuser pumping out its scented vapour for several hours.
You can opt to buy the diffuser as a package with a selection of oils. I personally bought the device separately and invested in a charming box of 12 oils. These came complete with suggested combinations for different purposes, such as stress relief and better breathing.
Unboxing the diffuser and getting it working was very simple. In the box comes the diffuser itself, a power adaptor, and a plastic measuring jug for the water.
To use it you plug it in, fill it with water, add the essential oils (6-8 drops is recommended for the 300ml model), and switch it on. The scented steam appears immediately, along with a comforting dripping sound. A minute or two later, the room smells like a health spa!
VicTsing Diffuser Features
Different VicTsing diffusers have slightly different features.
My 300ml model comes with various different timer options. You can switch it on to a "constant" setting, which keeps it running until the water has all been used. In my experience, this works reliably, shutting off at the appropriate time. You can also set a sleep-style timer, with the diffuser automatically turning off after one, three or six hours.
The 300ml model also has an attractive ring of light around the structure. The second button on the device allows you to select a particular colour to match your decor, or to choose a mode that slowly cycles through the colours.
Although the coloured lighting seems like a gimmick, it's actually rather attractive. It's a soft neon light that adds to that "health spa" feel. There's something rather "zen" about watching the lights change along with the slow emergence of the vapour.
How Well Do VicTsing Diffusers Work?
I've been delighted by how well my VicTsing diffuser works. With the right combination AND QUANTITY of essential oil, it can create a fabulous aroma and easily scent a large room.
I mention the quantity specifically, because getting that right is something that can take a little practice. Too little oil and the smell is weak, too much and you can generate a heady aroma that's a little excessive.
I've found that the guidance of 6-8 drops is not far off perfect. It will obviously depend a lot on the quality of your oils and your chosen scents. There was some trial and error in working this out, and along the way there was an incident with WAY too much citronella that left me with a headache and the urgent need to open a window!
The Benefits of Using an Essential Oil Diffuser
Oil diffusers like the VicTsing are – unsurprisingly – aromatherapy products. The specific benefits of using them depend on the oils you choose. Oils like lavender are great for stress relief and sleep, and oils like eucalyptus are great for improving your breathing.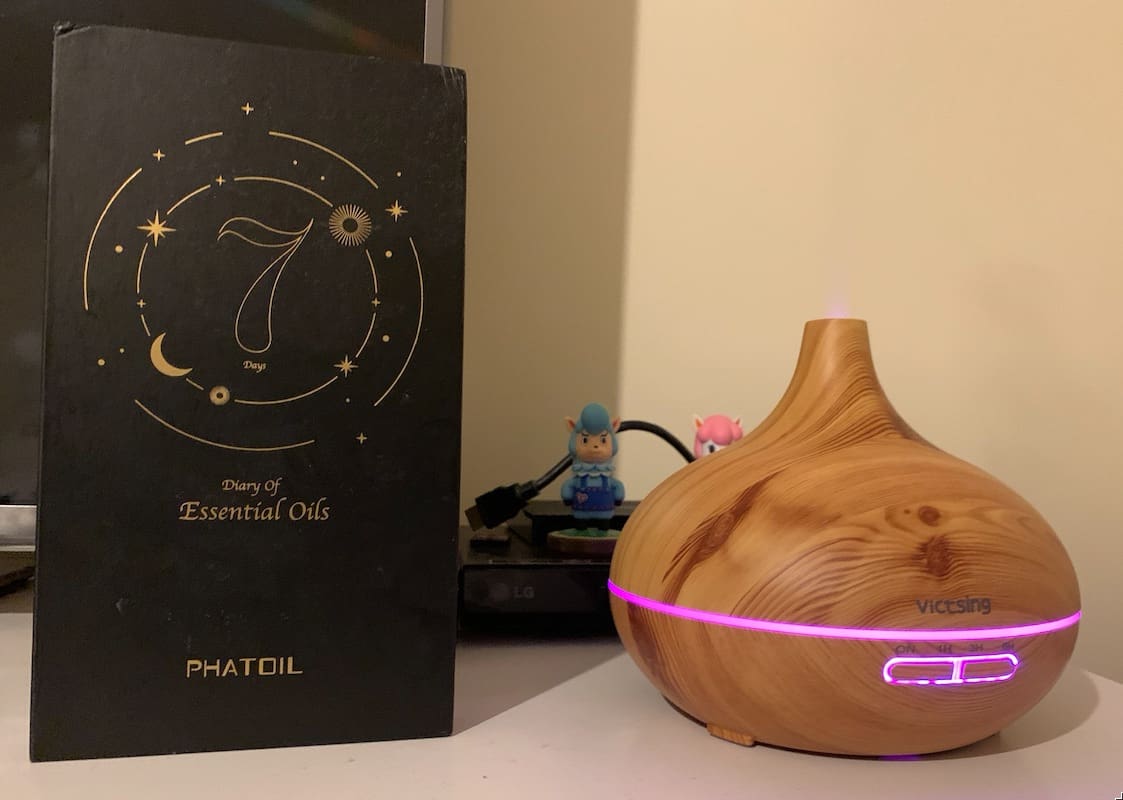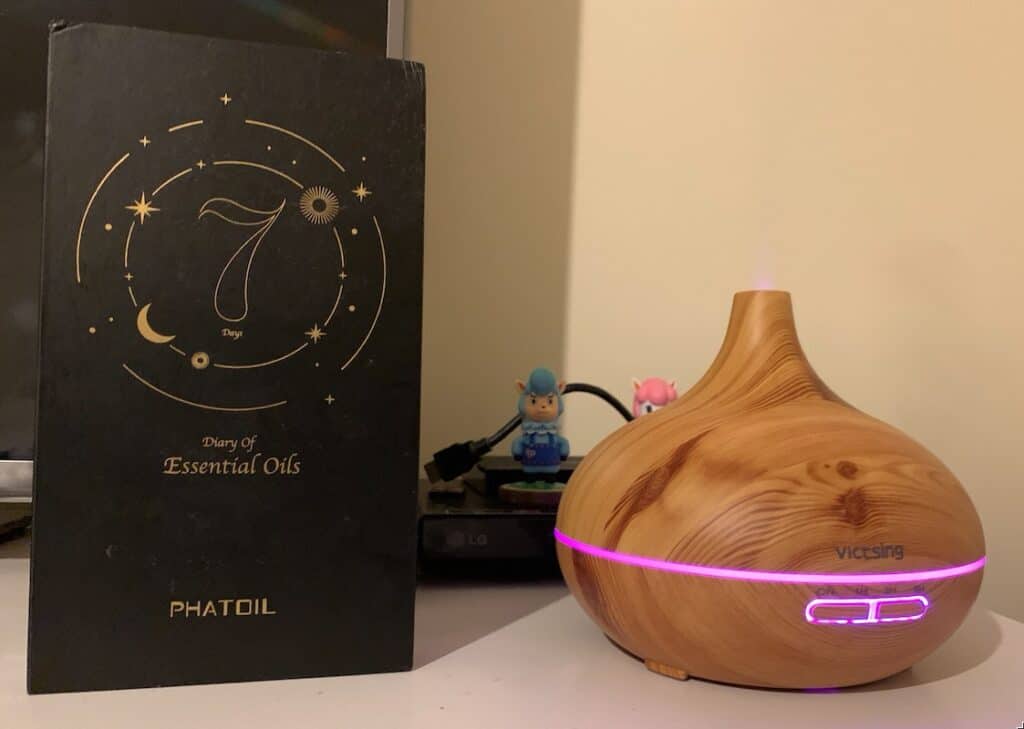 As I said at the start, I was most interested in helping out my sinuses, which often stay perpetually blocked throughout the winter months.
While I'd stop short of saying the problem is solved, the diffuser has certainly helped. I've settled on a combination of eucalyptus, tea tree and lavender. It smells great, and has certainly helped to clear my nose on plenty of occasions. Most significantly, it eases the pressure enough to prevent me giving in and taking painkillers.
I'm not the only person to have noticed this. I was so happy with my VisTsing diffuser that I bought two as Christmas gifts – one for my mum and another for my sister. She suffers with similar sinus issues blocking her ears and nose. Although she was initially sceptical about the diffuser, she told me that using eucalyptus in the gadget successfully eased her sinus issues too.
In theory, the light humidifying action of a diffuser should be good for breathing too, but I don't have any definitive feedback on this.
Aside from the health benefits, one thing I should highlight in this VicTsing diffuser review is that a diffuser can also act as the ULTIMATE air freshener! As I've said, diffusing essential oils makes the surrounding area smell like a health spa – and I'm certainly more than happy with how the upstairs of our home smells.
I'd actually be tempted to buy another for downstairs, were it not for the fact that the diffuser is an endless source of fascination for my three-year-old son! I am, however, very tempted to invest in another for my office.
Suggested Oil Combinations for your Diffuser
I've now had my diffuser for a couple of months, and still have lots of scent combinations to try. I've settled on such a good one for easy breathing that I often opt for that.
Here are a few other suggestions:
For Clear Breathing: Eucaplyptus, tea tree and lemon.
For Drifting off to Sleep: Lavender, chamomile and clary sage.
For Energy: Lemongrass and sandalwood.
Conclusion
As gadgets go, my VicTsing diffuser is a keeper. Since gaining an interest in these products, I've noticed that there are many similar options around that are considerably more expensive – but I fail to see what they could possibly do to make it worth spending more.
Not only is the diffuser attractive to look at, it works reliably, and puffs fabulous aromas over a wide space. I've already bought two as gifts, and will probably buy a second one for our home soon too.
I realise my VicTsing diffuser review is overwhelmingly positive, but I have very little to criticise, other than perhaps the fact that the power lead connector is in a slightly awkward place on the base. If you're wondering about investing in one of these gadgets – don't hesitate. Just make sure you choose some good quality oils to go with it.
VicTsing Diffuser: Highly Recommended!