In some posts we review or mention products and services. We are always impartial but some posts may include affiliate links that can earn us a commission. Click here for details.
I always judge cosmetics by how fabulous my bathroom smells after using them. I can start this Haeckels review by confirming that these skincare products score extremely highly on that particular test.
After using these products, in particular the Bladderwrack + Buckthorn Body Cleanser, the entire upstairs of our home smells like a very expensive health spa.
That alone is something that wins them a big tick from me!
What is Haeckels?
Haeckels is a skincare brand born and based in Margate, an increasingly fashionable and hipster-friendly seaside town on the coast of Kent, South East England.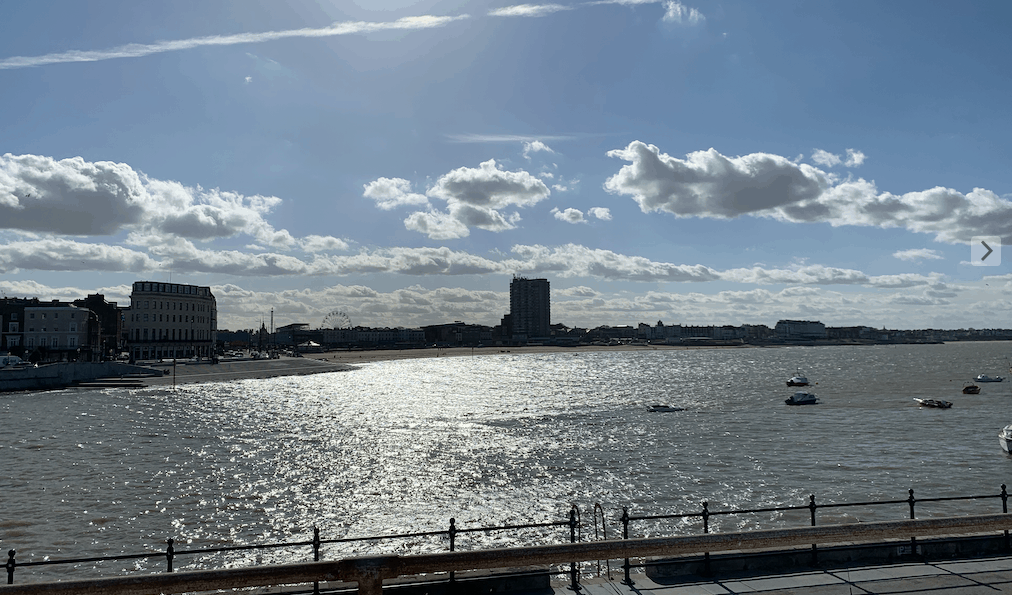 Margate has several beautiful beaches, but some locals and visitors complain that they are blighted by the enormous amounts of seaweed that wash onto the sands. In 2012, Dom Bridges, a beach warden, founded Haeckels, with the intention of creating skincare products from these natural raw materials.
Since then, Haeckels has grown considerably as a high-end cosmetics brand. The products are available internationally, both online and in stores large and small. Haeckels also offers treatments for those fortunate enough to live locally.
My Trip to Haeckels
I took a short solo staycation in Margate in October 2020. I only live a short drive away, but was craving a change of scenery after months of Covid lockdown.
I'd heard of Haeckels before, and had briefly popped into the shop. But buying some interesting products and spending some time luxuriating in my Airbnb bathroom was definitely very much in line with my staycation plans.
It's worth pointing out that I visited Haeckels in a time of social distancing restrictions, and I was rather impressed by the solution they had found.
Obviously it wasn't feasible to allow people to sample products and touch everything, so they had made the focal point of the store a huge vending machine. It had a gigantic screen, where you could flick through the products, and an inbuilt contactless card reader for payment.
Now it may sound a little odd to rave about a vending machine, but I think this was probably the largest I'd ever seen. Set against the store's gleaming reflective floors it looked rather impressive. I really should have taken a photo, but I think I was a little too spun out by the unexpected shopping experience (and all the mirrors) to remember to do so.
Haeckels Review: Bladderwrack + Buckthorn Body Cleanser
I purchased three products from the unexpected vending machine. The first was Haeckels' Bladderwrack + Buckthorn Body Cleanser.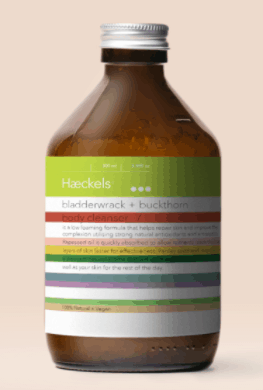 I shall hand over the next line of my Haeckels review to my six-year-old son. He gave me a hug shortly after I'd had a shower using this product and he said that I "smelled like a hotel bathroom!"
I'm going to take that as a compliment. It actually sums up this body wash very well. It smells AMAZING, and has a luxury feel that certainly makes it worth the (let's face it considerable) extra cost over some supermarket shower gel.
It includes seaweed, tea tree oil, lavender and coriander seed. It has a thick texture, and a wonderful luminous yellow colour – and it goes a long way. I'm about half way through the bottle having expected it to be long gone by now.
I will certainly be buying this again.
Haeckels Eco Marine Cream
To the amusement of some of my more "man's man" friends, I'm an avid consumer of moisturiser. So I had to buy some of Haeckels' number one bestseller.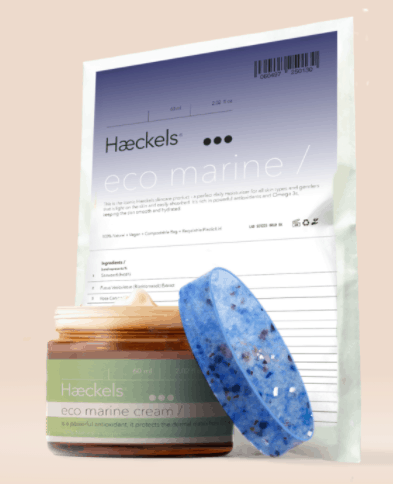 This thick yellow Eco Marine Cream ticks the "smells amazing" box once again. You of course get the seaweed extract, alongside rosa canina oil, olea fruit oil and witchhazel.
Despite the oils, which I won't claim to know anything about, it doesn't feel oily. But it does a great job of keeping my skin hydrated. It does take a bit of "rubbing in." I once chatted to a Biotherm representative in a duty free shop and she told me that (apparently) they prioritise making their men's moisturisers easy to absorb because "men are impatient!" I shall comment no further on that!
This Haeckels product is another winner for me. It's perhaps not another instant rebuy because good moisturiser is expensive and I enjoy the fun of trying different products, but I'd highly recommend this one. It's good for "all skin types and genders" – even impatient men!
Haeckels Eco Balm
The final product in my Haeckels review is their Eco Balm hand cream, which I purchased as a gift for my wife. She goes through vast quantities of hand cream, which may have something to do with the fact that in the distant past I used the word "reptilian" when she asked me to feel how dry her hands were!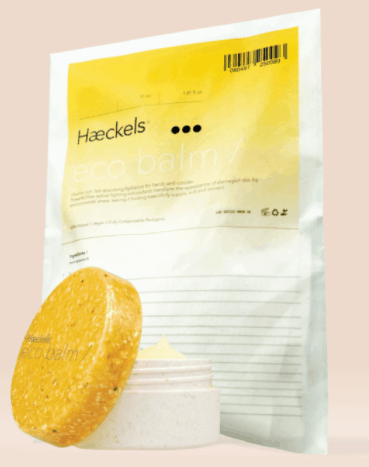 As such a big hand cream consumer, my wife tends to use an assortment of cheap everyday cream with more premium products here and there. The Haeckels Eco Balm is certainly in the latter category.
I scored major eco brownie points for the compostable glassine packaging. The jar inside is very attractive and – yet again – the products smells just wonderful. Louise tells me that it is "thick and creamy but without being greasy, and "super nourishing."" Another one that's definitely on the "buy again" list.
Haeckels Review: Conclusion
I've tried skincare brands with a "unique twist" on several occasions. However, they often don't live up to their hype and promise.
Haeckels products are as good as I hoped they'd be, and I'm already starting to trawl their website for ideas for family Christmas gifts. The company has strong environmental credentials, and every product is clearly marked to show whether it is vegan, cruelty free, silicon free, nut free etc.
On top of that, the fact that the company has made such wonderful use of Margate's sometimes controversial seaweed tells a lovely story.
Haeckels is a UK company, but it's easy to find the products online and there are plenty of US stockists. You can find some of the products on Amazon here or check out the Haeckels website. Highly recommended.
WHILE YOU'RE HERE: Read my Liomen Prime Skincare review.