In some posts we review or mention products and services. We are always impartial but some posts may include affiliate links that can earn us a commission. Click here for details.
A few years ago, if somebody had told me I'd be excited about taking a week's holiday in Margate I would have laughed in their face. But that was before 2020's Covid lockdown, which made the prospect of being anywhere other than my own home hugely alluring.
Before I go any further, I should emphasise that I mean Margate England – not the one in Florida or New Jersey.
I only live a short drive away from Margate, and visit each year for the town's famous soul music festival. But I'd never have considered it a destination for a solo staycation. But then, as I say, Covid happened.
After around 150 consecutive days of combining work and home schooling, nobody in the family objected to the prospect of me taking off on solo break! It was mid-October, not a great time for a coastal resort in the UK – but hey, it was somewhere different.

WHILE YOU'RE HERE: Read about our first proper post-lockdown holiday in my Pevensey Bay Holiday Park review.
About Margate England
Margate is an interesting little place, at the far south-eastern tip of Great Britain.
In Britain's coastal heyday it was quite the place to be, but it's fallen into neglect in the decades since Brits started heading to Spain instead of the south coast. Despite its natural beauty, it's one of England's most deprived areas, with no shortage of social problems.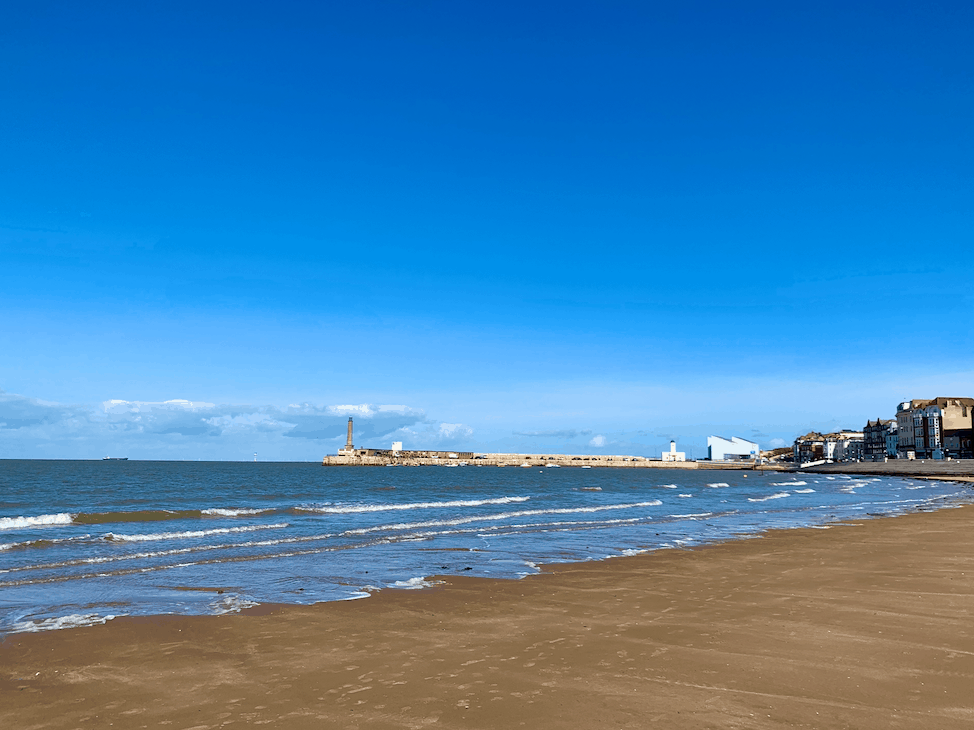 However, it's also been undergoing some regeneration in recent years, and has gained a reputation as a bit of a hipster paradise. This process began in 2011 with the opening of the Turner Contemporary gallery – the modern building just visible in the photo above.
The changes are controversial locally. As is always the case with gentrification, there's some tension between the original "locals" and the newcomers, many of whom have moved "down from London" and swapped their small city flats for grand houses in the town.
There's still plenty of deprivation living side-by-side with the new sourdough shops, cupcake cafés and bookshops. But I'm not here to pontificate on the rights and wrongs of this – let's talk about my break in Margate instead.
Heading to Margate
My trip to Margate was very much a last-minute thing. Our local lockdown restrictions had been lifted, and our case numbers were as low as they'd been. I grabbed an Airbnb rental, a very artsy terraced house that was about as textbook-Margate as anybody could have found.
The main thing for me was that I wanted to do lots of walking, and the place was a sensible distance from the town itself, and the Cliftonville area, which I discuss shortly.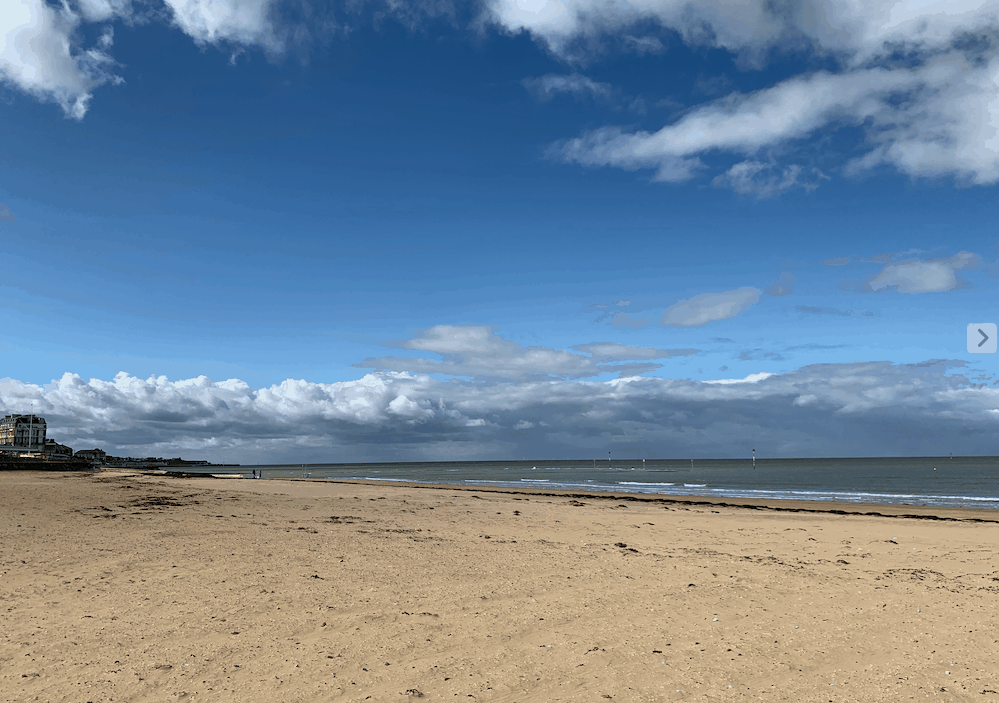 Let's be clear: Margate England is NOT warm in October. But I was forecast some sunshine, which arrived on cue for many of my long walks. First staycation box ticked.
Walking and Exploring
Unsurprisingly, I went on several long coastal walks, discovering areas that were new to me despite living very nearby. (For me, this has been a strange trade-off for some of the madness and anxiety of Covid: I've actually ticked off a whole bunch of those local "one day" things that you never ordinarily get around to.)
As well as hugging the coastline, I spent a lot of time around the Cliftonville area. This is both the "roughest" part of Margate, and the epicentre of the area's hipster revolution. Libertines front-man and substance-enthusiast, Pete Doherty, even has a hotel in the area.
Cliftonville has a wonderful and truly multicultural array of shops. This includes a huge Polish supermarket, which I enjoyed exploring, finding that trying a whole range of foods from a different culture really added to the holiday feel.
Among the quirky shops in Cliftonville, you also find strange and inexplicable window displays like the one pictured below: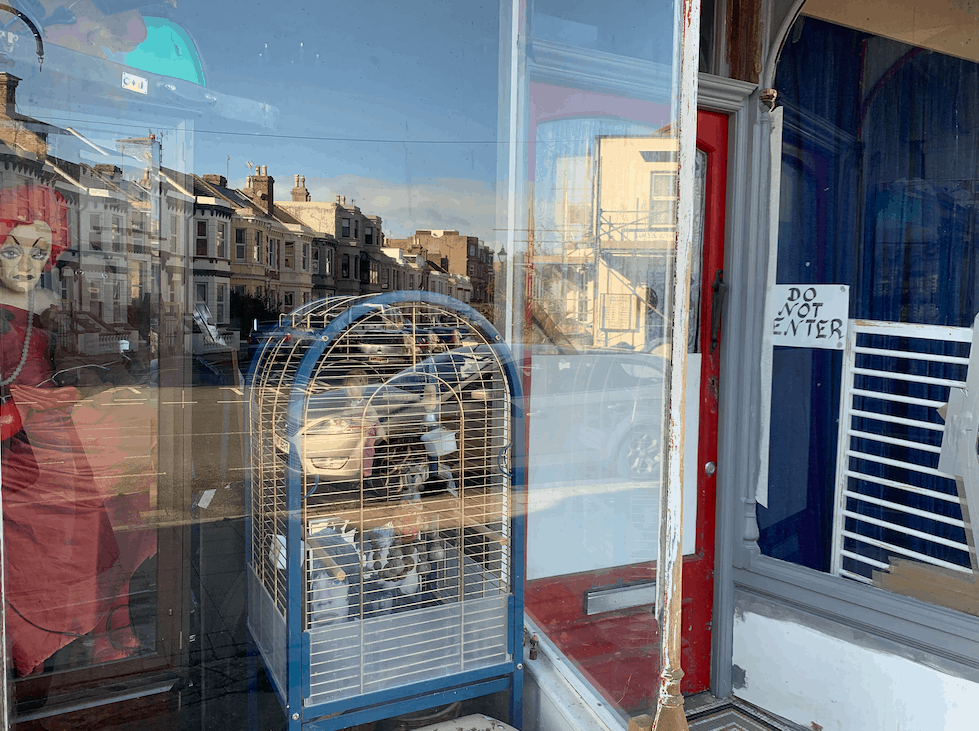 I love the gritty and varied feel of Cliftonville, a comment that probably marks me down as one of those dreadful "down from London" types. But I don't see what's wrong with one pound "saver" stores living cheek-by-jowl with yoga studios and places selling sourdough. Walking this street from end-to-end each day never got old for me during my week in Margate.
Margate's a photogenic place, often with sparkling sea in one direction and mess and chaos in the other. This block of flats that sits next to Margate's once-legendary Dreamland theme-park is considered an eyesore by many, but Margate just wouldn't be Margate without it.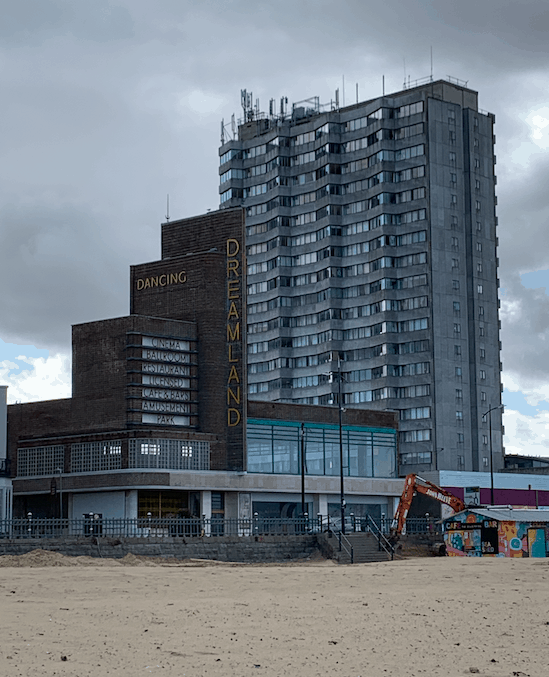 When you're not looking directly at the sea, Margate's not always pretty, that's for sure! But after months in the same place, I enjoyed my walks as much as I would have done if they'd been in the Caribbean. And all the steps I clocked up allowed me to indulge in delivered takeaway food every evening. I'd allowed myself a break from my Weight Watchers plan for the duration of the week.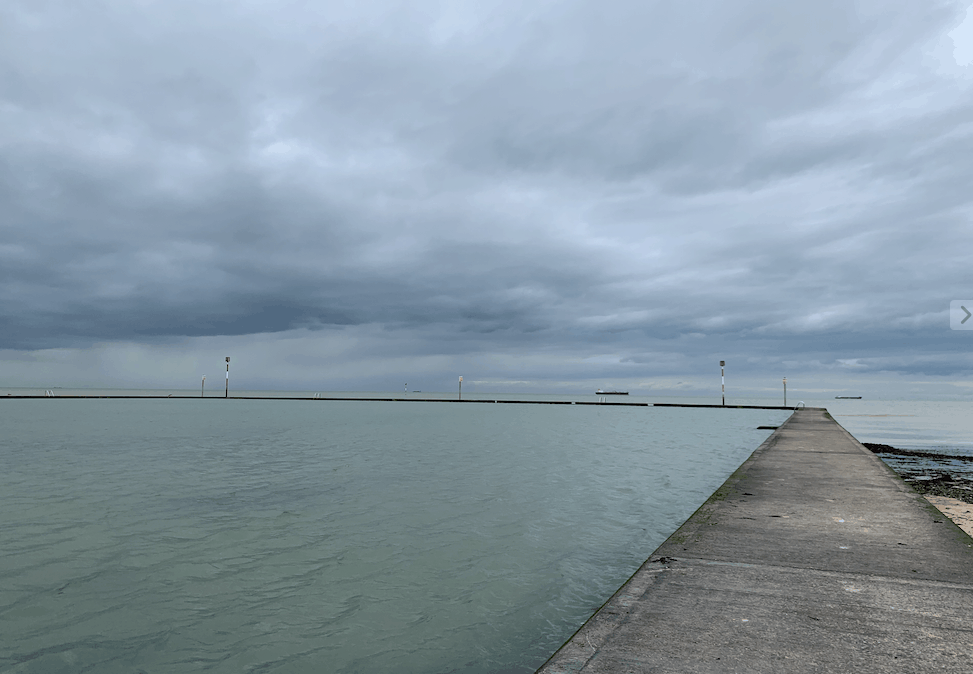 Food and Drink in Margate (England)
As I stated above, I ate a LOT of takeaway food while I was in Margate. Although pubs and restaurants were tentatively allowing people in at that point, I had no desire to increase my risk of catching a potentially deadly virus. In fact, during my week in Margate I ventured into shops for the first time in ages, fully masked, which felt like a novelty in itself at the time.
My reluctance to dine in didn't prevent me from enjoying plenty of Margate's culinary delights. Almost every restaurant offered delivery and I took full advantage. A few highlights:
This place offers "fine dining" style Indian food, and the meal I had from there is probably the one that most stands out – not least because Indian takeaways had been firmly off-limits calorie-wise in the weeks running up to my break!
I enjoyed gigantic prawns and soft-shell crab, as well as a more traditional curry. The Ambrette also does a very intriguing spicy twist on a Sunday roast, which I will have to go back for one day.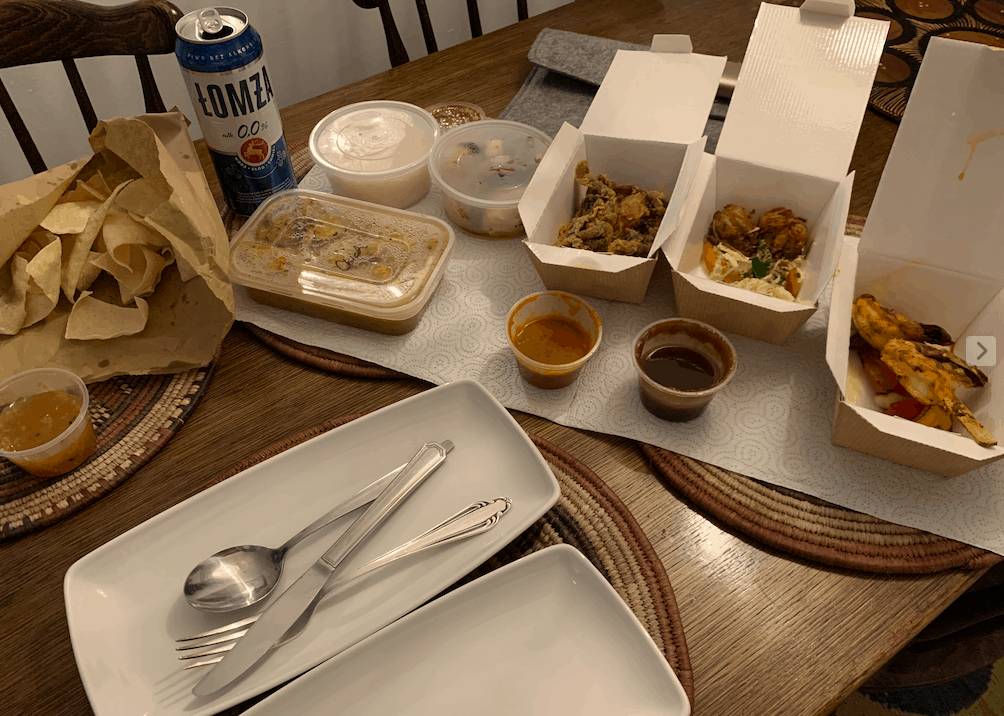 Located in Margate's Old Kent Market, Mamma Mia offers authentic Italian pizza and delivers it around the town at lightening speed. I went for a Stagioni, with lots of anchovies, capers, olives and salami, and I'm not ashamed to say I ate the lot, and half the portion of doughballs, complete with a couple of dips.
I did daringly venture inside one place, The Margate Coffee Shed. I was tempted by the prospect of a coconut and pineapple smoothie, which I enjoyed sitting outside in the sun with a view of the sea. The service was great and the smoothie was fantastic, helped by the fact I couldn't believe I was sitting outside in the sun in October.
This place also got extra credit for being very professional about the hygiene and social distancing. It felt like a weirdly big deal to be at an actual café after months indoors, and it all felt very safe. Strange how something so simple could feel like such a treat.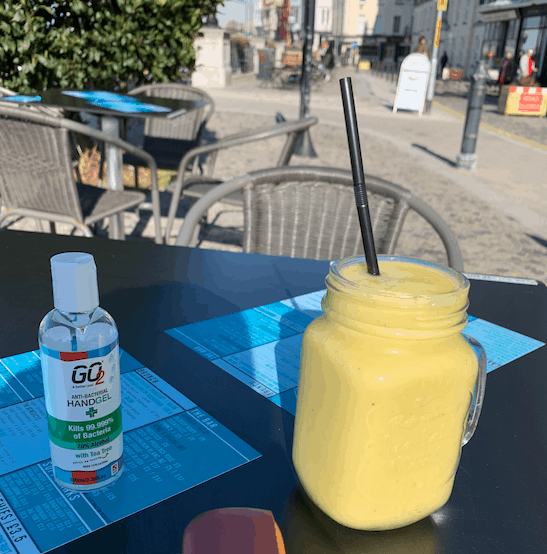 Shopping in Margate
Again, I wasn't keen to spend too much time going in and out of shops, but Margate has some fabulous little places, both in Cliftonville, as mentioned above, and in the Old Town area.
Here are a few places that stood out:
The pleasure of browsing books again was quite something, and I couldn't have chosen a better place to do it. The Margate bookshop has a beautifully curated selection, and while I didn't linger that long I left with a couple for me and one for each of my children. There was a lovely, friendly lady behind the till too.
The Vapeistry sells vaping and CBD products and I enjoyed chatting with the very knowledgable guy behind the counter. I also found out they have another branch nearer to where I live, which was a result.
I enjoyed my trip to Haeckels so much I wrote a review of the shop and the Heackels skincare products I purchased. This brand makes its products using the area's abundant seaweed and lots of other healthy and natural ingredients.
Two other mentions: First off, the lovely little deli on Northdown Road where I conformed to the hipster stereotype and purchased an incredible loaf of sourdough bread. Its name escapes me and I'm struggling to find it online. Perhaps somebody who reads this can contact me and remind me?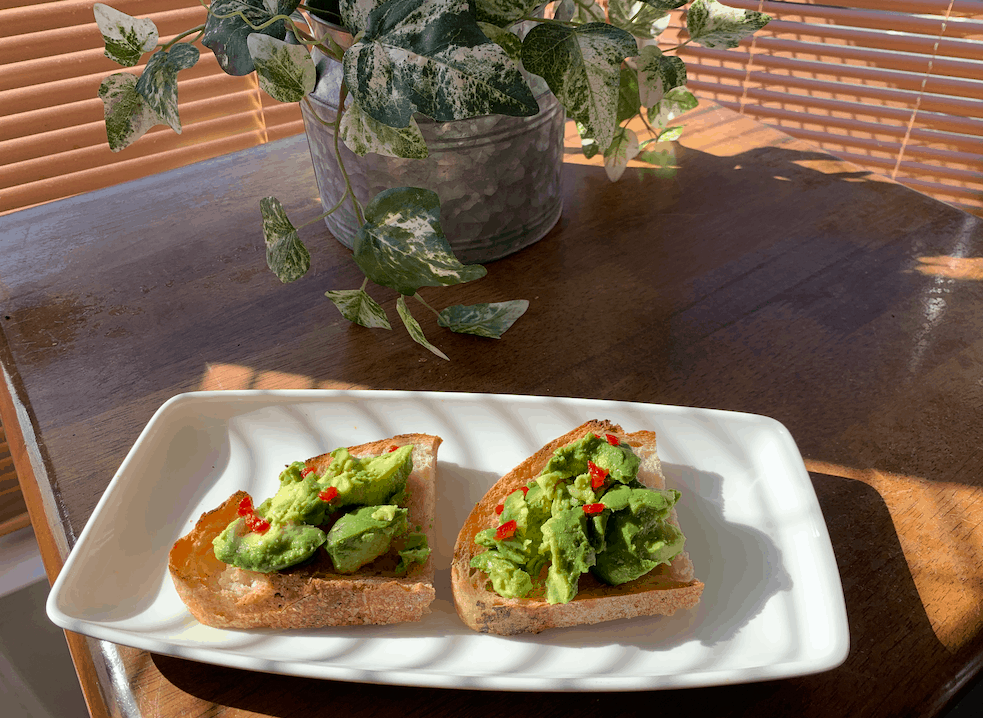 Finally, I thoroughly enjoyed the Polish supermarket – I have a separate article you can read about that.
So How Was My Staycation in Margate?
Let's face it, Covid's changed everything. Not least the fact I spent a week in Margate and thoroughly enjoyed myself.
I did all my usual holiday stuff: bought a few treats, tried some new foods, walked for miles, and took some photos.
And while it wasn't quite up there with Antigua or New York(!) it did what was needed: sparked some creativity, gave me a rest (and my wife a rest from me!), and built me up ready for the next phase of lockdown.
And – you know what? When I went for my final walk along the coast and took a photo of a Sunday sunset, I still had that uniquely mixed feeling of melancholy and happiness that you only get after a good break. I'll look back on my time in Margate fondly – and, once again, I would have laughed if you'd told me a few years ago that I'd say that!