In some posts we review or mention products and services. We are always impartial but some posts may include affiliate links that can earn us a commission. Click here for details.
It's natural to want an indulgent Christmas – but it's alarming to see how many people trash their finances to make it happen.

What if you could have an affordable Christmas? One that feels just as luxurious, but doesn't cost quite much?
That's what we talk about in this article: How to celebrate Christmas on a budget, but still do it in style.
Surveys have shown that over a third of people get into debt to pay for Christmas. Obviously it's best to avoid that, where possible. Who wants to begin a new year with a financial hangover, as well as an actual hangover?
With that in mind, in this guide you'll learn about enjoying a (still luxurious) Christmas on a budget.
A Little Background
Just before I get stuck in to some great tips, I wanted to tell you a little about me, and why I decided to write this article.
My wife and I both work freelance, which tends to mean work comes in inconsistently, and that our income is never truly predictable.
I also grew up in an entrepreneurial household, so I'm well used to phases of "feast and famine." I've experienced lean Christmases and lavish Christmases. As such, I know that there's absolutely zero correlation between a "spendy" Christmas and a happier Christmas.
I've also spent time living overseas, in a country where Christmas was way less commercialised than it is in the UK or US. Experiencing Christmases that are more about the food and the company than the presents was eye-opening, and I think we've brought some of that attitude "home" with us.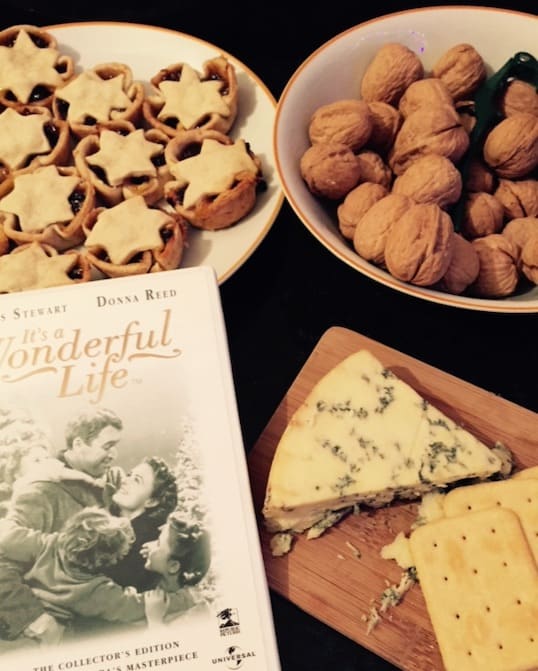 Important
Terms like "affordable" and "on a budget" are relative. One family's "budget" could be their neighbours' "blow-out." I've tried my best to keep that firmly in mind in this article.
For some, there's really no such thing as an affordable Christmas. It's not lost on me that – for example – choosing between a better turkey or an extra present for the kids is a luxury we are privileged to have. Please don't think I'm unaware of that.
How to Celebrate Christmas on a Budget
There are 16 different tips below, but there are two common themes that spread through them:
Buy less stuff, but better stuff.
Spend time, not money.
General Tips
1. Plan Ahead
A surefire way to overspend at Christmas is to leave everything until the last minute. You're a sitting duck for retailers if you're scrabbling around doing your shopping on Christmas Eve.
Planning ahead – everything from the food to the presents – brings you so many benefits:
You get to spend those precious holiday days actually relaxing and spending time with people, not in queues.
You can start to buy the things you need earlier in the year, spreading the cost across multiple "pay days," instead of battering the credit card in December.
You can ensure you get what you actually want, rather than what's available.
I used to mock those people who have all their shopping done in September. But with every year that passes I start planning sooner, and am always pleased to have done it.
I'm not quite at the stage where I'm buying up the wrapping paper in the January sales to use the following year, but I may yet become that person!
2. Don't Overcommit
For many years, I would cram my December calendar: Office parties, catch-up drinks with friends, theatre trips, dinners etc. etc.
It's all good fun, but if you say "yes" to every idea and invitation, you run the risk of getting to approximately December 18th with an overdraft and a seven-day hangover.
3. Decide What YOU Want To Do – And, Please, Think of The Children!
With the above in mind, if you're trying to have an affordable Christmas, it's better to identify the things you really want to do, and politely decline some offers. You have the whole of the rest of the year to make plans with people.
If you have children, it's best not to overload their social calendar either. So many of us parents make the mistake of thinking that there always has to be "an activity," but the reality is that children also want and need days when they just get to veg out on the sofa.
On a couple of occasions, during holiday times, my seven-year-old son has directly asked something like "will we be having a "quiet day" tomorrow?" They love the excitement, but they're also exhausted at the end of the longest school term of the year, and have all the stimulation and hype of seeing relatives and getting presents.
Yes, it's natural to want them to experience the ice-skating rink, the pantomime, the Winter Wonderland. But they will get to do all of those things in time, and they needn't do all of them every year.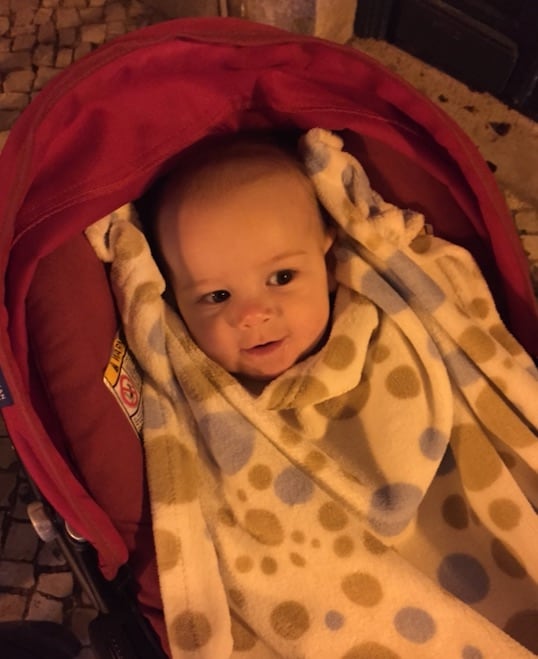 It's much better to pick fewer activities, but make sure that you're fully present, and putting your all into making them truly special. Quality, not quantity.
And let's not forget that we're talking about how to enjoy Christmas on a budget. Fewer activities equals less money to pay out.
4. Do Some Side Gigs to Boost Your Christmas Budget
Even when are family budget is leaning more towards "feast" than "famine," I still do several things every year to generate some extra cash for Christmas.
Spending a little time doing things like online user tests and surveys in the few months running up to the holidays can easily generate a couple of hundred Pounds / Dollars. It's practically effortless, and it's very gratifying to be able to buy the children's presents with side gig income.
Here are a few of the sites I particularly like:
Food and Drink
There are several tips in this section, but that's as it should be. Let's face it, Christmas is about "eating, drinking and being merry" – so the food is arguably the most important part of all. Making the wrong choices can make the difference between affordable Christmas and "regretful, overpriced Christmas!"
5. Up Your Cooking Game
Let's be honest: You're most likely to nail the Christmas food if you're already a talented cook – but it's a skill you can always work on. If you're aiming for an affordable Christmas, you'll be far more able to cater for a crowd and make delicious meals on a budget if you know your way around the kitchen.
Even if you're a hugely reluctant chef, you can still learn a couple of reliable signature dishes: perhaps a rich lasagne or a crowd-pleasing curry. Or why not practice some vegetable side dishes for the big day? What's to stop you being the person in the family who knows how to make the crispiest roast potatoes or the most impressive Yorkshire puddings?
Here are a few cook books that we dig out year after year:
6. Think About Presentation
As the saying goes, "the first bite is with the eyes."
There's a huge difference between slapping the food down, and laying it all out creatively. I can think of little more joyless than a Christmas dinner thrown haphazardly onto a plate. It's so much more "luxurious" to bring steaming dishes to the table one by one, and letting people serve themselves.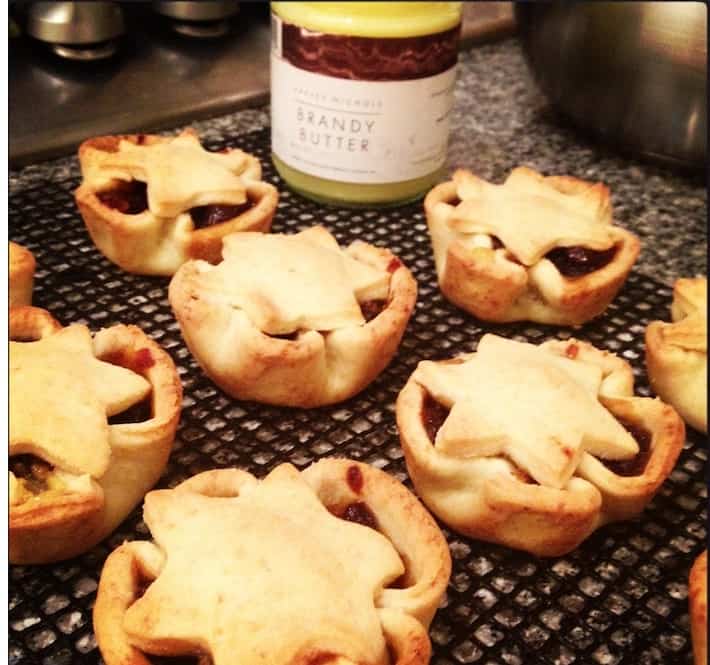 Yes, we're talking about Christmas on a budget here, but it costs next to nothing to present food well. Car-boot sales, thrift stores and shops like TK/ TJ Maxx and Marshalls are all rich sources of inexpensive serving dishes and boards. They can make even the simplest food look expensive and feel indulgent – something I discuss more in my article on living a life of luxury on a budget.
7. Go Easy On The Pre-Packaged Christmas Food
I'm not going to pretend I don't enjoy pre-packed Christmas food. I already have a few things in my freezer for this year, such as mozzarella sticks, and huge bags of mini sausage rolls, which almost every child (and grown up child) loves.
Combine a few of those bits and present them nicely (see above), and you have a quick party feast that takes next to no time to prepare.
However, it's good to have some alternatives. Making many of these things yourself can be cheaper and give you a much better quality result.
For example: Buy a couple of rolls of puff pastry, a small chunk of parmesan, a jar of pesto and some tomato paste. Boom! You have "artisan" cheese straws, pesto twists and tomato whirls!
And don't get me started on pre-prepared veg: It takes two minutes to cut some carrots and parsnips into wedges, season and roast them, and drizzle over a little honey near the end. There's no way in the world that a supermarket tray of pre-prepared "winter veg" will taste as good or cost so little.
This goes back to that "spend time, not money" thing. People with plenty of money can buy everything pre-prepared from places like Whole Foods and Waitrose. I'm certain that some of them would rather have the time to prepare things from scratch. The grass is always greener, as they say.
8. Splash Out On The Right Things
Every year, we buy an expensive organic turkey from our local butchers. It is – by a long way – the priciest food item we purchase each year – but it's worth every penny.
We never waste a scrap.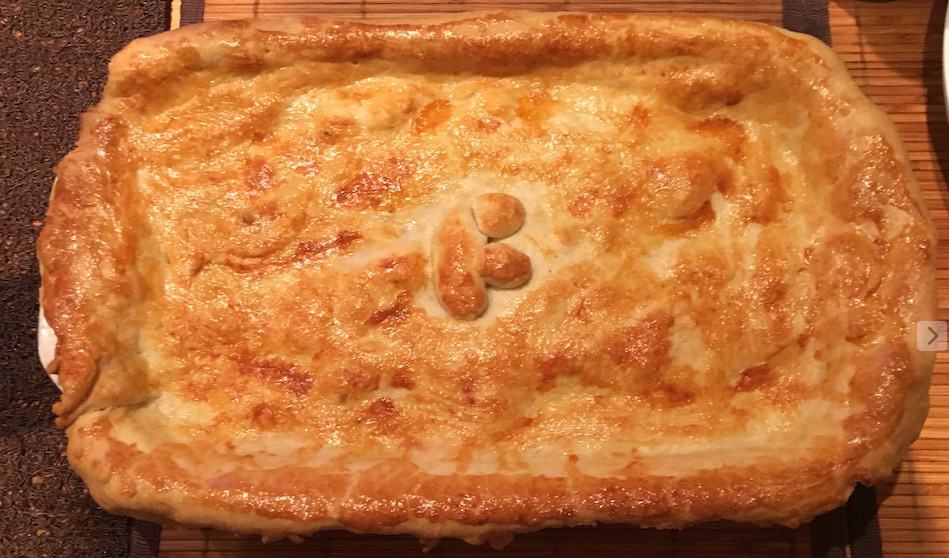 The main meals are usually the roast turkey on Christmas Day, cold turkey served alongside a gammon joint on Boxing Day, and a turkey and ham pie the day after. The pie is eaten warm with mashed potatoes on the day, and finished off cold on the 28th. There are usually a few sandwiches along the way (or quesadillas, if I'm feeling motivated!) and sometimes a curry too.
The point here is that some things are worth splashing out on, even if you're having an economical Christmas.
In many ways, this ties up several of the tips already suggested: investing in quality and not quantity, planning ahead, and knowing how to cook and serve things at their best.
Shops are packed with ways to waste your money over the festive season, but ensuring you have great food for the key days is NOT a waste!
Socialising
Christmas socialising is seen as a huge part of the occasion – but in many ways, it SUCKS.
Everywhere is packed. Prices go up. Bars are rammed with people who don't usually drink, and cringey office parties.
If you want to have an affordable Christmas, it's well worth considering whether you really want to throw yourself into this seasonal socialising. At the very least, it's wise to do it all a bit more smartly.
9. Avoid Overpriced Nights Out
If you're catching up with friends, do you really have to do it in a crowded bar or restaurant? Do you look forward to queuing for taxis in the cold?
A house party or a sophisticated home-based soiree will be cheaper, and probably more enjoyable.
New Year is even worse. Paying to get into bars and clubs that are usually free, to endure a night that's almost certain not to live up to expectations.
You have all year to see your friends!
10. Don't Over Indulge (Too Much!)
I was hesitant about putting this into the article. I've been a non drinker for a while now, and at the time of writing this, I'm looking forward to my second "sober Christmas."
I'm not for one moment suggesting you join me in quitting booze! But I AM very gently proposing the idea of not turning the entire festive season into one enormous mash up.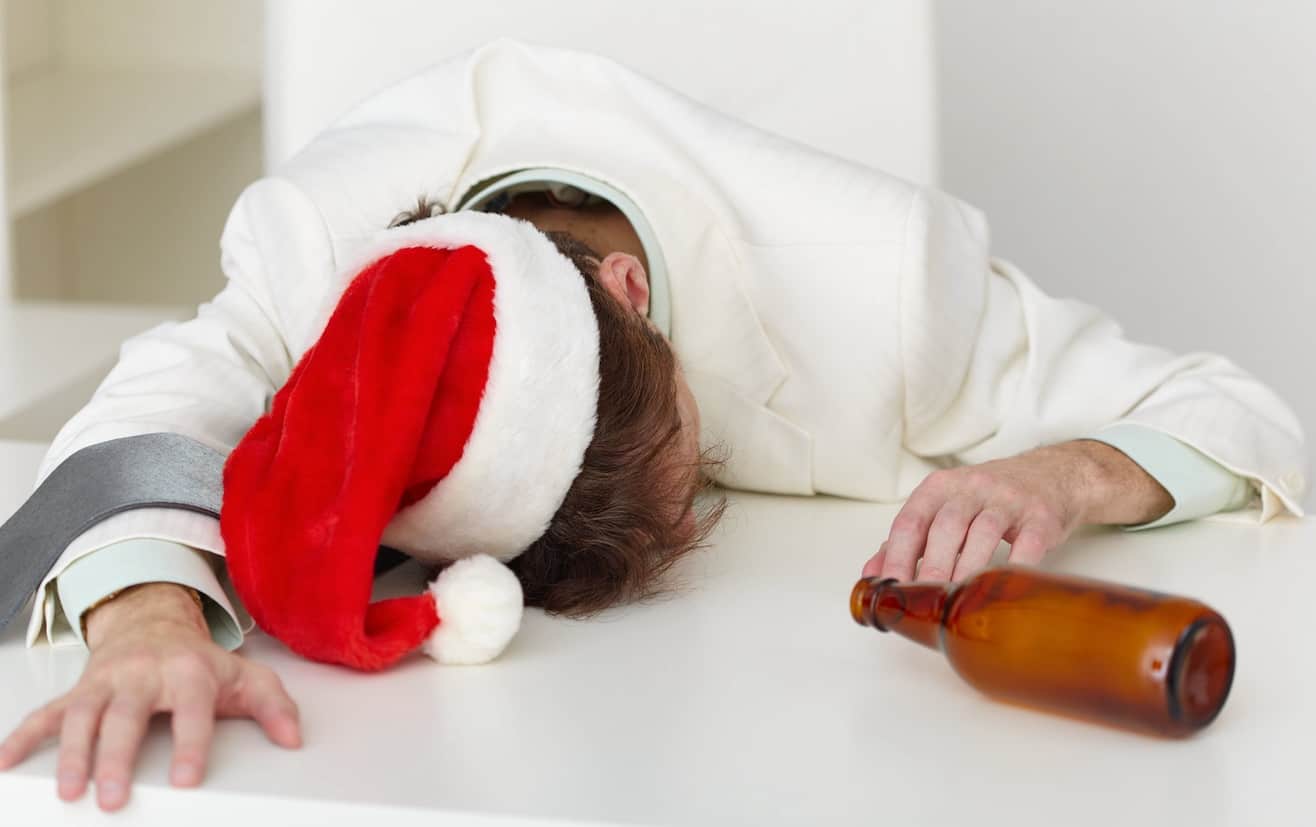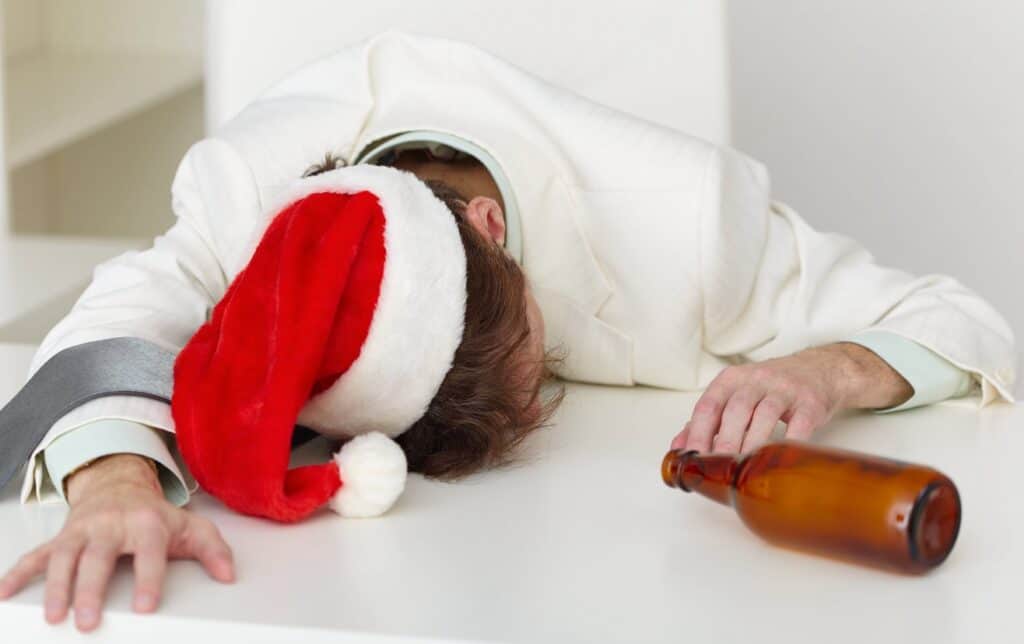 For starters, we're talking about Christmas on a budget – and one thing guaranteed to blow that budget is excess debauchery and the mis-guided decisions that tend to go with it!
Last year, I had the first sober Christmas of my entire adult life. Prior to that, I fully embraced the pink champagne on Christmas morning, and the long, lazy evenings with port and stilton.
All I'm saying is that there is another path: One that involves being awake before the children on Christmas Day, totally prepared to be fully present and to share in their excitement. There's a path where you go into January rested, and feeling like you've had a holiday, rather than overweight and in need of a detox.
I've invested way too much of my life in hedonism to preach sobriety without sounding like a hypocrite. But there is certainly a middle ground – and if you want to do Christmas without spending too much, keeping the indulgence in check is a great starting point.
Decorations
11. Don't Buy Just For a Single Year
If you're somebody who says, "ooh, we're doing silver and blue this year," you're probably reading the wrong article.
It's unnecessary – and terrible for the environment – to buy loads of new Christmas decorations each year. It's certainly not the way to have an affordable Christmas.
You also miss out on so much joy and nostalgia. There's something wonderful about retrieving the Christmas box(es) from the garage or attic, and rediscovering the things you've build up over the years.
As a family, we might buy a new bauble or two each year – and maybe a set of lights – but they just get added to the collection, which now holds memories of many different festive seasons.
12. Consider a Real Tree
I'm going to be a little contradictory now, and admit that despite our economy on other decorations, we do always buy a real Christmas tree.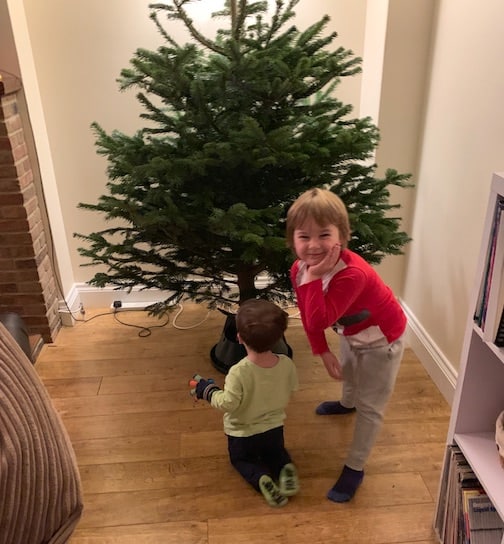 Like the turkey, it's one of those things where the cost and indulgence seems worthwhile. It makes the house smell gorgeous, and the ritual of choosing it, bringing it home and getting it ready amounts to an entire weekend of family fun. My youngest son is only three, but he points out "the Christmas tree place" every time we walk past it in town.
Yes, a real tree is an expense. But like so many things here, it's one you can reduce with a bit of research and forward planning. It's also important to make sure you follow instructions regarding scoring the trunk and watering, if it's to make it through the season.
Presents
We end with some tips around the most expensive thing of all – presents!
13. Declare a "Gift Amnesty"
Everybody likes getting presents, but some of the gift buying between adult family members at Christmas can get, well, kind of ridiculous.
It gets to a point where it's worth being honest about whether you'd rather have £/$200 spent on something you'd really want, or 10 different (albeit thoughtful) £/$20 presents from the Christmas gifts sections.
An alternative that can work is having an "amnesty" between certain family members. Either agree not to get things for each other, or throw everybody into a "Secret Santa" so that each person buys and receives just one gift. This can work really well with groups of siblings / aunties / uncles / cousins.
For the avoidance of doubt, I'm only advocating this for adults. Although I don't entirely approve of the commerciality of Christmas, I fully intend for my children to be annually presented with stacks of garish, plastic crap!
14. Teach Children What Things Cost
Very young children enjoy the bliss of not knowing what things cost. They tend to judge things on the size of the box, not the size of the credit card transaction!
But once they reach a certain age (I'd posit six or seven), it does no harm to gently educate them on what things cost. They need to know that console games cost the same as several smaller presents, for example.
Obviously this is a sensitive subject, and the last thing you want to do is unnecessarily stress your children out about money. But, at the same time, it's important that they understand what constitutes a "main present," and know that Santa may disappoint them if they request several high value items!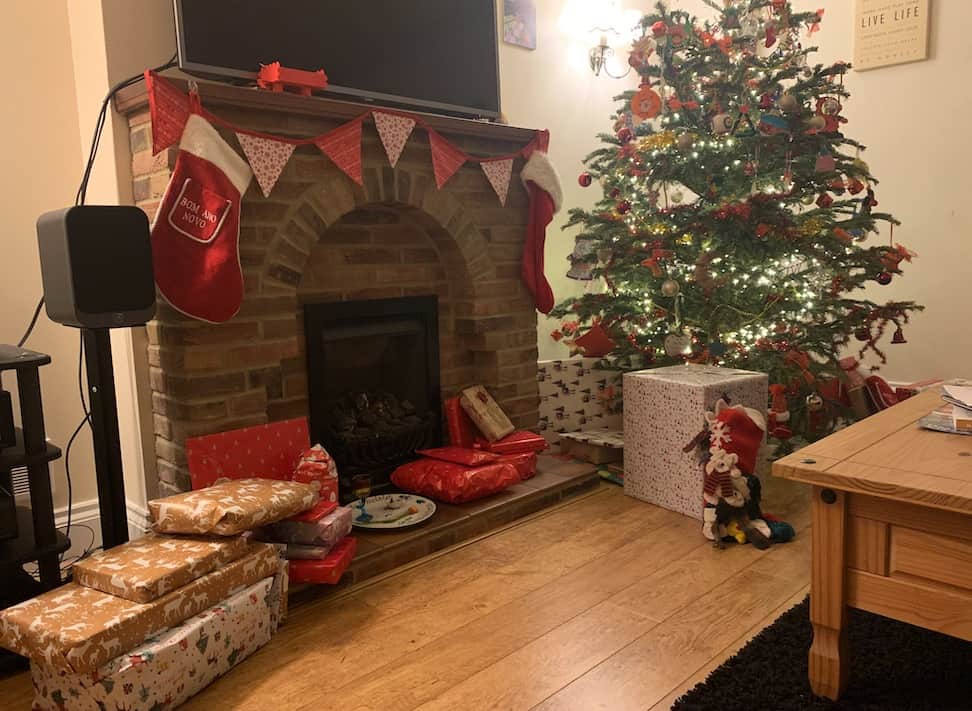 15. Shop Smart
Near the start of this article, I explained the benefits of not leaving Christmas shopping to the last minute.
The more you get ahead, the more you have the chance to benefit from sales and bargains. In particular, you can make some huge savings by paying attention to deals around Black Friday and Cyber Monday.
It's worth putting some effort in here (once again, invest time rather than money for an affordable Christmas!) For example, if you know you're going to buy something from a particular brand, make sure you sign up to their email list, so that you hear about any flash sales and promotions.
Then, when they announce a sale, make sure you act fast and grab what it is you need. If you snooze, you lose.
16. Use Cashback Sites
However much of an economical Christmas you plan to have, the likelihood is that you're going to spend at least some money on it.
The good news is, you may be able to get some of that money BACK.
By using sites such as TopCashback and Quidco, there's a strong possibility you can earn some cash back on your Christmas purchase. They're completely legit, and all you have to do is search for the retailer you plan to buy from, and click through from the sites before making a purchase.
I hope that this article has given you some valuable, money-saving tips for an affordable Christmas. It IS possible to celebrate Christmas on a budget, and still have plenty of memorable treats. If you have any tips of your own to share, please let me know in the comments.
While You're Here: Read my guide to living a life of luxury without spending a fortune.