In some posts we review or mention products and services. We are always impartial but some posts may include affiliate links that can earn us a commission. Click here for details.
I've been enthusiastic about men's skincare products since way before male "grooming" was fashionable. I remember my regular use of moisturiser being a subject of derision back in the day! Thankfully the majority of people are rather more evolved now.
I'm producing this ManCave review after seeing the brand many times on my targeted Facebook ads. The algorithm robots clearly heard about my passion for skincare, and I have to admit that the prices – lower than I'm used to – attracted my attention.
As such, it didn't take me long to make an order. ManCave sell several different product "Bundles," so I went for a "Skin and Shower Set," to give myself the chance to sample a broad selection from the range.
Over the past few weeks, I've been using these products regularly – setting aside my usual favoured brands. In this review of ManCave, I give you my honest opinion of both the good and the bad.
Let's start at the very beginning – a very good place to start.
What is ManCave Skincare?
ManCave is a men's grooming brand with strong credentials for being cruelty-free and vegan-friendly. The company sells a wide range of products including shower gels and moisturisers. The products claim to provide "aromatherapeutic benefits that are good for both your skin and your state of mind."
I'll be the judge of that!
ManCave sells its products in both the US and UK. They're available direct from the company, and from third-party outlets, including Amazon.
ManCave Review: Packaging and Presentation
I'd describe ManCave's packaging and presentation as falling half-way between a mainstream "supermarket product" and something from a premium cosmetics brand.
It's attractive and understated, but doesn't feel as premium as something from a Biotherm or Molton Brown counter. This isn't a heavy criticism; While it doesn't feel that expensive, it isn't that expensive. My bundle of seven generously sized products only cost as much as I'd spend on a single item from one of those brands.
I should give a mention, and some credit, to the environmental credentials of the packaging. All of the containers are fully recyclable and BPA compliant.
When I opened my package from ManCave, I was impressed that the box the products came in was the same box used to mail the parcel. It's good to see the company refraining from using unnecessary packaging.
One side effect of this was that the items themselves seemed a bit "chucked in" the box. If I was giving this as a gift, it wouldn't have quite the same "wow factor" as some premium brands. However, what you lose in presentation you gain in eco-friendliness – you can't have it both ways.
ManCave Grooming: Product by Product Review
In this section, I give my opinion on each of the seven products I tried out.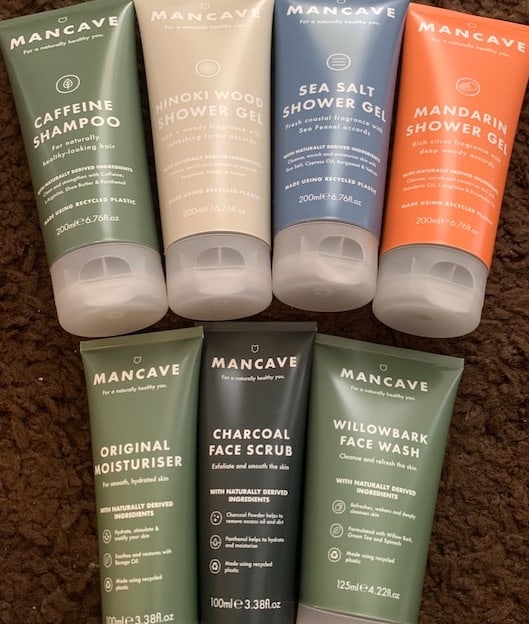 Before I start, I should say that I was impressed by the size of them! I hadn't paid any attention to the sizes included in the bundle, so I was pleasantly surprised that the shower gels were each 200 ml, and that the moisturiser was 100ml.
Something I've tried to keep firmly in mind throughout this ManCave review is that this bundle of skincare products only cost me £25.50. That works out to a relatively tiny £3.64 per item. While I make some inevitable comparisons to some of my favourite grooming products, I do my best to keep the great value in mind.
ManCave Shower Gels
ManCave Mandarin Shower Gel
I have a bit of a thing for citrus shower gels. About 20 years ago, during a trip to the US, I grabbed a particularly amazing orange one from Tommy Hilfiger during a trip to Macy's. It's always been my benchmark for the perfect smelling shower gel, and every new product I try is fighting to live up to it.
Does ManCave Mandarin Shower Gel make the grade? As a citrus shower gel – no. In fact, to me it's more woody and herby than it is cirtusy. I actually like it very much, and it has something of the Molton Brown going on aroma-wise – but my multi-decade quest for a superior citrus shower gel continues.
VERDICT: 8/10
Sea Salt
This one isn't especially exciting. It lathers nicely and smells like a perfectly agreeable shower gel – but the aroma is rather muted. In fact, the smell of the caffeine shampoo (below) lingered for longer in my shower room, despite me using far less of it.
It's perfectly OK, but nothing to write home about.
VERDICT: 7/10
Hinoki Wood
ManCave's Hinoki Wood shower gel is much more interesting. It's described as "rich and woody," which is very accurate. It smells expensive, bringing to wind a luxurious hotel bathroom. I know I've mentioned Molton Brown a couple of times but this is the closest to those (much more spendy) products – and that's a compliment.
VERDICT: 9/10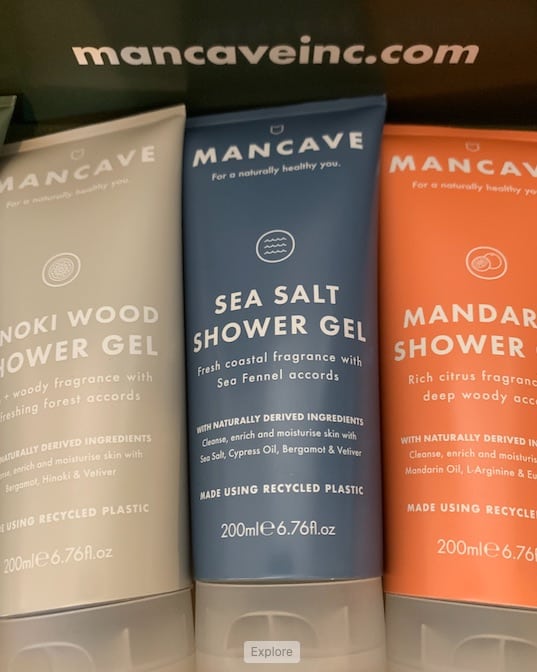 ManCave Charcoal Face Scrub
I rather like charcoal-based skin products. It feels kind of magical how they go on black and then morph into a rich white lather.
This product actually has the perfect level of lather. My benchmark face wash is the (MUCH more expensive) Checks and Balances from Origins. It has a wonderful spearmint aroma and is silky soft, but it produces so much lather it takes forever to rinse away. The Charcoal Face Wash from ManCave has a superior "lather score!"
This is definitely a scrub, with surprisingly abrasive charcoal powder bits in it. It's the kind of thing you'd use once or twice per week, not every day. It smells of nothing, and seems to be the only unscented product in the bundle.
VERDICT: 8/10
ManCave Willowbark Face Wash
The Willowbark Face Wash has an intriguing smell – it manages to be rich and clean at the same time. It's quite a strong aroma and good to snap you awake first thing in the morning!
This is much more suited to daily face-washing than the charcoal scrub, coming out the tube as a lightweight gel. The feel and aroma of this particular product both lean toward "premium" – impressive for the price.
VERDICT: 8/10
ManCave Original Moisturiser
I'm very fussy about moisturiser, so this was always going to be the ManCave product that needed to do the most to impress me.
Unfortunately, it didn't do that much to exceed my fairly low expectations – but I am setting an awfully high bar. My personal favourite moisturiser is Biotherm Total Recharge. It disappears into my skin in seconds, leaving it soft and moist for at least 24 hours – BUT it also costs more for a single 50ml container than the entire ManCave bundle I'm reviewing here.
This isn't a bad moisturiser – it's just not an amazing one. It takes a lot of rubbing in before it's absorbed, and leaves my face on the greasy side of moisturised. On the plus side, it does last well – really cheap and nasty moisturiser can leave your skin dry again a few hours later – and this is also kind to my sensitive and eczema-prone skin.
At the time of writing this, I'm actually using this moisturiser daily – but I know deep down that of all the products here, it's the one that will soon be shoved to the back of the shelf by something more expensive.
VERDICT: 6/10
ManCave Caffeine Shampoo
In the interests of full disclosure, I'm always entirely bald! I still wash what's left of my hair daily, but I'm probably not the best person to give a full account of the performance of a shampoo!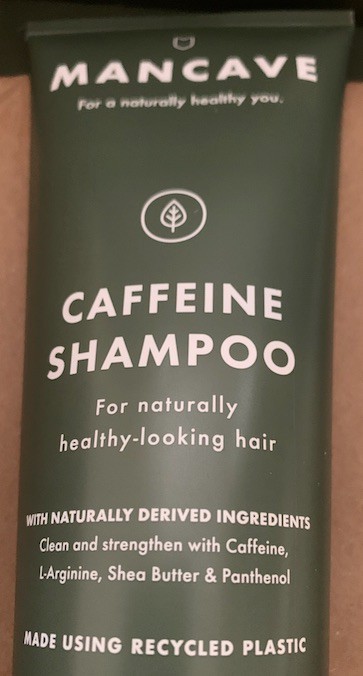 Even so, I am able to report that this has a strong, agreeable and – I guess – masculine(?!) smell. Furthermore, there is a way that I can judge a shampoo, and that's how kind it is to my scalp, which can get sore and dry with some products. I'm please to say that wasn't the case here. I guess I'll thank the shea butter for that.
VERDICT: 8/10
Ingredients and Credentials
ManCave is clearly proud of its "natural" credentials, and the website shows off a list of several things that are NOT found in the products, such as sulphates, mineral oil, petrochemicals and aluminium.
The latter can be a problem for me as it's usually found in anti-perspirants and causes me skin irritation, leaving me with a very small choice of products. I noted while typing up this review that ManCave now sells an aluminium-free deodorant, so I will certainly check that out at some point.
Despite such a strong focus on natural ingredients, the list on each container still contains plenty of long names, salicylates and and glucosides. In that respect, the company doesn't stick almost entirely to natural ingredients like brands like Haeckels (reviewed here). However, it's very pleasing to see that ManCave provide a comprehensive list of all the complicated ingredients, with a description of what they're for. Such transparency is pretty rare.
On the eco side, I've already mentioned that all of ManCave's packaging is fully recyclable. It's also all made from recycled plastic – so a big tick for that.
Verdict
I was impressed with the ManCave range, especially with price taken into account.
This isn't a range that I think intends to compete with Clinque and Clarins – it's more "high end high street" than "high end department store." Judged at that level, it's great value, with some products standing out as particularly good.
Of course, on the flip side, there are others than don't impress quite so much. There were a few misses among the hits in my bundle. However, it's hardly fair to do a side-by-side comparison with – for example – a moisturiser that costs many times more.
Whether you're stocking up your own bathroom cabinet, or in the market for a gift, I recommend taking a look at ManCave – you get a lot for your money.
While You're Here