In some posts we review or mention products and services. We are always impartial but some posts may include affiliate links that can earn us a commission. Click here for details.
The odds were very much against us having a good holiday at Coghurst Hall holiday park.
The trip started off badly. After diverting around country lanes to avoid post-Brexit traffic chaos in Dover, we had a problem with our clutch, and a hideous burning small coming from our car.
To cut a long story short, we ended up being towed most of the way to Coghurst Hall by a breakdown truck. We finally rolled up – hours late and two of us at a time – in an AA van. We found ourselves in our caravan as the sun was setting – with bags full of sun-warmed fresh food, and no firm plan in place to obtain a courtesy car to get home.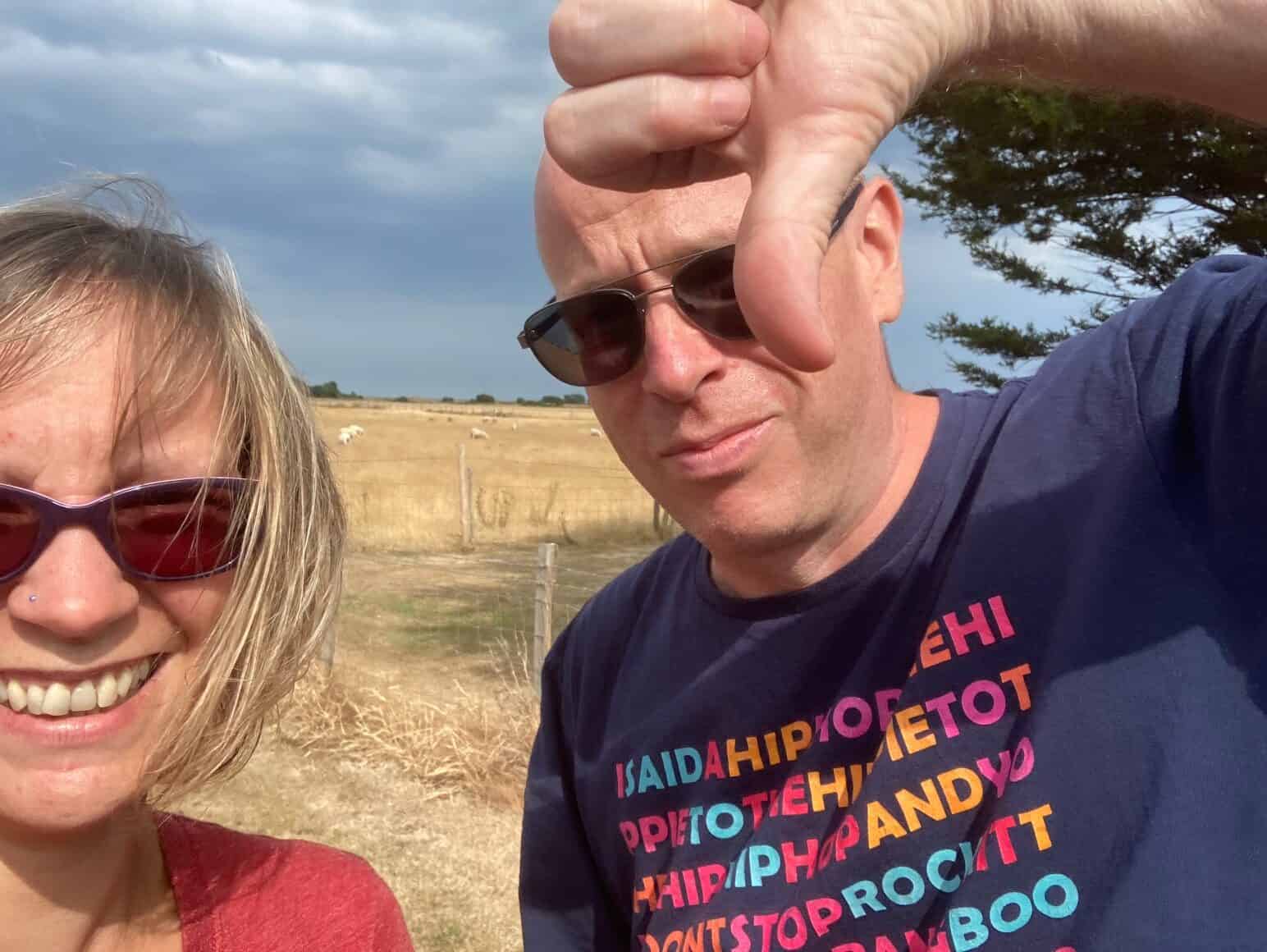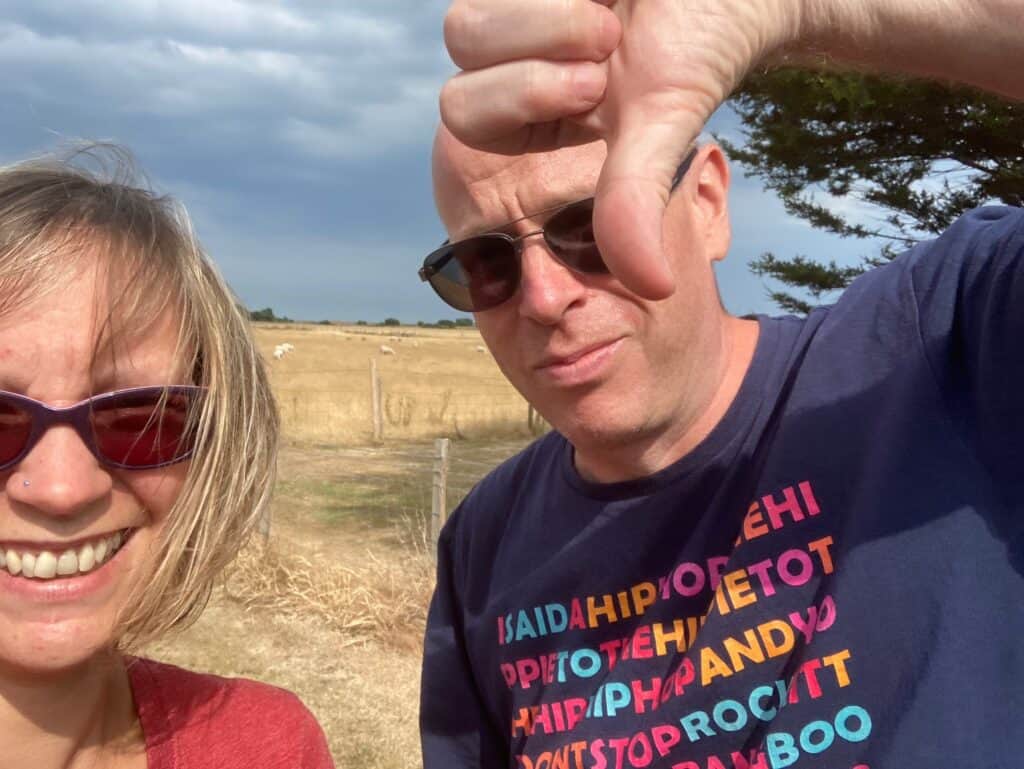 In this Coghurst Hall Holiday Park review, I will tell you all about our weekend break at this Park Holidays park in Sussex. But before I start, I think it's only right to say that despite such a horrendous start, we still managed to have an enjoyable holiday. For that alone, Coghurst Hall deserves a big tick.
About Coghurst Hall Holiday Park
Coghurst Hall is a Park Holidays resort located just on the outskirts of Hastings, UK.
It is rather tucked away, in a location where a car is all but essential (oh, the irony). The trade-off is that it's an incredibly peaceful place to be. The main resort facilities are in a huge old manor house, and all of the caravans radiate out from a beautiful lake, with a waterfall in the middle.
Coghurst Hall is a standard Park Holidays park, with the usual facilities you'd expect. See below for more on those. It's not a particularly lively park, and the entertainment schedule is minimal. That may not appeal to some, but since caravan park "entertainment" is among my worst nightmares, it suited us just fine.
Facilities at Coghurst Hall
Here's a quick run-down of the main facilities at Coghurst Hall:
Swimming Pool
The swimming pool at Park Resorts Coghurst Hall is really rather good. It's very warm, and in an L shape that incorporates a sloped main pool area and a "cave" section with a central pillar. None of it is especially deep, which was perfect for our eight-year old son. He's recently learned to swim but isn't yet confident enough to be out of his depth.
As we found when we visited Pevensey Bay Holiday Park, the swimming sessions had to be pre-booked. They were for an hour including changing time. This system originated during the peak of the pandemic and has been kept in place. Some people moan about it, but we feel it works well, and ensures the pool is uncrowded.
Special credit should go to the lifeguards, who were incredibly friendly and helpful. They clearly wanted to not only keep the children safe but also ensure they had a good time. The staff team at Coghurst Hall in general was impressive. Top marks to those who recruit and train Park Holidays staff, because we said the same when we visited their Pevensey Bay site earlier in the year.
Play Park
The play park at Coghurst Hall was quite large and well maintained. Our boys particularly liked jumping over the (dry) stream areas, as well as playing on the equipment.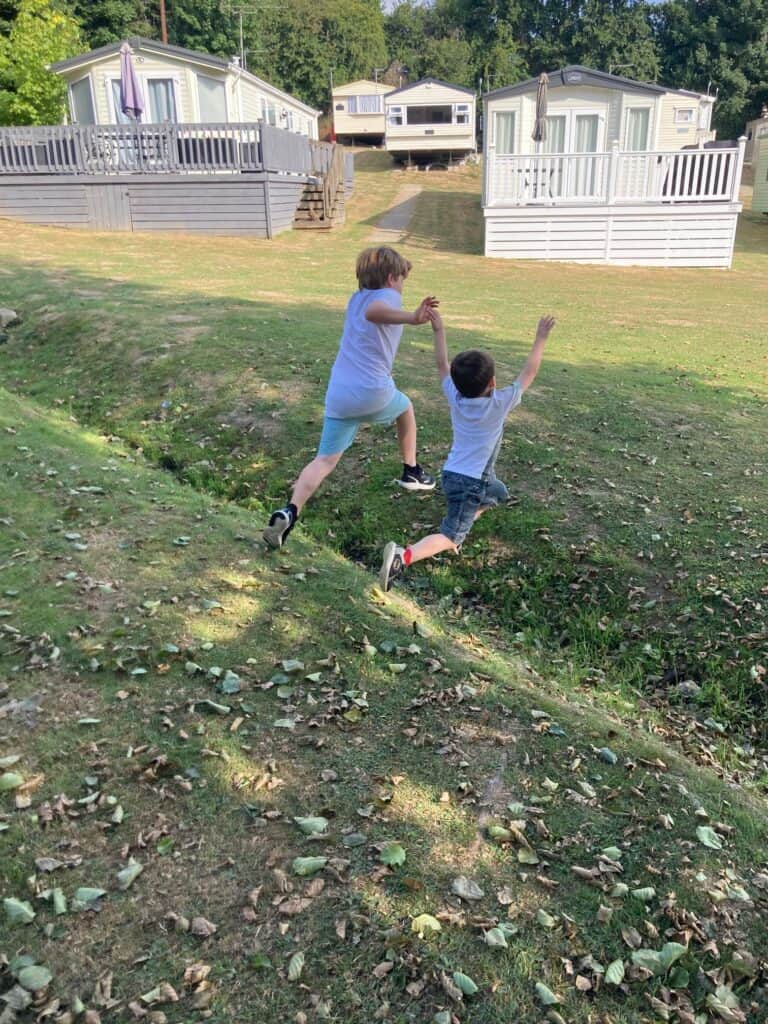 Bar and Restaurant
The bar and restaurant area was large, clean and uncrowded. It also had a big outside area with comfortable outdoor furniture and decking. I understand that this was all recently developed and it's a great space.
PRO TIP: There's also a small additional play park up the corner of this area, which we didn't find until our last day.
We grabbed a couple of drinks in the bar but didn't try the food. I know better than to expect gourmet cuisine on a caravan park. Some TripAdvisor reviewers seem to expect miracles.
Park Shop
Unlike some Park Holidays resorts, there's a small onsite shop – much needed given the out of the way location.
The shop was exactly what you'd expect from a shop on a caravan park – helpful if you need bread, milk, or an ice lolly for the kids, but not somewhere you'd want to eat from for your whole holiday (something we were forced to contemplate until we obtained a courtesy car on day two!)
Lake and Fishing
The lake at Coghurst Hall is really beautiful – the promotional photos don't do it justice. There were also lots of fishing spots, which guests were making good use of. The main lakeside spot had a couple of picnic tables, and became my favourite place to read my book and enjoy an alcohol free beer when the boys were in bed.
Coghurst Hall Holiday Park is NOT an action packed place – so don't go expecting a frenetic atmosphere. We were looking for quiet, and for us it offered both that and enough to keep the children happy and entertained.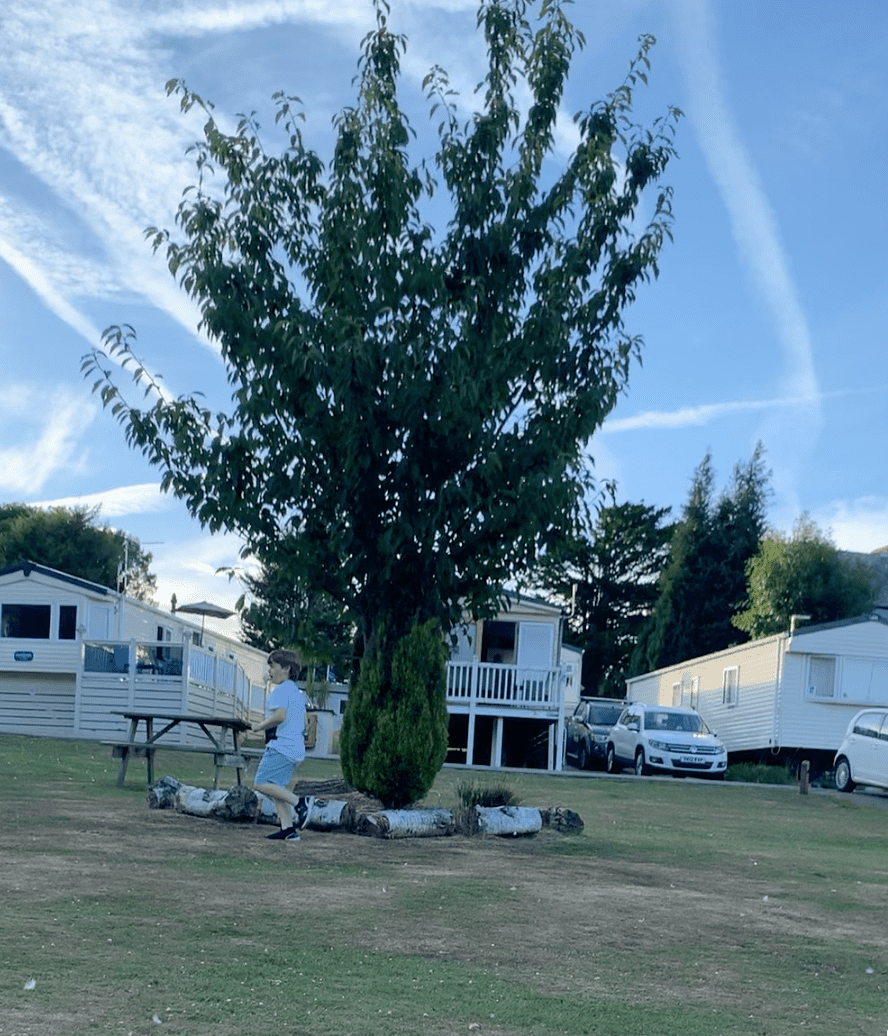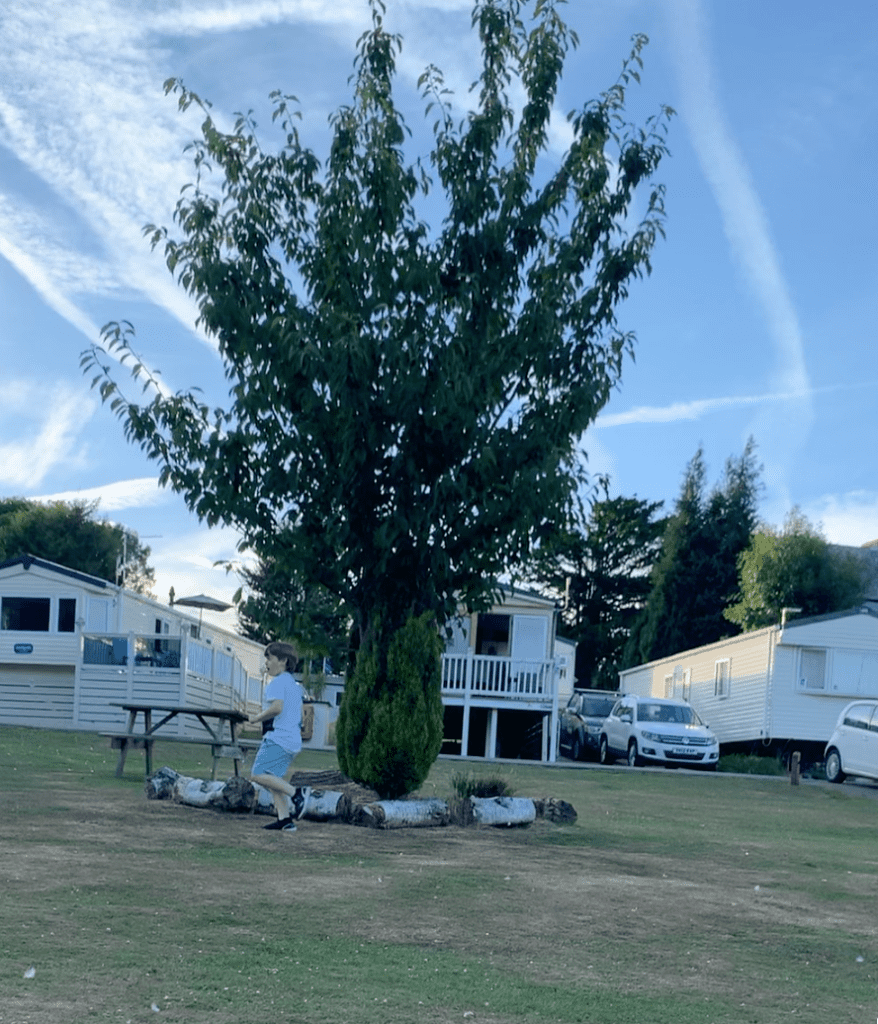 Coghurst Hall Holiday Park Review: Our Experience
The Caravan
We booked a "Gold Plus" caravan at Coghurst Hall. We tried to get a "Platinum" but none were available for our stay, which fell at the very start of the school summer break.
The caravan was…absolutely fine. It was clean and well equipped, and actually had a decent frying pan and oven tray, and a few sharp knives – which is unusual!
The only issue with a Gold Plus is that they don't always come with a veranda. Despite my hopes, we didn't get one. Not having one does have some disadvantages beyond simply lacking private outside space. With small children, it means that you really have to keep a close eye on them whenever they want to go outside – you can't watch them out on the terrace while you cook. It also means that if you want to sit for a drink, there's nowhere to do it but the caravan steps.
None of this is Park Holidays' fault. We would have paid to guarantee a better caravan with a veranda had one been available. But I'll probably be less inclined to just "hope" we get one in the future.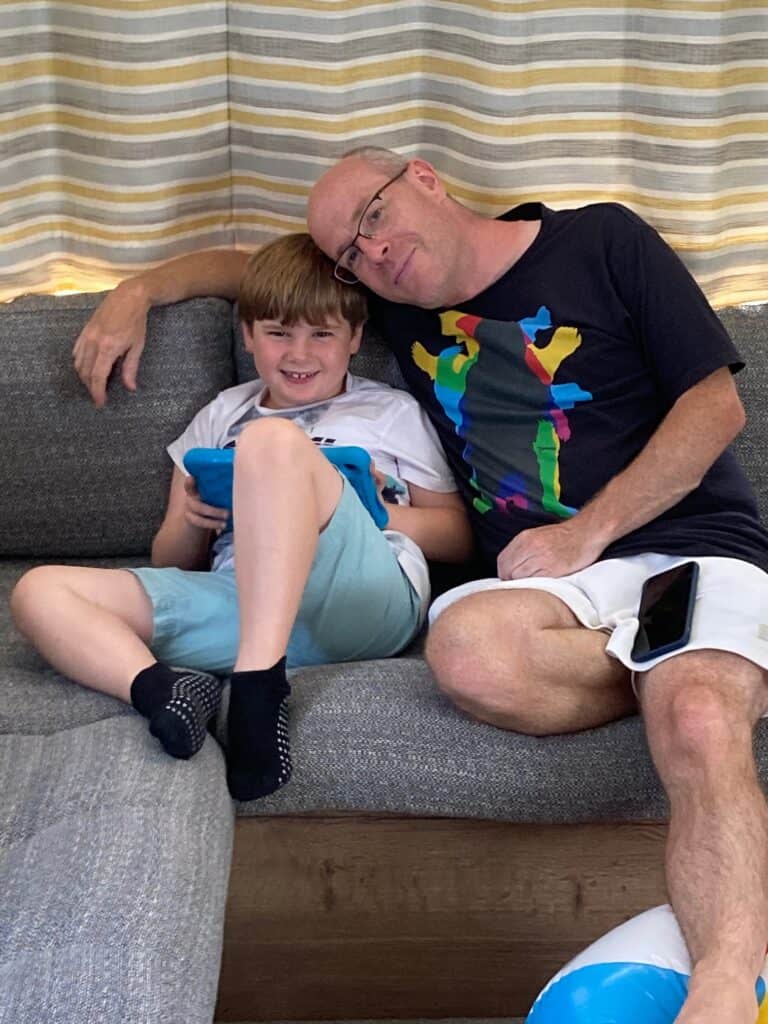 All in all, there was little to complain about. It was cosy and everything worked. The caravans are quite close together, but you don't go to a Park Holidays park expecting total silence and seclusion – not if you have realistic expectations!
The Holiday in General
One thing that really impressed me about this short break was how quickly we were able to relax. Despite the terrible start, we got into holiday mode very quickly – helped by the lovely scenery, the friendliness of the staff, and the hassle-free booking of swimming sessions.
It's hard to say this diplomatically, but you never have full control over the other people at a holiday park. In the main, everyone was kind and friendly, but this perhaps isn't the place to go if you're easily upset by smoking, swearing, and the occasional whiff of weed when you're walking around! In fairness, I've encountered all of those things after paying multitudes more at Center Parcs!
I should, once again, mention the fantastic staff. From a sympathetic welcome when we arrived in the AA van, to friendly service every time we used the bar, the staff are a credit to Park Holidays.
The Surrounding Area
We didn't have a lot of time to explore the surrounding area (beyond visiting a car hire depot and a SEAT garage), but we did travel into nearby Hastings.
It's a very standard UK seaside resort, but the kind of place where it's easy to keep a four and an eight year old happy.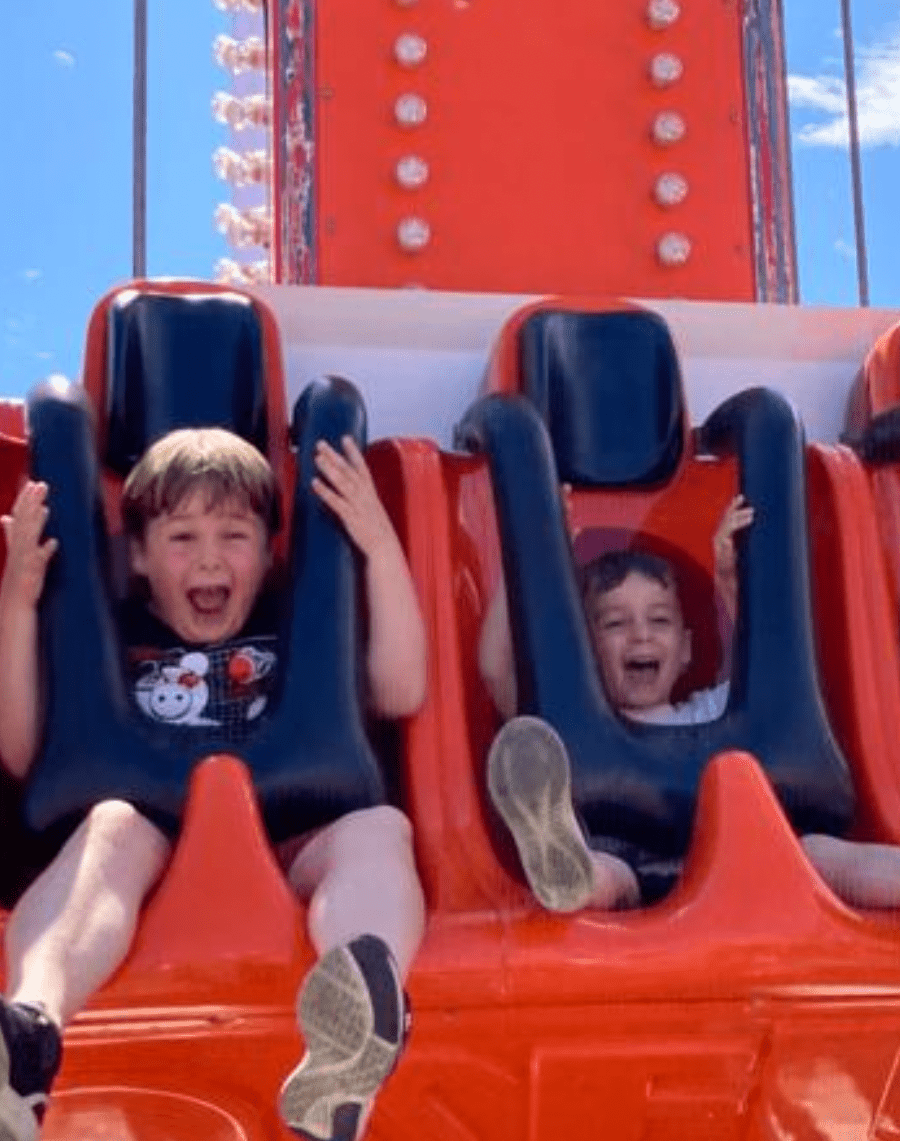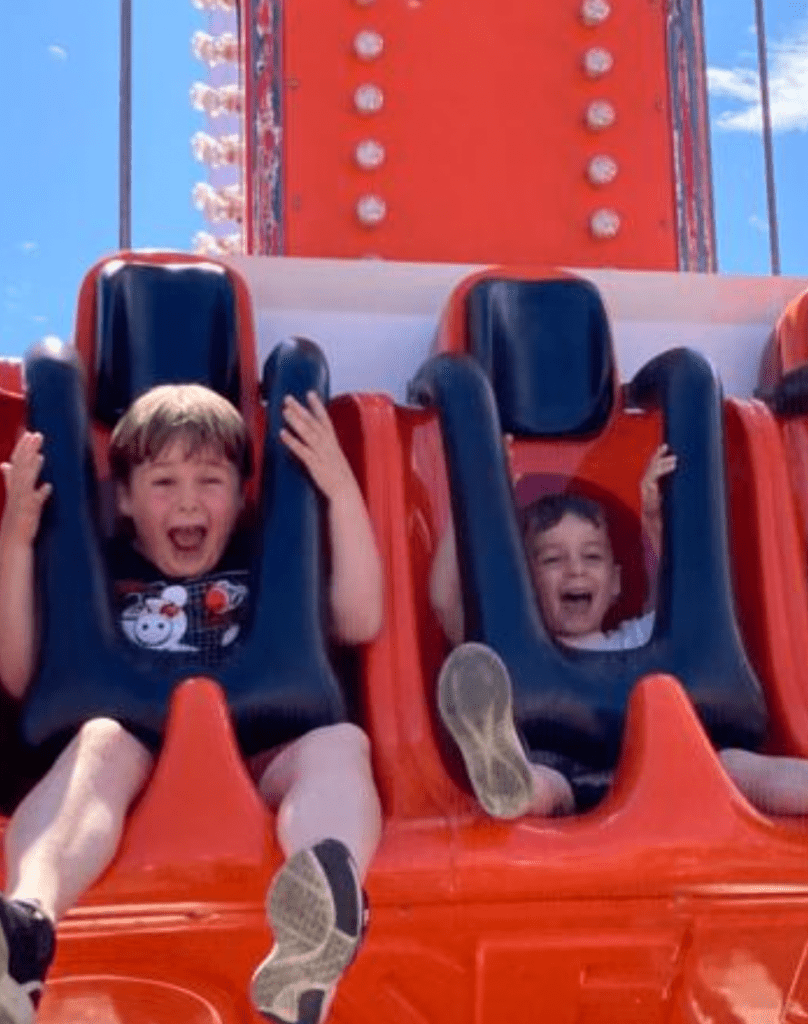 I managed to find 20 minutes for a stroll around the "old town" area, which was surprisingly pleasant, with lots of restaurants, bars and independent shops.
We also had pedalo rides – something that's always far more exhausting than you expect it to be.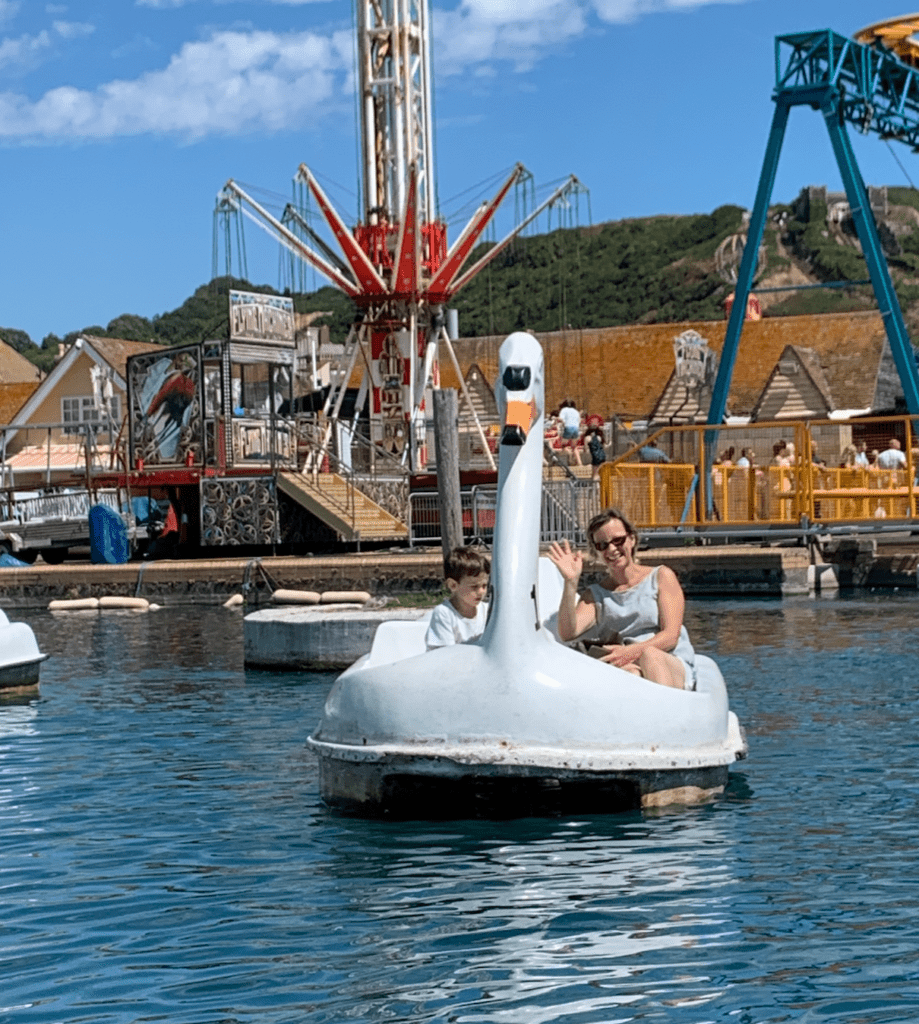 As far as we could tell, there was plenty more on offer to entertain us in the area surrounding Coghurst Hall. We would have happily stayed for a week, rather than just a weekend (especially after the journey there!)
Value
I can't ignore prices in this Coghurst Hall Holiday Park review.
We did rather well, paying just over £300 for our weekend break – a very good price for the school holidays. Off season, it's possible to go to Coghurst Hall for very little money.

During the peak of the holidays, Park Holidays do increase their prices like everywhere else. The more flexible you can be with dates, the better.
Coghurst Hall Holiday Park: Review Conclusion
I'm increasingly becoming a Park Holidays fan.
Much as I would have scorned the idea of enjoying a caravan holiday when I was young and carefree, these breaks tick a lot of boxes when you have two young children. They love the fun of staying in a caravan, and there's something about this type of break that allows the parents to relax quickly too.
Park Holidays Coghurst Hall gets all the important stuff right: cleanliness, staff training, efficiency. As we sat on the roadside awaiting the breakdown truck, I thought this particular holiday was irreparably cursed. The fact we left relaxed and smiling less than 72 hours later is to Coghurst Hall's credit.
We'll likely be back.
Before You Go: